Delay is one effect that most music producers obsess over, as it has several uses. Whether you're looking to create a sense of space, add movement to your tracks, or create, wild, out-of-this-world effects, delays can provide.
Of course, with so many delay plugins on the market, finding the right one for your needs can be a challenge. Luckily, we've done the research.
Continue reading to find out more about our favorite delay plugins on the market today!
Note: some of the links below may be affiliate links, meaning that I receive a commission if you purchase through them.
If You're Curious (or just in a hurry):
Overview of the Delay Effect
Okay, really quick. Before we dive in, I want to clarify what I mean when I say 'delay' and what delay can do for your tracks.
Regardless of how complex delay plugins might seem, they are all built on the same foundation. You send dry audio into the input of your delay plugin, the plugin records the dry signal and plays it back one or more times in chosen intervals.
In essence, a delay is a time-based echo.
Engineers and producers will often use delays to create a sense of space in a mix.
Long before software delays came into fruition, we had to use hardware to create a sense of space. That hardware included tape machines, analog circuitry, bucket-brigade delays (BBD), and digital delay units.
Nowadays, software companies emulate these different types of delay so that producers and engineers can use them in software form. The beauty of software delay is that it provides users with an incredible level of accuracy that is difficult to achieve with hardware units. Plus, you save tons of money and gain access to the same or very similar sounds of iconic units.
Check out this article if you want to learn more about how to use delay effects in music.
Come dive in with us as we explore our favorite delay plugins based on type and use.
Chart of the Best Delay VSTs
Before we jump into the in-depth reviews, we've included a handy chart so you can compare more easily compare each delay plugin.
Delay Plugin

Pros

Cons

Check Price

Echo Boy

Incredible sound quality

Amazing flexibility

Super intuitive

Check price
FabFilter Timeless 3

Incredibly precise control for pristine vocals

Uniquely flexible tools for creative delay

Clean interface

Not an emulation of any specific plugin

Check Price
SofTube Tape Echoes

Amazing tape delay sound

Inspiring and streamlined interface

Affordable

Check Price
Arturia Memory Brigade

Nails the classic BBD sound

Affordable

BBD is not the most flexible style of delay

Check Price
Replika XT

Very affordable

Great modulation choices

Straightforward design

Not as nuanced sounding as the better plugins

Check Price
U-He Color Copy

Flexible interface with really powerful customization tools

Good BBD sound

Affordable

Check Price
Waves H-Delay

Amazing sound

Intuitive interface

Lo-Fi Mode

Check Price
Delay by Stagecraft

Free

Filter based approach

Clumsy interface

Blury sound

Check Price
Best Delay VST - Echoboy
In our eyes, Echoboy is the best delay plugin on the market today. No matter what kind of delay you are looking to add to your mix, you can find it in Echoboy. From tape delay to analog delay to digital delay to spaced-out effects, there are infinite ways to manipulate this delay and fine-tune it to get the sound you want.
For starters, we absolutely love the interface. Soundtoys always does a great job with its user interfaces, giving producers an old-school feel with simple, intuitive layouts. We dig the woodgrain look. Is it crazy that it almost makes it sound more analog just because of the look?
There are 31 delay types to choose from in this plugin, making it one of the most versatile delays on the market today. Soundtoys went so far as to create several unique delay types to give you even more flavors. Plus, with the glorious saturation knob that sits at the end of the chain, you can add a bit of grit to any signal.
See why Echo Boy is consistently one of the top rated plugins!
The beauty of Echoboy is that it works on just about anything. From vocals to guitar to drums to bass, you'll find presets that are instrument-specific. With both mono and stereo versions of the plugin, you can use it as an insert or as a send.
Beyond the included delay presets, you'll also find tons of chorus presets under the hood, which emulates famous pieces of hardware like the DM-2. You can even use certain presets to create space, providing one of the best alternatives to reverb.
Yes, Echoboy is definitely more expensive than most delay plugins out there, but with a wealth of gorgeous sounds and the highest-quality processing you could ask for, it is well worth the money.
Pros of Echo Boy
Incredible sound quality

Amazing flexibility

Super intuitive
Cons of Echo Boy
Best Delay Plugin for Vocals - FabFilter Timeless 3
Beyond SoundToys, FabFilter is another one of those plugin manufacturers that prioritizes creativity. As a result, every plugin feels like it's part of the same family with thematic interfaces, giving you total control over your experience.
FabFilter Timeless 3 is the company's delay plugin, which, while excellent on just about anything, truly shines for vocals.
For starters, we love how intuitive and clean the layout is, giving you your standard delay controls on the top left, a filter section sitting on the top right, and tons of unique modulation controls on the bottom rack. Unlike SoundToys Echoboy, Timeless 3 does not emulate a particular delay unit, so expect to get some sounds you're not used to.
See all the awards that the Timeless 3 has won
What we truly mean is, don't expect organic, analog space or a classic feel, as that isn't what Timeless 3 is about. What it lacks in classic personality, it makes up for in seemingly limitless design possibilities. There are more than 300 incredible presets to choose from, allowing you to throw a simple slap delay on your vocal or mash and mangle it into something totally unexpected.
If you want to make your delay processing part of the sound designing process, then Timeless 3 is your plugin. One of my absolute favorite things to do with this plugin is add modulating pitch delays on my vocals. It's also great for creating stellar ambiance from vocal ad-libs.
With so many parameters to automate and manipulate, it's great for builds and breakdowns. Beyond all of that, you have tons of XLFOs, EFs, and XY controllers, as well as unique modulation tools like phasers, flangers, and chorus.
The plugin can be a bit complex for those who aren't used to using delay plugins, so we recommend you start by flipping through a few of the presets to find a sound you like and tweak it from there.
Pros of the Timeless 3
Incredibly precise control for pristine vocals

Uniquely flexible tools for creative delay

Clean interface
Best Tape Delay Plugin - SofTube Tape Echoes
There is nothing that can match the distinctive sound and color of tape echo. From the drive motor to the ferric oxide, Softube Tape Echoes provides that unique grit that many modern producers and mixing engineers desire. The Softube Tape Echoes plugin is a very well-executed mixture of classic tape echo units in one plugin.
For starters, the control set is simple to use, perfect for those who don't like to fiddle around with tons of parameters to get the sound they're looking for. Plus, every control has been thoughtfully labeled, allowing you to dial in your sounds quickly.
Of course, you get all of the best characteristics of a classic tape machine as well, including saturation and wobble. Some of the analog flavor controls include Tape Glitch and Drive Dirt, which allow you to augment your digital signals in ways you can't even imagine.
Check to see if Tape Echoes is currently on sale!
On the downside, Softube did miss out on an opportunity for independent wow/flutter and noise controls, though it doesn't kill it for us.
The software blends three of history's most iconic playback heads, including the WEM Copicat, the Roland Space Echo, and the Echoplex. We absolutely love the Space Echo's spring reverb, which is a must for dub and reggae producers.
All of this and Softube even added the benefit of digital processing like stereo widening and tempo sync, giving you the best combination of analog and digital.
Amp Room and Modular plug-in users will enjoy Softube Tape Echoes, as it can also be used as an effect module within those plugins.
Pros of Tape Echoes
Amazing tape sound

Inspiring and streamlined interface

Affordable
Cons of Tape Echoes
Best Analog Delay Plugin - Arturia Memory Brigade
Arturia came out with a few delay modules over the past couple of years, though one that absolutely blew us away was the Memory Brigade. The Memory Brigade is a fantastic emulation of the Electro Harmonix Memory Man Deluxe guitar stomp pedal.
While there are a few manufacturers out there that have made plugin emulations of the Space Echo, we have yet to find a true model of Electro Harmonix's BBD delay out there. Of course, one might argue there are delay plugins with specific modules that emulate the BBD sound, though when it comes to the real thing, there is nothing that gets the true sound of the OG EH BBD delay down.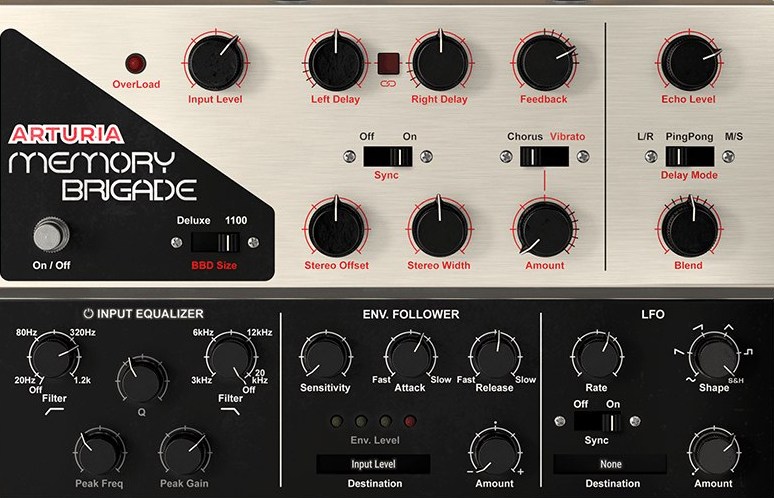 One of the things we love about the Arturia Memory Brigade is its uniquely dark tonality. If you want an echo that subtly floats around the back of your mix, this is the one. Of course, this BBD emulation is a stereo plugin with a few unique features, including an envelope follower, which you can assign to a variety of the plugin's parameters.
Another thing we love about this plugin is the wild feedback possibilities, which is what BBDs were known for. You can creatively control the feedback on this delay using sync parameters, adding untethered space to your tracks.
This iconic Electro Harmonix pedal has been on the pedalboards of countless famous musicians for more than 50 years. From Omar Rodriguez Lopez to Eric Johnson to Dave Grohl, it's one of those classic pedals that never seems to go away. We're finally glad some company decided to hop in and create a version of it that is more accessible and easier to use for mixing.
Pros of the Memory Brigade
Nails the classic BBD sound

Affordable
Cons of the Memory Brigade
BBD is not the most flexible style of delay
Best Waves Delay VST - H-Delay Hybrid Delay
H-Delay by Waves may be the most popular plugin among the bunch among professional mixers. Literally every other time I see a pro's mix session on YouTube, they've got at least one instance of H-Delay on their tracks.
And it's easy to see why. Actually, it's easy to HEAR why.
Because although H-Delay's graphics are dated, its sound is still fantastic. It covers everything from clear ping ponging delays to warbley lo-fi tones. The interface is super intuitive and easy to use, making it possible to quickly dial in any sound you can imagine. And it even includes a tap tempo button if you want to really add some groove to your delay. Of course, you can also synch the tempo to the DAW if you'd prefer.
With built-in high- and lo-pass filters, you can easily sculpt your sound. Plus the on board modulation allows you to explore some far out tones. Even beyond all that, though, you have four different analog modes (and a non-analog mode) to get a more organic sound. But if things are still sounding to refined with all of these options, just hit the "lo-fi" button to degrade your sound even further!
Pros of H-Delay
Very affordable

Awesome tone shaping choices

Intuitive interface
Cons of H-Delay
Dated low-resolution graphics
Best Value Delay - Replika XT
Native Instruments never gets much love for its effects plugins, but after spending some time with the Replika XT, we gotta give it some love. You can enjoy five different delay styles on this plugin, and ultra-precise tweaking, making it one of the best digital delays out there.
For starters, this plugin is incredibly easy to use. It's the perfect choice if you're new to the world of delays and want something with which you can dial in sounds quickly. In our opinion, there are three standout styles in this plugin, including Diffusion, Analog, and Tape.
Tape provides users with tape-style sonic qualities, giving you enough dirt to keep you pleased without ever feeling overbearing. Diffusion delivers a sort of reverb emulation, allowing you to conjure up larger-than-life spaces. Lastly, Analog captures the character of iconic, old-school delay units, delivering slight variations in pitch as the repeats go on.
You also get seven modulation effects that you can mess with, each of which sounds excellent. With processing on processing, it's an all-in-one type of plugin. You can place the Frequency Shifter, the Filter, and the Pitch Shifter, all within the delay feedback loop to get creative with your otherwise standard effects.
If you want to dig in a bit further and fine-tune your delays, you can hit the folded up tab at the bottom. Here you can mess with parameters like panning, patterns, dry/wet, and much more. There are also plenty of delay-specific parameters, including an A/B delay Balance to help you dial-in your levels, Dual Mode Feedback, and L/R timing offset.
When in Single Mode, you can use ducking to fade out your delay as it progresses, which can be great to get it out of the way in a busy mix. With a fine mix of delays and an easy-to-navigate interface, Replika XT is one of the most surprisingly well thought out delays on the market. Plus, at a low price, you can't beat it.
Pros of Replika XT
Very affordable

Great modulation choices

Straightforward design
Cons of Replika XT
Not as nuanced sounding as the better plugins
Best BBD Delay Plugin - Colour Copy
If you're looking for an inexpensive yet realistic BBD delay plugin, we highly recommend u-he's Colour Copy. The interface is extremely easy to use and the plugin provides an organic, analog sound that you want from a BBD replica. Plus, there are plenty of options for further tweaking for those who like to fine-tune.
BBD delays are distinctively dark, and the Colour Copy plugin reproduces that marvelously. Of course, as with many delay emulation plugins, Colour Copy also takes it a step further.
Right off the bat, we love how easy it is to drive the plugin using the input to get a bit of saturation. Doing so can help otherwise lifeless and digital sounds feel a bit more characteristic. You can choose from a wide variety of Delay rates, whether locked or unlocked, as well as straight, dotted, and triplet synced times. The unique thing is that you can sweep the Time Base value knob around to create wild pitch wobbles.
Another star characteristic of BBD delays is their roaring feedback. With Colour Copy's Regen(eration) knob, you can route the output signal back into the delay's input to send your signal on a spiraling journey through the endless feedback loop. Luckily, Colour Copy built a Panic (!) button, which you can use to cut the repeats off if things start getting out of control.
Unlike many delay plugins out there, Colour Copy provides users with visual feedback in real-time. It's nice to see how your delay is reacting to your signal as you tweak it. Below that lies the Modulation Station, where you can assign a pair of stereo LFOS to your Tap Positions or Delay Rate, which helps you to create distinct and complex effects.
While it might not be the most intuitive plugin out there, we can't think of a better option for those who want a realistic and in-depth BBD emulation.
Pros of the Colour Copy
Flexible interface with really powerful customization tools

Good BBD sound

Affordable
Cons of the Colour Copy
Best Free Delay VST - Delay by Stagecraft
Delay by Stagecraft is a solid free delay that was built by EDM makers for EDM makers. Its main focus is its filter section, which you can use to create sweeps over clean, quantized delays using a single parameter.
One of the things we love a lot about this plugin is the visual display. For a free VST, the FFT is astonishingly high resolution. Every effect that your filter has a hand in can be seen in real-time. If you find an effect that you really like, you can save it to recall it later on.
Though it might not seem like a major deal, Stagecraft has also provided full automation for every parameter. When you consider how many free plugins don't have this option, you can see why it's kind of exciting.
FAQ
These are the most frequently asked questions we get about the best delay plugins. If you've got any questions, please leave a comment below and we'll be sure to respond to you!
Should I Put Delay Before Reverb?
Generally, it is a better idea to place a delay plugin before a reverb plugin. However, there are cases where it works better the other way around, meaning you may have to experiment to get the sound you're looking for.
The great thing about putting a delay first is that you can almost extend the sound of the reverb signal, as you get repeats that fade out slower than the reverb would on its own. Plus, adding delay before reverb can help give the delay a more natural sound, similar to if you were to yell into a large tunnel or cave and slowly hear your voice disappear.
Can I Stack Delay Plugins?
Of course you can stack delay plugins, though it is best to have a reason for doing so! One common reason people choose to stack delay pedals is that you can set each one up with a specific rhythm to create unique rhythmic patterns that bounce back and forth. To take it even further, you can use different types of delays to combine the best qualities of each.
For example, you might place a BBD delay first to get a dark, lo-fi sound, then control the repeats with preciseness using a clean digital delay on top. It's up to you how crazy you want to get!
From a Frustrated Producer in a Ragtag Bedroom Studio to Major Placements on TV Earning $1,000s!
My name is Evan, and I've been making music since around 3rd grade. I'm from San Diego, California, but I've lived in Washington, DC for the last 20 years.
After 3 grueling years of grad school, though I had put aside serious attempts at making

music.

 I found myself spending my days doing work that was dreadfully uncreative, with a ton of student student loan debt.
Which made me feel like my favorite parts of myself were withering.
But I didn't know what to do about it.
Being in my early 30s with tons of student loan debt, in a world where there is "no money in

music

," I felt like my youthful dreams of trying to "make it big" were dead. Like my music would remain unheard in my head and hard drive. 
Frustrated by my inability to get my music heard, I started researching solutions.
Instead, I wanted to find a way where I could focus on making the

music

and let someone else deal with promoting it. 
I realized the music licensing was the perfect opportunity for a solo artist like me to get my music heard, without having to do any promotion. I just need to focus on improving what I could control - my songwriting and my production skills.
While I still have a full-time day job, I have created systems that have allowed me to produce dozens of songs a year in my spare time.
My songs have been on Netflix, TV shows like the 90 Day Fiance, an award-winning indie film, and NPR's "All Thing Considered." They've also been streamed millions of times.
In addition to being a music producer, I am passionate about teaching people how they can make professional-sounding music and earn money licensing it, all in their spare time.
Thousands of musicians, like yourself, have trusted me to guide their musical journey. My YouTube videos have been watched nearly a million times. And my story has been in Forbes, Side Hustle Nation, and the Side Hustle School.
You Can Achieve Your Musical Dreams Too - Attend the Free Music Licensing Workshop!