Do you ever feel like drums could hit harder? Or maybe it feels like a guitar is ringing out to long?
Enter transient shapers.
They're a magical type of plugin that can allow you to reach in to your tracks and control the energy of individual instruments. Thoughtful use of transient shapers is the key to making mixes full of punch, with every instrument placed exactly where it belongs.
Follow along to see our best tips for using transient shapers and see our reviews of the very best transient shaper options out there.
If You're Curious (or just in a hurry):
Note: This article may contain affiliate links, meaning I would receive a commission - at no cost to you - for any products you purchase.
What Is A Transient Shaper?
Transient shapers, otherwise known as transient designers, are must-have plugins that allow to control the attack and sustain of an audio signal. Though many people compare them to compressors, they do impact the entire envelope of a signal like a traditional compressor.
With a transient shaper, you can sharpen the punch of a signal, minimize room noise, and so much more. However, controlling the attack and sustain is simply the basis of the transient shaper.
Many modern transient shapers come with unique features, including sidechain filters, wet/dry controls, envelope shapers, etc.
Come dive in with us as we explore some of the best transient shapers on the market today!
Best
Transient Shaper VST

: Transient Shaper by Softube

Softube has some of the highest quality plugins on the market today, and the Softube Transient Shaper plugin is no exception. One of the best things about the Softube Transient Shaper is its transparency. You can dial your preferred attack and sustain without altering the integrity of your raw signal.

Plus, the plugin is extremely easy to use. You can also affect different bands depending on the frequency range you want to work with. For example, you can add punch to the low-end without impacting the high-end and vice versa. There are crossover frequency bands on the interface as well, allowing you to fine-tune where you want the adjustments to lie if you choose.
While I'm all for vintage VU meters and analog quirks, I like analog-style plugins that deliver digital precision and workflow. With the Extended features section on the Transient Shaper plugin, you can get a deeper look under the hood to see how the plugin is impacting your signal.
Once the signal has run its course, you can use the Clip distortion section at the end to give your signal a bit more bite.
If you're looking for clarity and presence on your vocals or punch and sustain for your drums, there is no better tool on the market than the Softube Transient Shaper.
Best Multiband Transient Shaper: Punctuate by Eventide
While Eventide might be best known for its top-of-the-line reverb plugins, this transient shaping plugin is one of the best around. Punctuate is a multi-band transient shaper, using 26 bands known as Trarnsietn Modulators, which is based around the Mel Scale.
For those who don't know, the Mel Scale divides the noise spectrum in a way that our ears hear it. Right off the bat, these 26 bands may remind you of a standard graphic equalizer, though they're much different.
With the ability to zone in and affect particular frequency bands, you can process your sounds much more organically than with a standard transient shaper. Plus, with the easy-to-use Adaptive Transient Slider, moving from band to band is a piece of cake.
One of the things we really love about Punctuate is how observable the user interface is. You don't get this kind of visual feedback from many transient shaping plugins, so it's nice to see your moves in action. On each side, you'll find significant metering for your input and output. In the center, you'll see four horizontal sliders that are dedicated to Transient Length, Flexible Transient Master, and Length, giving you an absolutely insane amount of control.
Most Unique Transient Shaper: Transgressor 2 by Boz
While you might end up paying a bit more for this plugin, it'll give you features that you won't find elsewhere. Transgressor 2 by Boz Digital Labs is packed to the brim with tons of notable features, perfect for adding punch to your percussive sounds.
One of the main reasons that Transgressor 2 stands out from the rest of the transient shaper plugins ou there is that you can edit the transient of the sounds separately from the sustained portion (or tail) of the sound. You can create sounds as you've never been able to before with this feature, exploring different parts of the signal with independence.

There are three different filter shapes and loads of customizable presets for both the transient and sustain sections. Of course, you also have access to your standard gain, frequency, and Q controls. However, the exciting thing is that you can dial each of these controls in at a very particular level to get the blend you're after.
One of the most helpful features of this plugin is the sidechain source, allowing you to shape the transient based on another signal in your session. This can work as a wonderfully transparent alternative to standard sidechaining with a compressor.
Best Value Transient Shaper: Izotope Neutron 3
Izotope has some of the best modern music software on the market today, and the company's Transient Shaper offers the best bang for your buck. Plus, it's a great choice if you'd rather invest in a bundle of mixing tools rather than a single mixing tool. Izotope's Transient Shaper, like many of the manufacturer's plugins, makes mixing a piece of cake.
The user interface is easy on the eyes, packed with tons of visual cues to give you a better understanding of how your mixing moves are impacting the signal.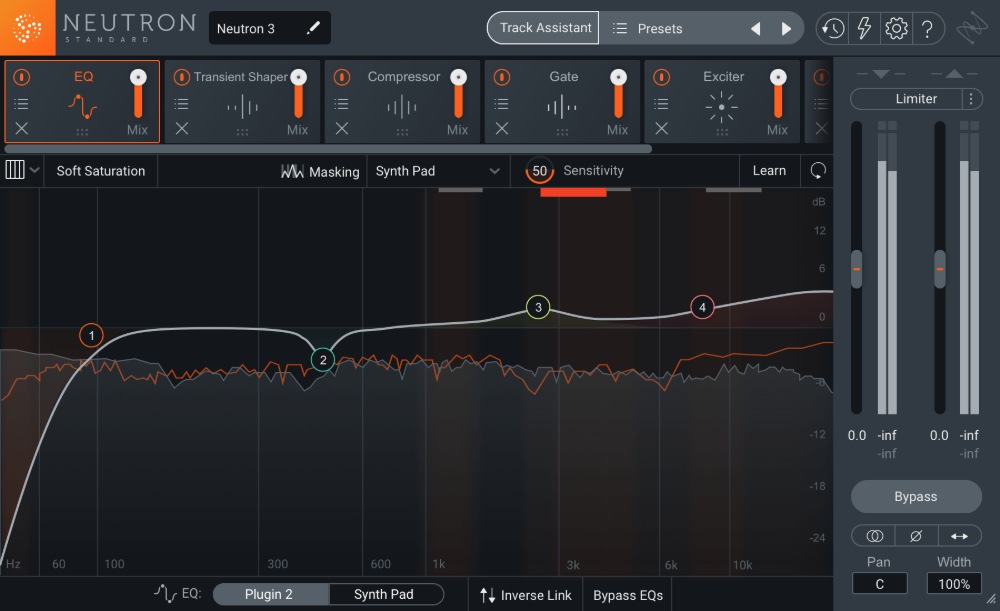 The plugin has three different modes to choose from, including loose, balanced, and precise. You'll find a Transient slider and a Sustain slider within each of these modes, allowing you to further manipulate your sound in greater detail.
The cool thing about these modes is that they can act as a starting point if you have a particular process in mind. For example, if you want to make your kick punchier, you can use Precise mode to create a transient that increases sharply. On the other hand, if you want to add sustain to a short signal, you can use the Loose mode to pull a bit more ambiance out of the signal.
Best Waves Transient Shaper: Smack Attack
Smack Attack by Waves is a fantastic transient shaper plugin. What I love most about it is that it lets you gives you control of not just attack and release, but the duration of each transient. This allows for much more fine-tuned control.
Smack Attack does this by having separate controls for the sensitivity of the attack and release settings. That way, you can take a loop and have it only trigger on the loudest bits - like the kick. Or you can set it to trigger on everything and really change the vibe.
On top of that, there are multiple output limiters built in. This allows you to chose whether the transient shaper will apply a brickwall limiter, a clipper, or no overload protection, offering even more control over you signal.
Smack Attack features a clean, easy to use interface with a lot of helpful visual feedback so you can see exactly what you're doing. Finally, it also includes a wet/dry knob, so you can add just the right amount of shaping.
Best Free Transient Shaper: Smile by Noisebud
If the word "free" draws you in as much as it does me, then you'll love the Smile plugin by Noisebud. With big, old-school "knobs" and easy-to-use controls, this free transient shaper gives you just about everything you need to get the job done.
Surprisingly enough, Noisebud took it a step further with the ability to process your signal in Mid/Side Mode, which we wouldn't have expected from a plugin with a $0 price tag. Even though it doesn't cost a dime, Smile is very transparent and works well to de-harsh signals, similar to other, more expensive transient shapers.
Best Transient Shaper Plugins FAQ
Here are some of the most common questions we get about the best transient shaper plugins. If you don't see your question below, please feel free to leave it in the comments.
Transient Shaper Vs. Compressor
The major difference between a transient shaper and a compressor is that a transient shaper can apply multiple forms of dynamic processing to a single signal at once, while compressors work in one fashion on the entire signal. Plus, with a transient shaper, you can control the amount of upwards expansion or downwards compression applied to either the transient or sustain of the signal.
What Instruments to Use A Transient Shaper On
While you can use a transient shaper on just about anything, they work best on drums or percussive sounds, as these sounds tend to have sharper transients than other instruments. For example, you can use a transient shaper to make a kick drum punchier or softer by adjusting the transient, though you can also add sustain for a Bonham-like sound or shorten the sustain for a tight, funky sound.
From a Frustrated Producer in a Ragtag Bedroom Studio to Major Placements on TV Earning $1,000s!
My name is Evan, and I've been making music since around 3rd grade. I'm from San Diego, California, but I've lived in Washington, DC for the last 20 years.
After 3 grueling years of grad school, though I had put aside serious attempts at making

music.

I found myself spending my days doing work that was dreadfully uncreative, with a ton of student student loan debt.
Which made me feel like my favorite parts of myself were withering.
But I didn't know what to do about it.
Being in my early 30s with tons of student loan debt, in a world where there is "no money in

music

," I felt like my youthful dreams of trying to "make it big" were dead. Like my music would remain unheard in my head and hard drive.
Frustrated by my inability to get my music heard, I started researching solutions.
Instead, I wanted to find a way where I could focus on making the

music

and let someone else deal with promoting it.
I realized the music licensing was the perfect opportunity for a solo artist like me to get my music heard, without having to do any promotion. I just need to focus on improving what I could control - my songwriting and my production skills.
While I still have a full-time day job, I have created systems that have allowed me to produce dozens of songs a year in my spare time.
My songs have been on Netflix, TV shows like the 90 Day Fiance, an award-winning indie film, and NPR's "All Thing Considered." They've also been streamed millions of times.
In addition to being a music producer, I am passionate about teaching people how they can make professional-sounding music and earn money licensing it, all in their spare time.
Thousands of musicians, like yourself, have trusted me to guide their musical journey. My YouTube videos have been watched nearly a million times. And my story has been in Forbes, Side Hustle Nation, and the Side Hustle School.
You Can Achieve Your Musical Dreams Too - Attend the Free Music Licensing Workshop!