There's nothing quite as distinct as the sonic character of trap drum kits in modern music. Their emergence from Atlanta's subculture, where the pulsating low-end frequencies of car subwoofers and club sound systems serve as a gravitational force for producers to explore the limits of low-end, has had an impact on music as we know it today.
Of course, if you're looking to make great trap music, you need to have access to the same samples these acclaimed producers do.
That's why today, we're going to take a look at the 13 best trap drum kits for producers!
But if you're in a hurry...
Note: this article may contain affiliate links, which mean that I receive a commission for any purchases you make, at no added cost to you.
Best Value Trap Bundle - Beat Production's Ultimate Trap Bundle
Crafting a chart-topping trap hit requires a keen ear and a vast array of high-quality sounds. Luckily, the team over at BeatProduction.net simplified the task by bundling together eight of their top-rated trap sample packs into a single, unbeatable package, ensuring you have everything you need to create your next smash hit. This sample library is loaded with 1,000s of wav samples and loops, including their best samples, and it's a valuable for instant download now.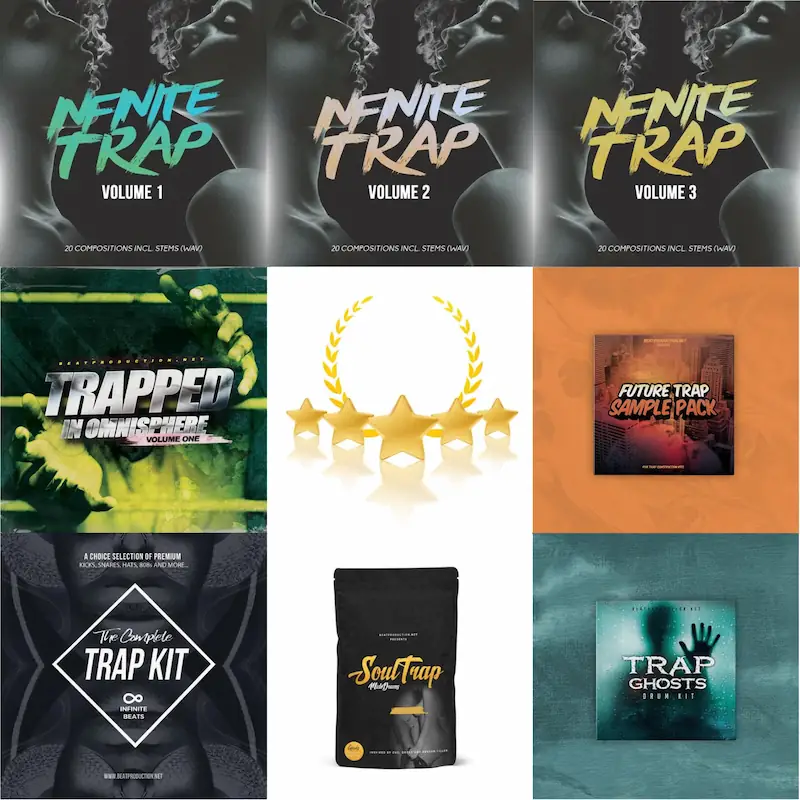 This bundle includes everything you need to make fire trap beats!
You get multiple packs with a single purchase, covering a wide range of sounds. The bundled sound kits included including:
The Complete Trap Kit Enhanced Edition
Future Trap Sample Pack
Trap Ghosts Drum Kit Enhanced Edition
Infinite Trap Vol. 1
Infinite Trap Vol. 2
Infinite Trap Vol. 3
Soul Trap MIDI Drum Patterns
Trapped in Omnisphere
No matter what you're looking for, you'll be able to find it here! From earth shaking kick drums to machine gun snares, these high quality trap drum samples are best of the bunch. The Infinite Trap sample packs are full of song starters, making them a great starting point for creating your next beat, while Trap Ghosts offers dark melodies, unique sounds, creepy fx sounds, and other unique trap elements.
A demo of the Trap Ghosts kit included in the bundle
And the Complete Trap Kit... wow. This is probably one of the top trap drumkits around, it's loaded with over 200 samples of hard-hitting drums, 808 bass samples, Vox samples, sound effects, and more.
This massive - and affordable - bundle is sure to see heavy use in your collection! So check out the Ultimate Trap Bundle.
​
Best Trap Pack in the style of Metro Boomin - Boomin Hip Hop & Trap
"Boomin' Hip Hop and Trap" is a comprehensive package that captures the fiery energy of the current chart-topping hip-hop and trap genres that are taking the global music scene by storm. Based on the sound of Metro Boomin, one of the best trap music producers in the music industry, this pack features fresh new loops that would be perfect on tracks by artists like Drake, Lil Wayne, Kendrick Lamar, The Weeknd, Lil Uzi Vert, Trippie Redd, PARTYNEXTDOOR, blackbear, Future etc.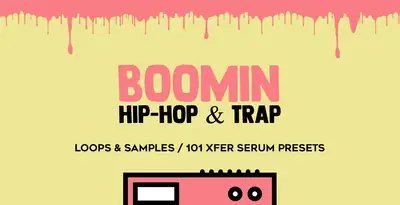 Loaded with an array of first-rate content, this pack is a game-changer for rappers, producers, and beatmakers, giving them the necessary edge to elevate their music to the next level.
Boomin' Hip Hop and Trap includes an extensive selection of top-quality drum loops, ranging from full-bodied grooves to snappy top loops, as well as a diverse range of percussion and melodic loops to bring an innovative edge to your tracks.
Best Sample Pack for Trap Beats - Trap Gems
If you want to step up your modern trap beat game, Trap Gems is the ultimate toolkit for crafting the perfect beats.
This pack works in a diverse range of sub-genres, from the gritty energy of Rage and Atlanta trap, to the laid-back vibes of Lo-Fi and the atmospheric allure of Glo. You can combine these samples to create your own unique sound, or lean heavy into a sub-genre. It all depends on your personal preferences.
The pack was produced by Harry 'Runone' Robinson, who has worked with some of the biggest names in music, from Sam Smith to The Ragga Twins.
You can unleash your creativity with a plethora of sounds, including ominous horn loops, razor-sharp arpeggiated synths, and velvety keys. With Trap Gems, you have all the necessary ingredients to land your next trap banger.
Best Trap MIDI Files Pack - Beat Production Soultrap
There's an irresistible vibe found in beats from artists like Drake and Bryson Tiller, and if you already have your samples locked down, then having some MIDI templates to capture the same vibe can be super helpful.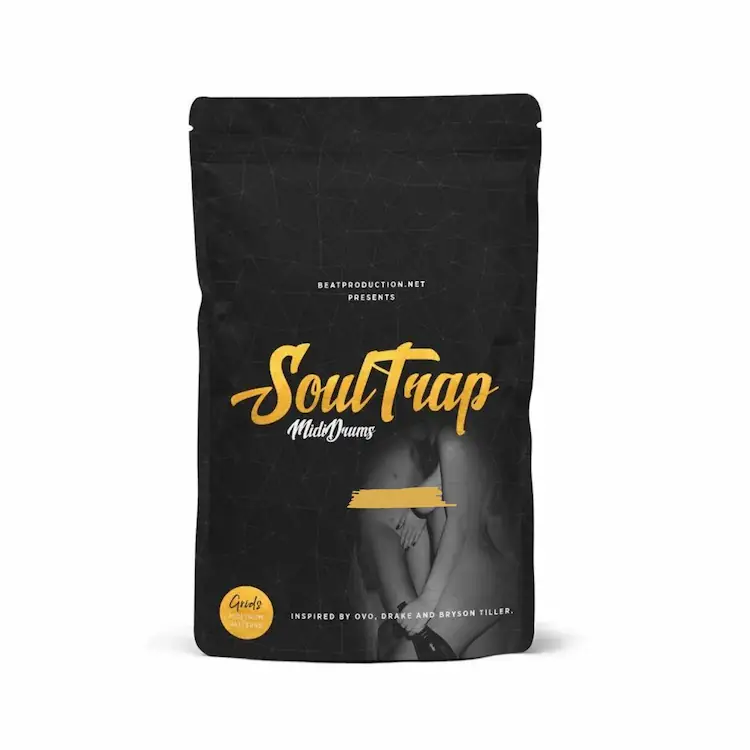 And Beat Production's Soul Trap MIDI pack is the most silky delicious choice out there.
This sample pack features 120 MIDI files across five unique construction kits, with each kit offering six variations for each drum, allowing for endless possibilities.
You can easily mix and match between kits to create your own personalized sound, or stick to one for a cohesive feel. Plus, as a bonus, they included the audio mixdowns of each drum groove.
Note: The Soul Trap MIDI Pack is included with the Ultimate Trap Bundle - so don't buy both of them!
Best Dark Trap Sound Packs - Freaky Loops Drill Trap
Freaky Loops Drill Trap is the ultimate weapon for dark trap production, packed with iconic trap melodies and dirty drum beats.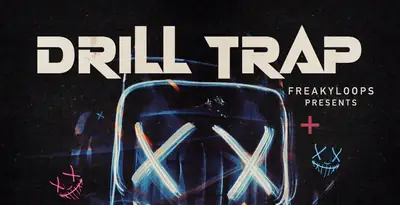 All of the elements in this pack offer a uniquely rebellious sound, sure to rattle your trunk speakers. You'll find just about everything you need to elevate your tracks, including bouncy hi-hats, raspy percussion, rapid-fire snares, filtered pads, dastardly 808s, hard-hitting basslines, squelchy leads, soaring synths, menacing guitars, spooky keys, and more.
If drill is your thing, then Drill Trap is perfect for you.
Best Trap Pack for FL Studio - Trap Titans
If you're an FL Studio user, we highly recommend checking out 'Trap Titans' - an epic collection of six trap construction kits from YnK Audio.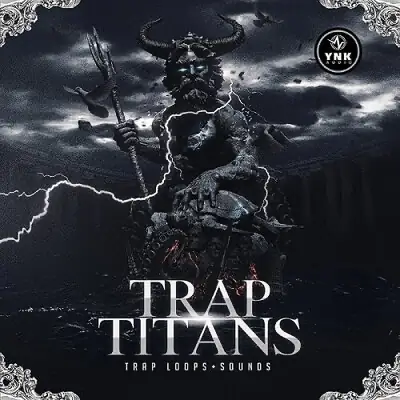 This pack is influenced by the latest and greatest trap producers in the industry, delivering top-notch elements and kits that are crafted with precision and care.
With tempos ranging from 65 to 79 BPM, Trap Titans offers the perfect foundation for your trap production. However, what makes it a great choice for FL Studio is the six included templates to give you a solid jumping-off point.
Best High-Quality Trap Drums - Hard Trap
Hard Trap is a formidable collection of punchy drums, soaring synth melodies, evil basslines, and futuristic chord loops from Loopmasters.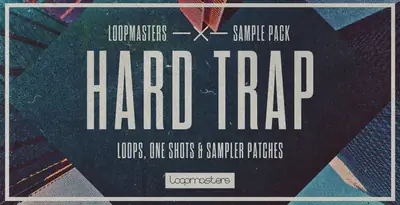 With almost a gig of content, including loops, synth presets, one-hits, MIDI files, and sampler instruments.
However, what truly stands out in this pack are the drum elements. It's easy to tell that each element is expertly crafted and designed to bring a sense of malevolent power to any track.
Alongside the 245 one-hit samples, you'll fantastic selection of additional content, including 80 MIDI loops for bass, chords, and melody variations. The possibilities are truly endless with Hard Trap.
Best Trap Melody Loops - Lowkey Trap Melody Samples
If there's one thing we understand, it's the struggle of creating a catchy trap melody. That's why we're excited about this unique sample pack that takes an innovative approach.
Lowkey Trap Melody Samples features a diverse range of essential trap melody loops that cater to the most prominent Hip-Hop sub-genres of today, such as Cloud Rap, Drill, Emo Trap, Dark Trap, and Chill Trap.
You get 20 trap melody kits, each packed with an array of inspirational musical ideas and top-quality sounds. From fully composed melody loops to individual instrument loops for each melody, you have plenty of ways to unleash your creativity.
Best Full Trap Construction Kits - Future Trap Sample Pack Construction Kits
Loopoholics' 'Future Trap: Construction Kits' from is one of the best sample packs to ignite your trap productions if you're always looking for new sounds. Within this innovative pack, you'll find six meticulously crafted construction kits and 10 bonus loops, delivering a blend of timeless sounds inspired by some of the leading names in Trap and Future RnB, such as Mo Vibez, Ekali, Lido, and many others.
You'll also find an array of energetic drums, futuristic synths, and radio-ready vocal cuts, which range in tempo from 57-157 BPM, allowing you to achieve any end result you want.
This collection offers an unparalleled sonic experience that will take your music production to new heights. Get ready to create chart-topping tracks with 'Future Trap: Construction Kits' from Loopoholics.
Best Trap Kits for Drum Loops - Quantum Theory Entrapment
If you want to give your subs a major boost and take a dive into the deep end of the sound spectrum, check out Entrapment. This collection of extraordinarily weighty trap sounds was meticulously crafted by Quantum Theory for Loopmasters.
You'll find 13 electrifying construction kits, each drawing inspiration from some of the most popular sounds in trap.
Every kit comes packed with a variety of one-shot samples and broken-down stems, including hard-hitting drum and percussion elements, mesmerizing synth loops, soul-shaking sub kicks and bass melodies, vocal shots and phrases, and mind-bending SFX. Quantum Theory's Entrapment may be one of the easier kits to get started with.
Best Trap Beat Starter Pack - Infinite Trap Vol. 1
Beat block. We've all been there. You sit down to start making a track and you find it almost impossible to get in the flow.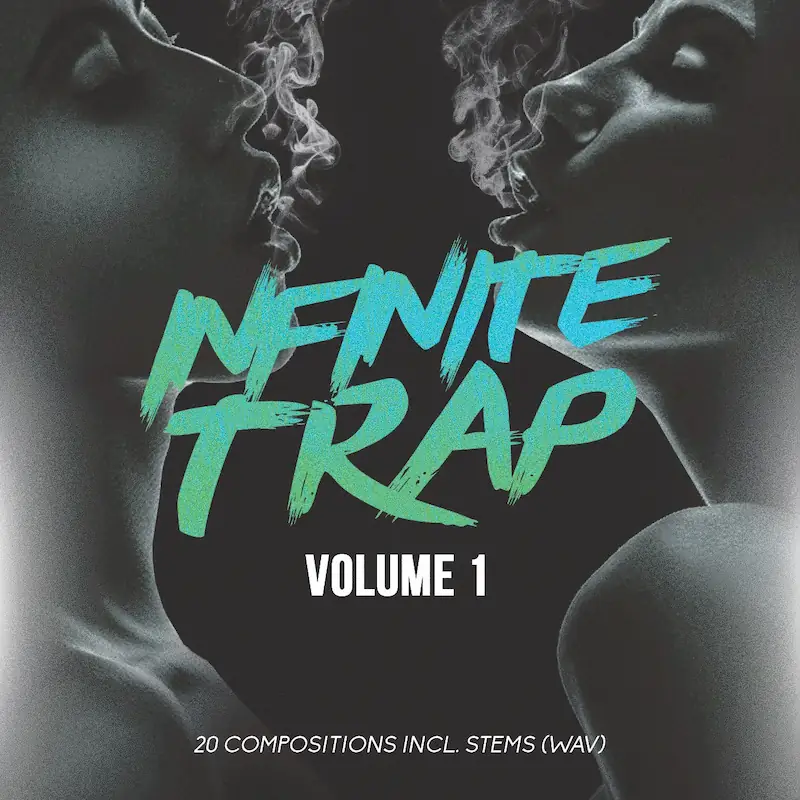 Luckily, with the recent release of "Infinite Trap Volume 1," you get access to a plethora of original compositions to help jumpstart your creativity and eliminate any lingering beat block.
With a selection of 20 beatstarters to choose from, the power is in your hands. I recommend getting creative and breaking down each beatstarter to your liking. Switch up the drums, slice and dice the melody, and get funky by sidechaining the pads.
Though this pack offers a good starting point, the rest is entirely up to you!
Note: Infinite Trap Vol. 1 is included with the Ultimate Trap Bundle - so don't buy both of them!
Best Trap Snare Fill Pack - Fill the Trap
Snare rolls are an essential in trap music, adding energy and movement, whether for foundational rhythms or a sense of anticipation building up to the drop.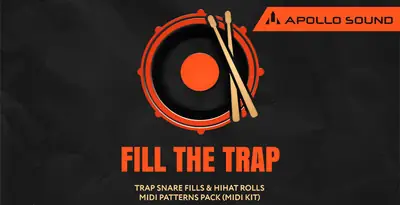 This is where the Fill The Trap library comes in handy. You'll find 30 trap hi-hat roll loops and 30 snare roll patterns with all the sought-after rolling and pitch-shifting you hear in your favorite mixes.
Simply select your preferred MIDI loop, import it to your DAW, and pair it with your favorite sampler along with the perfect hi-hat or snare sound to get it poppin'.
From a Frustrated Producer in a Ragtag Bedroom Studio to Major Placements on TV Earning $1,000s!
My name is Evan, and I've been making music since around 3rd grade. I'm from San Diego, California, but I've lived in Washington, DC for the last 20 years.
After 3 grueling years of grad school, though I had put aside serious attempts at making

music.

I found myself spending my days doing work that was dreadfully uncreative, with a ton of student student loan debt.
Which made me feel like my favorite parts of myself were withering.
But I didn't know what to do about it.
Being in my early 30s with tons of student loan debt, in a world where there is "no money in

music

," I felt like my youthful dreams of trying to "make it big" were dead. Like my music would remain unheard in my head and hard drive.
Frustrated by my inability to get my music heard, I started researching solutions.
Instead, I wanted to find a way where I could focus on making the

music

and let someone else deal with promoting it.
I realized the music licensing was the perfect opportunity for a solo artist like me to get my music heard, without having to do any promotion. I just need to focus on improving what I could control - my songwriting and my production skills.
While I still have a full-time day job, I have created systems that have allowed me to produce dozens of songs a year in my spare time.
My songs have been on Netflix, TV shows like the 90 Day Fiance, an award-winning indie film, and NPR's "All Thing Considered." They've also been streamed millions of times.
In addition to being a music producer, I am passionate about teaching people how they can make professional-sounding music and earn money licensing it, all in their spare time.
Thousands of musicians, like yourself, have trusted me to guide their musical journey. My YouTube videos have been watched nearly a million times. And my story has been in Forbes, Side Hustle Nation, and the Side Hustle School.
You Can Achieve Your Musical Dreams Too - Attend the Free Music Licensing Workshop!