Today I'm reviewing Golden Age Project Pre-73 Mark IV. Is it the key to audio utopia, or just another preamp in the crowd? Buckle up as I take you through my month-long journey with this beast.
In short, if your looking for external processors to give you the vintage color of a classic console tone, the Golden Age Project Pre-73 MKIV does a great job of bringing the sound of a classic preamps of yesterday to your home studio at an affordable price.
Note: some of the links below may be affiliate links, meaning that I receive a commission if you purchase through them. Golden Age Project provided a loaner unit for me to review.
In the Sonic Trenches: Demos Galore!
Before we dive into the nitty-gritty, let's talk results. I've slapped the Pre-73 on bass, electric guitar, acoustic guitar, and vocals, and the verdict? Drumroll, please. It's a dream for recording bass and electric guitar, where you can basically use it as a DI box. It also sounds silky smooth using it with a condenser mic to record acoustic guitar. However, vocals didn't get the golden touch I was hoping for. It didn't add that 100% magic, but hey, it wasn't a deal-breaker.
Watch this video to hear the GAP Pre-73 demos in action.
✅ Click here to read more reviews of the Golden Age Project Pre-73 MKIV ✅
Feature Fiesta: A Peek Under the Hood
The Pre 73 MKIV harkens back to the golden age of audio, offering the spirit of classic British consoles at a fraction of the price. There are tons of thoughtful options, including 80 dB of gain, a front panel insert jack, surface-mount components, and a nicely stepped gain knob to easily boost the levels of delicate sound sources. The first thing you'll notice about this metal half-rack chassis is that it's a beautiful cherry red.
I didn't test it with any dynamic microphones, but I'm sure it would perform well. I also didn't test it with sensitive ribbon microphones, which typically need at least 65-dB of input gain. In theory, there is enough gain for a ribbon mic, but I'm not sure whether this preamp offers enough headroom if you've got a ribbon mic in your mic locker.
Pre-73 MKIV Front Panel Features
Now, let's tour the Pre-73's front panel. The build is solid with a nice metal chassis that feels fairly sturdy. However, one downside is the tiny switches, which get the job done but could be a little fragile live. The DI in is a nifty addition for your bass or guitar, and the low-Z switch ensures even low-output guitars play nice. Switchable phantom power, gain control (stepped and sweet), and a subtle high pass remove low-end rumble – it's like a preamp buffet. These options allow you to either used the MKIV as a line-level preamp or with your favorite mics.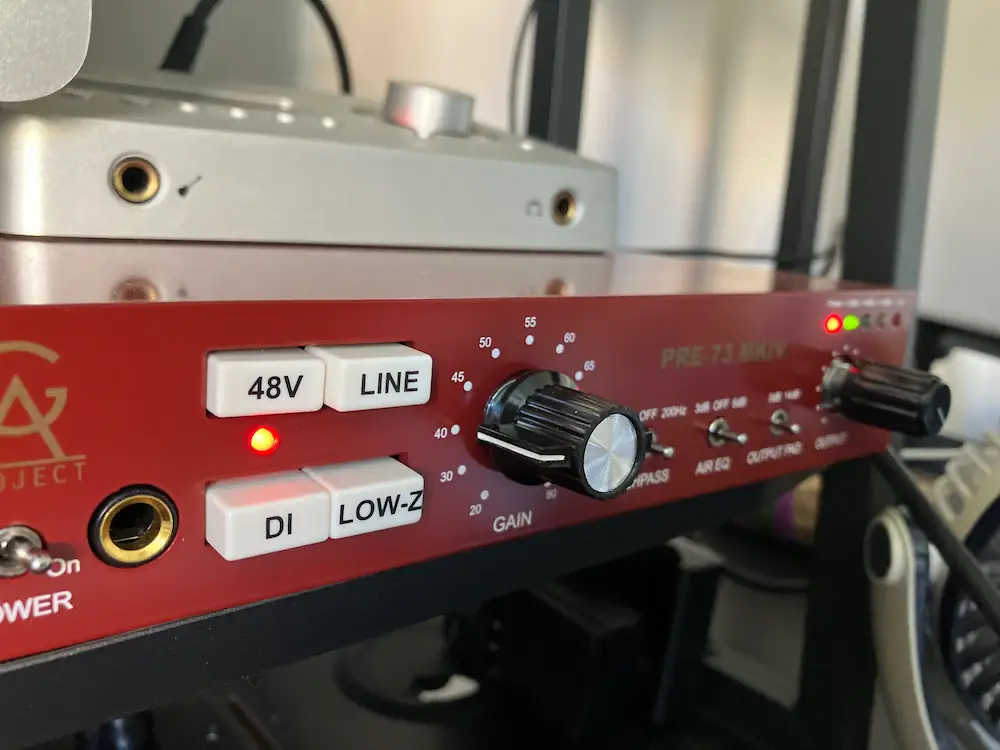 ✅ Click here to learn more about the Pre-73 MKIV ✅
But wait, there's more! A selectable top-end air EQ for that extra shimmer and a 14 db pad on the output for control of hot signals, as well as a meter for the preamp's output transformer (which can be saturated independently of the input transformer).
Unfortunately, it does not include a low-pass filter or a meter for the input section.
Pre-73 MKIV Back Panel Features
The back panel features a choice of TRS or XLR out and ins and an external power supply in the middle (bye-bye, wall wart). The preamp was very quiet when posted, and I think the design eliminates a lot of the risk of self-noise.
The Love-Hate Relationship with Saturation
Here's the scoop on saturation – tread lightly. I wasn't a fan once the pedal hit the metal. It started sounding a bit off-key for my taste. Saturation junkies, be warned! My sweet spot? Keeping the input low and the output cranked. It's a delicate dance, my friends
The Wishlist: Monitoring Woes
My only gripe? Monitoring. I wished for an input meter or the option to switch between in and output meters. Tracking acoustic guitar made it hard to gauge saturation without hitting that record button. Visual cues would've been a game-changer.
Final Chord: The Golden Age Project Pre-73 MKIV Review Verdict
So, what's the verdict? The Golden Age Project Pre-73 Mark IV is a powerhouse for bass, acoustic, and clean guitar. Vocals, not so much. It's sturdy, well-built, with a few quirks that might make road warriors think twice. But for its price, it's a steal.
Golden Age Audio has made smart component choices to the greatest update to this 73-style preamp series heard on countless recordings, expertly balancing classic console color with modern convenience at a price that's affordable to most home studios.
Now, let's cut the chatter and let your ears be the judge. Dive into the demos, and decide for yourself if the Pre-73 Mark IV is your ticket to sonic bliss or just another pit stop on your audio journey. Happy listening, fellow sound alchemists! For my money, this update nails the classic British console sound.
From a Frustrated Producer in a Ragtag Bedroom Studio to Major Placements on TV Earning $1,000s!
My name is Evan, and I've been making music since around 3rd grade. I'm from San Diego, California, but I've lived in Washington, DC for the last 20 years.
After 3 grueling years of grad school, though I had put aside serious attempts at making

music.

 I found myself spending my days doing work that was dreadfully uncreative, with a ton of student student loan debt.
Which made me feel like my favorite parts of myself were withering.
But I didn't know what to do about it.
Being in my early 30s with tons of student loan debt, in a world where there is "no money in

music

," I felt like my youthful dreams of trying to "make it big" were dead. Like my music would remain unheard in my head and hard drive. 
Frustrated by my inability to get my music heard, I started researching solutions.
Instead, I wanted to find a way where I could focus on making the

music

and let someone else deal with promoting it. 
I realized the music licensing was the perfect opportunity for a solo artist like me to get my music heard, without having to do any promotion. I just need to focus on improving what I could control - my songwriting and my production skills.
While I still have a full-time day job, I have created systems that have allowed me to produce dozens of songs a year in my spare time.
My songs have been on Netflix, TV shows like the 90 Day Fiance, an award-winning indie film, and NPR's "All Thing Considered." They've also been streamed millions of times.
In addition to being a music producer, I am passionate about teaching people how they can make professional-sounding music and earn money licensing it, all in their spare time.
Thousands of musicians, like yourself, have trusted me to guide their musical journey. My YouTube videos have been watched nearly a million times. And my story has been in Forbes, Side Hustle Nation, and the Side Hustle School.
You Can Achieve Your Musical Dreams Too - Attend the Free Music Licensing Workshop!