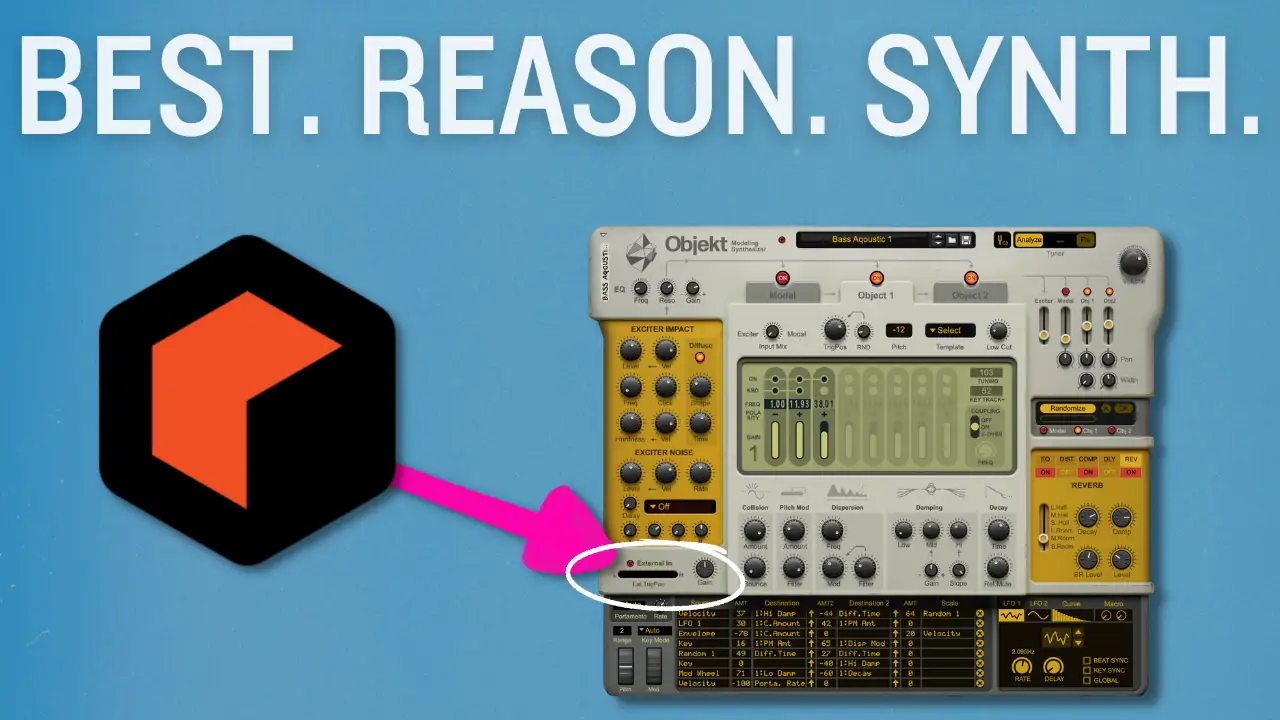 Reason comes with a lot of synths and samplers. Some of them are great. Some of them are average. A couple are downright outdated. But the new Objekt Modeling Synth by Reason Studios is a software synthesizer that promises to revolutionize the way you create sounds.
Objekt Review Video
If you prefer to hear and see Objekt in action, check out this review video of Objekt.
What Makes Objekt Unique?
One of the key features of the Objekt Modeling Synth is its ability to generate realistic instrument sounds through the use of physical modeling technology. This means that instead of relying on pre-recorded samples, the synth uses mathematical models to simulate the behavior of real-world instruments. This approach gives you more control over the sound and allows you to create unique, personalized sounds that would be difficult to achieve with traditional sampling methods.
Yea, Objekt is complicated...
The interface of the Objekt Modeling Synth is sleek and modern, with a simple layout that makes it easy to use for both beginners and advanced users. The main screen displays a graphical representation of the current sound you're working on, with intuitive controls for adjusting parameters like the attack, decay, sustain, and release of the sound.
That said, it is complicated. A little overwhelming even. I think it's going to take folks a long time to learn how to fully unleash Objekt.
What Does Objekt Sound Like?
One of the most impressive things about the Objekt Modeling Synth is the sheer variety of sounds you can create with it. The synth comes with a library of presets to get you started (over 500, I believe), ranging from classic keyboard sounds to more experimental and abstract tones. But where it really shines is in its ability to create completely custom sounds from scratch.
One of the standout features of the Objekt Modeling Synth is its ability to create complex and realistic drum sounds. By using physical modeling technology to simulate the behavior of drums and percussion instruments, the synth allows you to create detailed, nuanced drum kits that sound like they were recorded in a real studio. This is a huge advantage over traditional drum samplers, which often rely on pre-recorded samples that can sound stale and lifeless.
Another feature that sets the Objekt Modeling Synth apart from other software synths is its built-in effects. The synth comes with a wide range of high-quality effects like reverb, delay, distortion, and modulation, allowing you to add depth and texture to your sounds without having to use external plugins.
Concluding Thoughts and Verdict of Objekt Review
Overall, the Objekt Modeling Synth by Reason Studios is an incredibly powerful and versatile tool for music producers of all levels. Its physical modeling technology allows for a level of control and customization that is difficult to achieve with traditional sampling methods, and its interface offers possibilities for both beginners and advanced users. With its ability to create realistic instrument sounds and complex drum kits, as well as its built-in effects, the Objekt Modeling Synth is a must-have tool for anyone looking to take their music production to the next level.
This synth is really unlike anything else out there, and is a unique justification for buying Reason.
FAQ about Objekt
Does Reason 12 Come with Objekt?
No, Objekt is not part of Reason 12. It is a Rack Extension that you need to buy separately. I believe it is compatible with any version of Reason that can uses rack extension, but be sure to confirm that before purchasing.
Does Objekt Come with Reason+?
Yes, Objekt is included in Reason+. Reason+ includes Reason 12 and every rack extension device that Reason Studios has created. You can get Reason+ here (affiliate link).
Does Objekt Require Reason?
Yes, you need to run Objekt inside of an instance of Reason. However, Reason itself can be run as a plugin inside of another DAW. So you can use Objekt with any DAW, if you have a copy of Reason and Objekt.
From a Frustrated Producer in a Ragtag Bedroom Studio to Major Placements on TV Earning $1,000s!
My name is Evan, and I've been making music since around 3rd grade. I'm from San Diego, California, but I've lived in Washington, DC for the last 20 years.
After 3 grueling years of grad school, though I had put aside serious attempts at making

music.

 I found myself spending my days doing work that was dreadfully uncreative, with a ton of student student loan debt.
Which made me feel like my favorite parts of myself were withering.
But I didn't know what to do about it.
Being in my early 30s with tons of student loan debt, in a world where there is "no money in

music

," I felt like my youthful dreams of trying to "make it big" were dead. Like my music would remain unheard in my head and hard drive. 
Frustrated by my inability to get my music heard, I started researching solutions.
Instead, I wanted to find a way where I could focus on making the

music

and let someone else deal with promoting it. 
I realized the music licensing was the perfect opportunity for a solo artist like me to get my music heard, without having to do any promotion. I just need to focus on improving what I could control - my songwriting and my production skills.
While I still have a full-time day job, I have created systems that have allowed me to produce dozens of songs a year in my spare time.
My songs have been on Netflix, TV shows like the 90 Day Fiance, an award-winning indie film, and NPR's "All Thing Considered." They've also been streamed millions of times.
In addition to being a music producer, I am passionate about teaching people how they can make professional-sounding music and earn money licensing it, all in their spare time.
Thousands of musicians, like yourself, have trusted me to guide their musical journey. My YouTube videos have been watched nearly a million times. And my story has been in Forbes, Side Hustle Nation, and the Side Hustle School.
You Can Achieve Your Musical Dreams Too - Attend the Free Music Licensing Workshop!