Are you in search of a versatile MIDI controller that can elevate your music production to new heights? Look no further than the Arturia KeyLab Essentials MkIII! In this in-depth review, we'll explore the features, performance, and usability of this remarkable keyboard, uncovering why it has become a game-changer for musicians and producers alike.
Note: some of the links below may be affiliate links, meaning that I receive a commission if you purchase through them. Arturia provided me with a free copy of the Keylab for review.
Key Features That Ignite Creativity
The Arturia KeyLab Essentials MkIII boasts a host of features that make it an irresistible choice for both beginners and professionals. With 49 or 61 well-sized keys, a pitch bend wheel, and a smooth mod wheel, the keyboard offers a fantastic playing experience. The keys strike the perfect balance between snappy responsiveness and authentic feel, providing just the right amount of firmness and softness.
For my setup, I prefer 49 keys, as it doesn't take up too much space, yet provides 4 full octave of range, which is enough for most of my home studio playing. I can always transpose notes up or down after recording to make things sound better.
All of Keylab's features and controls are readily available and easy to reach
Expressive Pads and Intuitive Controls
One standout feature of the KeyLab Essentials MkIII is its eight responsive pads, perfect for drumming and triggering samples. These pads strike the ideal balance between stiffness and softness, ensuring optimal playability. Additionally, the controller offers convenient controls such as save, quantize, undo, and redo buttons, along with transport controls for seamless music production.
The pads and keys are all velocity sensitive and feature aftertouch, meaning that the expressiveness of your playing is able to conveyed clearly via MIDI.
Streamlined Integration with Leading Software
Seamless integration with popular DAWs like Logic and Ableton Live sets the KeyLab MkIII apart from the competition. With dedicated control mappings and easy navigation, you can dive into your creative process without any limitations. The Keylab's balance of price, features and DAW integration is why it's one of the best MIDI keyboards for Logic.
Plus, the controller's compatibility with Arturia's Analog Lab V provides access to a vast library of incredible sounds and presets that will inspire your musical journey.
To add DAW mapping, you do need to go to Arturia's website and download a DAW-specific filed. It takes about two minutes to setup and Arturia includes clear instructions on it. Unfortunately, there is no native support for Reason.
Unleash Your Creativity with Customizable Features
The KeyLab MkIII offers extensive customization options to tailor your workflow to your preferences. Nine faders and nine knobs allow for precise control over volume and other parameters. With its intuitive screen and flexible controls, you can effortlessly shape your sound and explore different instruments and effects with ease.
The faders and knobs all feel great and move smoothly. My only gripe is that the knobs are infinite turn, meaning you don't know where full left or full right is until you start moving them.
Integration with Analog Lab V
A Game-Changing Experience: Arturia's Analog Lab V adds an extra layer of versatility to the KeyLab Essentials MkIII. With over 6,000 high-quality sounds, you'll have endless sonic possibilities at your fingertips. The seamless integration between the controller's knobs and faders and Analog Lab V's parameters makes sound manipulation a breeze, allowing you to create unique sonic landscapes effortlessly.
Superb Build Quality for On-Stage and Studio Use
The KeyLab MkIII strikes a perfect balance between durability and portability. With its lightweight yet sturdy construction, it's a reliable companion for both studio sessions and live performances. The absence of backlit keys is compensated by the vibrant lights that provide clear visual feedback, making it suitable for stage use.
And at around $200, if something terrible were to happen to it, you wouldn't be out of pocket too badly.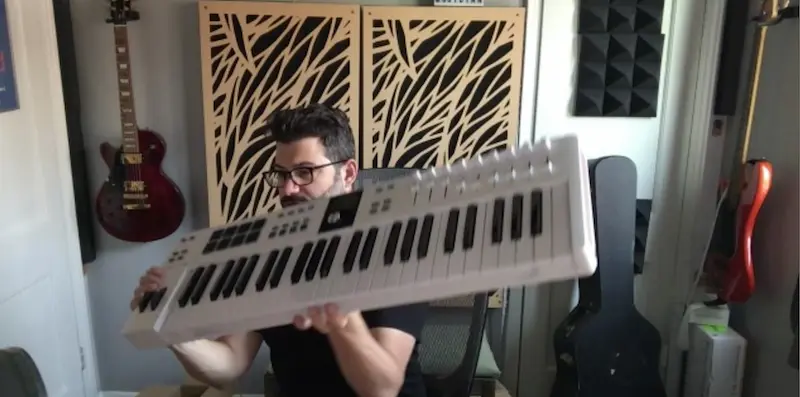 You can easily pickup the Arturia Keylab Essentials 49 MKIII with one hand, yet it feels solid and durable.
Minor Nitpicks Worth Considering
While the KeyLab MkIII excels in many areas, a few minor drawbacks should be noted. It lacks a power button, so it remains on unless the USB cable is unplugged. Additionally, the unique USB cable type may be slightly inconvenient if you're accustomed to other cable formats. Finally, the device offers only one insert for an expression or sustain pedal, which may require choosing between the two.
Conclusion
Overall, the Arturia KeyLab MkIII stands as a remarkable MIDI controller that excels in performance, versatility, and build quality. With its intuitive features, seamless DAW integration, and expansive sound library, it has become a top choice for musicians seeking unparalleled control and creative freedom. Embrace this powerhouse controller and witness your musical ideas come to life like never before.
[Disclaimer: This review is based on personal experience and aims to provide an unbiased assessment of the Arturia KeyLab MkIII. Individual preferences and requirements may vary.]
From a Frustrated Producer in a Ragtag Bedroom Studio to Major Placements on TV Earning $1,000s!
My name is Evan, and I've been making music since around 3rd grade. I'm from San Diego, California, but I've lived in Washington, DC for the last 20 years.
After 3 grueling years of grad school, though I had put aside serious attempts at making

music.

 I found myself spending my days doing work that was dreadfully uncreative, with a ton of student student loan debt.
Which made me feel like my favorite parts of myself were withering.
But I didn't know what to do about it.
Being in my early 30s with tons of student loan debt, in a world where there is "no money in

music

," I felt like my youthful dreams of trying to "make it big" were dead. Like my music would remain unheard in my head and hard drive. 
Frustrated by my inability to get my music heard, I started researching solutions.
Instead, I wanted to find a way where I could focus on making the

music

and let someone else deal with promoting it. 
I realized the music licensing was the perfect opportunity for a solo artist like me to get my music heard, without having to do any promotion. I just need to focus on improving what I could control - my songwriting and my production skills.
While I still have a full-time day job, I have created systems that have allowed me to produce dozens of songs a year in my spare time.
My songs have been on Netflix, TV shows like the 90 Day Fiance, an award-winning indie film, and NPR's "All Thing Considered." They've also been streamed millions of times.
In addition to being a music producer, I am passionate about teaching people how they can make professional-sounding music and earn money licensing it, all in their spare time.
Thousands of musicians, like yourself, have trusted me to guide their musical journey. My YouTube videos have been watched nearly a million times. And my story has been in Forbes, Side Hustle Nation, and the Side Hustle School.
You Can Achieve Your Musical Dreams Too - Attend the Free Music Licensing Workshop!