As one of the most popular DAWs on the market today, there are many producers looking for MIDI controllers for Logic Pro X. If you look at the vast range of producers out there, you'll notice that many of them use Apple gear.
However, beyond the computers and software, you'll notice that most professional producers and touring artists use MIDI keyboards for playing software instruments and triggering samples live.
Let's take a look at some of the best MIDI controllers for Logic Pro X on the market today. At the end of this review, I've added some buyer tips to help you find the right keyboard based on your needs!
Note: some of the links below may be affiliate links, meaning that I receive a commission if you purchase through them.
The Best Keyboards for Logic Pro X
Without further ado, here are the best midi controllers available for music producers who use Logic Pro. These keyboards cover the full range of features and every price point, from cheap barebones mini-controllers to 88-key keyboards with full-size keys weighted so that even pro piano players will feel at home!
Every one of these midi keyboards is a good fit for somebody!
1. Best Beginner MIDI Keyboard Controller for Logic Pro X - Akai MPK Mini MK II
If you're just getting started with MIDI controllers and you don't want to spend a lot of money or get something overcomplicated, I highly recommend the Akai MPK Mini MKII as your first midi controller.
One of the great things about this MIDI controller is that it is incredibly compact. With only 25 keys and a slim design, you can easily slip it into your backpack, making it great for producers on the go.
It is best powered using a USB connection that plugs directly into your computer, and it even comes with a few virtual instrument download packages to expand your arsenal alongside your current Logic Pro X instruments.
The miniature keys may be a little bit difficult to play on for experienced pianists, though the synth action feels solid. You'll also find eight velocity-sensitive rubber drum pads with two banks and eight control knobs that are assignable within Logic Pro X. Unfortunately, you lose out on the range with the compact design, though the octave up and down buttons make it easy to seamlessly move from one octave to the next while performing.
As a bonus, Akai includes a production software package for Mac users, including the Akai Pro MPC Essentials loaded with virtual instruments like, the Hybrid 3 by AIR Music Tech, and the SoniVox Wobble, all of which have more than 1,400 sounds.
Though this is a small MIDI controller aimed at beginners, it shouldn't be underestimated. Akai has been in the game for many decades and produces some of the best production hardware on the market today. I've been using Akai equipment since I got started producing more than a decade ago and it's still some of my favorite gear.
The Akai MPK Mini just so happens to be one of the company's flagship portable options, providing producers with a plug-and-play experience no matter where in the world they find themselves.

2. Best MIDI Controller for Live Performances in Logic Pro X - M-Audio Oxygen Pro Live
M-Audio is another massive name in MIDI controllers, and the manufacturer makes some of the best MIDI controllers for live performances. As with the other keyboard manufacturers on this list, M-Audio has a lineup of keyboards in different sizes, including 25, 49, 61, and 88, so there's a version that will fit in any size home studio or live rig.
@hen it comes to playing live, I recommend a 61 key keyboard, as it balances the ability for complex voicings with increased portability.
All of these keyboards have the same features, so it really just depends on the number of keys you desire or want to pay for.
One of the things I love a lot about the M-Audio Oxygen Pro Live is the seamless integration for most major digital audio workstation software and performance mapping. As soon as you plug it into Logic Pro X, she automatically maps controls, such as channel controls, faders, transport controls, pan controls, and more. It's as simple as selecting the correct configuration in whatever DAW you're using, and you're good to go.
Trying to fiddle around with mapping during a live performance can be a major workflow headache, which is one of the reasons this MIDI controller is so special.
It also comes with an array of smart controls, including Smart Scale and Smart Chord technology. If you're not quite a music theory expert, you can use these tools to create chords or play melodies within scales to get whatever is in your head out into the speakers or into your DAW.
You also get a wide range of professional production features, including the Note Repeat and Arpeggiator features, which open up an array of live and in-studio production techniques. The controls are very responsive, too, allowing for more expressive playing when on stage.
All of these features are wrapped up in a lightweight chassis with semi-weighted keys for excellent playability. Each key also features Channel Aftertouch for an additional layer of control.

3. Best MIDI Controller for Logic Pro X - Arturia KeyLab MKII 61
The Arturia Keylab MKII 61 is one of the most durable and feature-packed MIDI controllers on the market today. Not only is it intuitive and compatible with every major DAW, but it also has an incredible build quality overall. Just about any feature you could want in a MIDI controller can be found in the Arturia KeyLab MKII 6.
This controller is one of my favorites to use with Logic Pro X, and though it comes in different sizes, the 61-key offers the best of both worlds in terms of flexibility and portability. You get more range without the bulk of an 88-key keyboard.
One of the other things that really drew me to Arturia KeyLab MKII 61 was the feeling of the keys. If you've ever played any cheap MIDI keyboards, then you know how terrible the action can be. With a superb aftertouch-sensitive keypad, semi-weighted keys, and a rugged aluminum chassis, you get an expressive keyboard that is fun to play with and can withstand the most grueling of tours.
Beyond the key bad, you get nine rotary encoders, nine large faders, five expression control inputs, four CV outputs, and 16 RGB backlit performance pads for laying down expressive drum beats.
If you use Arturia VST software, you'll get access to masterful software integration. Every knob, fader, and button you press on the Arturia KeyLab MKII 61 will manipulate the mirrored parameter onscreen.
In my opinion, the Arturia KeyLab MKII is so much more than a simple MIDI controller. In reality, it is an instrument all its own, equipped for expressive playing in many different facets. They only real downside is the small LCD screen, but you don't need it for much.
You get plenty of connectivity as well, including a 5-pin DIN MIDI in and out, three Aux pedal ins and outs, and a bus-powered USB port.
So far, I have yet to find a MIDI controller that works just as seamlessly with Logic Pro X as the Arturia KeyLab MKII.

4. Best Portable MIDI Controller for Logic Pro X - Novation Launchkey Mini [MK3]
The Launchkey Mini from Novation is another portable 25-key MIDI controller and one of the most portable MIDI controllers in the extensive Novation lineup. The keyboard gives you just about everything you need to produce music in Logic Pro X. Plus, the best part is that you can stick it in your bag when you're done. It's super slim and lightweight, easily sends midi data to your USB ports, making it perfect for on-the-go creators.
The powerful arpeggiator has to be one of my favorite things about this particular keyboard, making rhythm and sound creation both easy and fun. Novation takes it a step further with the customizable fixed Chord Shape often, which follows you with chords in a chosen key as you move your way up and down the keyboard.
Even with its small size, it is one of the most dynamic and expressive MIDI controllers on the market. It comes with 16 ultra-sensitive pads for laying down beats and launching clips as well. Above those, you get eight knobs, giving you more hands-on control over the parameters in your DAW.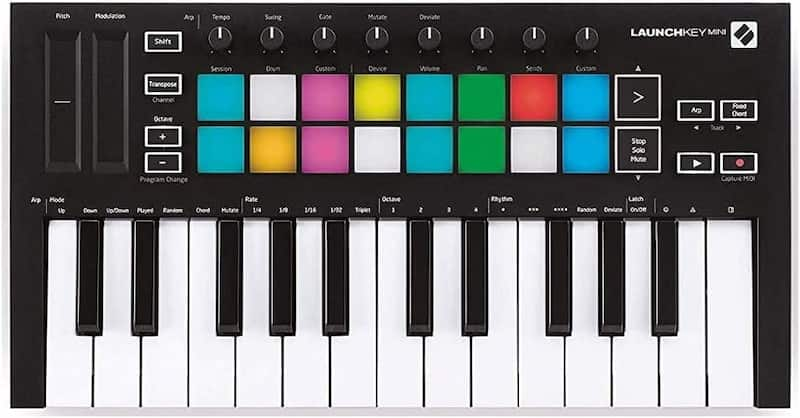 As the cherry on top, the Novation Launchkey Mini MK3 comes with everything you need to start making music in the Box, including an array of instruments, sounds, and effects from XLN Audio, Spitfire Audio, and Klevgrand. It even comes with a copy of Ableton Live Lite if you want to hop outside of Logic Pro X for a bit.
Overall, the Novation LaunchKey Mini play is just as good as it looks. Whether you're laying down chord maps for a new song, tapping out to expressive drum patterns, or modulating the parameters in your DAW, this little MIDI controller can do it all.
Another excellent option for portable midi controller is the version of the Akai MPK Mini that includes a built-in speaker so you don't need to bring headphones or relying on additional amplification (in quite settings)!

5. Best MPC Style MIDI Controller for Logic Pro X - Akai MPD226
Take it back to the days of old-school beat-making with this MPC-style controller from Akai.
The Akai MPD226 is part control surface and part pad, allowing you to set up your music production workstation in any way that you see fit. You get the same 16 velocity sensitive MPC-style pads that have provided inspiration for beatmakers for so many decades.
However, compared to the first iterations of Akai MPCs, you get plenty of upgrades. For starters, the RGB backlighting behind the velocity-sensitive pads makes it easier to organize and color code your layout. This can be a super handy feature when trying to switch between four pad assignment banks. The pads are nice and thick as well. You can use this as a consistent touring instrument without having to worry about a lack of durability.
Hop on over to the other side MPD226, and you'll find four sliders, each of which has an assignable encoder and button. These sliders can be used to manipulate arrange of crack controls, EQs, ADSR envelopes, and more.
On top of all of that, you got dedicated transport controls, a classic MPC Note Repeat, and a top-notch software package. Overall, the Akai MPD226 is a gold mine for creators.
One of the things that really sets this controller apart from others is that Akai still offers Hardware MIDI outputs instead of exclusively offering USB. While running MIDI through USB is certainly something I would never complain about, as it's class compliance no matter what, it's nice to be able to connect this MIDI controller to other pieces of hardware if you choose.
When all is said and done, Akai reigns supreme as the top manufacturer of MPC hardware. The great thing about most Akai gear is that it doesn't lose value over the years and will likely be worth more a decade from now.

6. Best 88 Key MIDI Controller for Logic Pro X - Arturia KeyLab 88 MKII
If you want to capture the feel of a real piano, then I highly recommend checking out the ArturiaKeyLab 88 MKII. It is one of the most expressive, flexible, end versatile MIDI controllers on this list. No matter what creative direction you are trying to take, this controller can provide you with the inspiration you need.
Beyond the quality build and expressive piano-weighted keybed, Arturia offers incredible integration with its top-notch collection of software instruments. Though Logic Pro X has an array of excellent synths and VSTs, having a few high-end vintage synth emulations from Arturia in your arsenal can't hurt.
The keyboard comes up with Analog Lab V, which is a collection of over 2,000 world-class emulations of synths, grand pianos, keyboards, and organs. Even beyond its fantastic integration with Arturia software, it integrates just as well with third-party software.
You get smart-mapping controls, intuitive labels, and magnetic strips that are unique to every DAW. Every fader, rotary knob, and button is automatically assigned to the most appropriate parameter inside Logic Pro X instruments.
I could go on talking about the Arturia software-specific features forever, though I really want to point out how beautiful the design of this keyboard is. You get an upright stand for placing sheet music, a tablet, gig notes, or your smartphone, as well as a beautiful wooden stand that gives the keyboard a mid-century modern vibe. These legs don't just look good, but they're sturdy as well, perfect for high-energy performances on stage.
With a classic aesthetic, ergonomic playability, and a set of features that will impress new and professional producers alike, the Arturia KeyLab 88 MKII is one of the best 88-key MIDI controllers on the market today.

7. Best Kontakt Controller for Logic Pro X - Native Instruments KOMPLETE KONTROL S61 MK2
If you're an avid user of Native Instruments software and Kontakt, then the Komplete Kontrol S61 MK2 is a great midi controller. It's my main go to. The only downside is that the older versions don't have physical mod wheels which makes it really hard to control.
It's one of the best controllers on the market for getting hands-on with your software instruments and effects. You get deep Kontakt and Maschine integration, intuitive control within Logic Pro X, two high-res color screens, and a light guide above the keybed for visual feedback.
One of the things I truly love about Native Instruments Komplete Kontrol S61 MK2 is how it makes the music production experience so much more hands-on. When making software-based music, it can be difficult to make things sound expressive. With this integrated centerpiece of a controller, you can perform with your software instruments, browse and preview different sounds, sketch out ideas, tweak parameters, and navigate through the different parts of your DAW.
Whether you use it in the studio or on stage, it's a one-of-a-kind tool.
The immersive visual feedback is something that you won't find in many other MIDI controllers. Sure, it's going to cost you a pretty penny, though it'll also do wonders for your workflow, helping you to finish tracks faster and have more fun doing so.
Not only do the light zones above the keybed give you an indication of what functions you are manipulating in each instrument, but they also act as guides for sound location, scales, key zones, and more. Finding sounds in your Native Instruments collection has never been easier.
I could easily write an entire article on this keyboard alone. It's one of the most professional high-quality MIDI controllers on the market, offering a more hands-on workflow, a sturdy build, and deep integration with Native Instruments VSTs.

8. Best Mini MIDI Controller for Logic Pro X - Nektar Impact LX Mini 25
The last miniature MIDI controller on our list is the Nektar Impact LX Mini 25. this small yet power-packed USB MIDI controller comes with a host of intuitive features for powerful, real-time sound and synth manipulation. Unlike some of the other MIDI controllers on this list, you never have to worry about menu-diving when trying to get to certain parameters.
You get two arpeggiators, a tactile control surface, eight drum pads, and miniature keys that or actually not too much of a pain to play. Of course, you also get Nektar's renowned DAW integration, giving you everything you need to improve your workflow and make music at your speed.
The Impact LX Mini 25 has 20 velocity-sensitive keys, which feel firm and expressive. You get a choice of four velocity curves and three fixed values, allowing you to tailor the response of the keyboard to your playing style.
This is an awesome feature, as most synth-action mini-MIDI controllers have a plastick-y feel that doesn't sit too well with trained pianists.
I've also really come to appreciate the joystick modulation control. As you move the joystick left and right, it bends the pitch of the instrument, while the upward and downward axis movements control pre-assigned modulations and foot pedals, respectively.
Did I mention the fact that the Nektar Impact LX Mini 25 comes with a footswitch socket? This is a pretty neat little addition to the controller, as most mini-controllers are missing this feature.
Above the keybed, you'll find an additional range of controls, including seven transport buttons, which are MIDI-assignable, eight knobs, giving you instant access to VST parameters end arpeggios, and eight velocity-sensitive pads, ideal for finger drumming.
Overall, the Nektar Impact LX Mini 25 is an excellent choice for any on-the-go producer who wants an inspiring, real-time piece for making music.

9. Best All-In-One MIDI Controller for Logic Pro X - IK Multimedia iRig Keys I/O 49
The IK Multimedia iRig Keys I/O 49 might be one of the most unique controllers on this list, as it is the only controller on the market that combines a 49-key controller with a built-in professional audio interface that features 24-bit audio and a 96kHz sampling rate, which makes it the perfect midi controller for iOS so you can make pro music on your iPhone or iPad and even record audio through it!
There's also a more portable 25-key version if you prefer to produce with your iPad on the go using GarageBand.
The controller portion alone features everything you would expect from a premium controller, including 49 full-sized keys, multicolored, velocity-sensitive pads, programmable buttons and knobs, and touch-sensitive sliders, allowing for an expressive and efficient workflow.

Attached to the controller is a built-in 24-bit/96kHz audio interface with iRig Keys I/O, offering an array of advantages over standard controllers. Essentially, it is a self-contained system that's perfect for those who want to minimize space regardless of their situation. It takes just seconds to set up what is essentially a full-fledged studio. Without tons of extra cables, your space is much tidier as well.
You can connect anything you need to this keyboard and get the best possible sound quality out of it, thanks to the Class A preamp. It works just as well for high-end condenser microphones as it does for Hi-Z guitars and basses. You'll also find a built-in headphone output on the back, great for practicing or playing when you don't want to disturb others.
With so many great features packed in, IK Multimedia iRig Keys I/O 49 can act as the ideal creative centerpiece for your live performance or studio setup. It is one of the most Innovative and wildly convenient solutions that I've seen on the market for quite some time, and so far, this keyboard is totally unrivaled.

10. Best MIDI Drum Sequencer for Logic Production - Arturia BeatStep Pro Controller & Sequencer
The Arturia BeatStep Pro is one of the best controllers and sequencers for laying down drum grooves and controlling analog hardware. It has an incredible build quality and an ergonomic layout, making it incredibly fun to perform with.
While it may be a bit too compact for live use, it's the perfect little portable piece of equipment for on-the-go producers. It features a set of general MIDI parameter controls and three independent step sequencers, two of which are monophonic for basslines and riffs and the third of which can sequence up to 16 drum channels.
Each of these step sequencers comes with 16 velocity-sensitive and aftertouch-enabled pads, 16 rotary knobs, and 16 step buttons.
While it is a great piece of equipment for controlling hardware Samplers and synthesizers, it's just as easy to have fun with this if you're controlling standalone VSTs or Logic Pro X instruments.
If you already use Arturia software products, you'll love how well-integrated the controls for this controller are. Not only is it great for creating sequences on the fly, but the BeatStep Pro works equally well at sending and receiving MIDI clock, acting as a master or slave for just about anything.

Midi Controller Buyer Guide
In this section I'll off your tips and tricks for picking the best midi controller for you!
MIDI Controller vs. Synths?
The difference between MIDI controllers and synths is quite simple — MIDI controllers do not have internal sounds and are only made to control other pieces of hardware or virtual software, while synths have internal sounds and built-in controls. Many producers and musicians like MIDI controllers, as they cost a lot less than hardware synths on average.
If you're somebody that uses software VSTs often, MIDI controllers offer flexibility for controlling sounds and parameters.
What to look for in a midi keyboard?
In addition to the number of keys, the main features to look for in a midi controller are:
Pad controllers
Assignable knobs
Bundled VST plugins
Any modulation wheels
Any pitch wheels
Weighted Keys
One of the key features to look for in a MIDI is action. There are different action types to consider, including:
Weighted Action - Many 88-key controllers come with weighted action that emulates the feel of a conventional piano.
Semi-Weighted Action - This style of action is very similar to weighted action though it has a springier release and less key resistance.
Synth Action - Synth action keyboards feel a lot like electronic organs, using spring-loaded teas that are lightweight and easy to play quickly.
Key Size
Most pianists appreciate full-sized Keys, as they are made to emulate the size of a traditional piano, though if you want something a bit more portable, you might consider going for a MIDI controller that has miniature keys.
Number of Keys
When deciding how many keys you want on a MIDI controller, you have to ask yourself a few questions:
Do you like playing one or two-handed?
How much space do you have in your studio or live performance setup?
Is portability a priority?
Most MIDI controller manufacturers build 25, 49, 61, and 88-key keyboards, but you'll also find some configurations with 32, 37, 73, or 76 keys.
Number of Knobs & Faders
Having an array of knobs and faders can be super useful if you want a more tactile music production experience. You can assign these knobs and faders to different parameters in your DAW and software instruments and control them on the fly, drawing in automation to make your music feel more expressive.
Transport Controls
Transport controls can vary from controller to controller, the most include Play, Stop, Fast-Forward, Rewind, and Record buttons. Some larger or more premium controllers include jog and shuffle wheels as well.
Having transporter controls on your MIDI controller can be very useful if you're triggering samples or sounds in live performances.
Bundled Software
Some MIDI controller manufacturers provide bundled software with their hardware products. These bundled software offerings might include DAW software downloads, free VST instruments, etc.
If you're just getting started with music production, getting access to software that you can add to your arsenal can be majorly beneficial.
Drum Pads
I use a lot of sample drums in my music, and one thing I've noticed that makes producing music and making drum patterns more fun is being able to play them in real-time. To do so, I'll often use the drum pads on my MIDI controller to trigger samples on a virtual sampler.
Make sure to look for MIDI controllers that have velocity-sensitive pads, as they'll allow for more expressive playing and more dynamic drum grooves.
From a Frustrated Producer in a Ragtag Bedroom Studio to Major Placements on TV Earning $1,000s!
My name is Evan, and I've been making music since around 3rd grade. I'm from San Diego, California, but I've lived in Washington, DC for the last 20 years.
After 3 grueling years of grad school, though I had put aside serious attempts at making

music.

I found myself spending my days doing work that was dreadfully uncreative, with a ton of student student loan debt.
Which made me feel like my favorite parts of myself were withering.
But I didn't know what to do about it.
Being in my early 30s with tons of student loan debt, in a world where there is "no money in

music

," I felt like my youthful dreams of trying to "make it big" were dead. Like my music would remain unheard in my head and hard drive.
Frustrated by my inability to get my music heard, I started researching solutions.
Instead, I wanted to find a way where I could focus on making the

music

and let someone else deal with promoting it.
I realized the music licensing was the perfect opportunity for a solo artist like me to get my music heard, without having to do any promotion. I just need to focus on improving what I could control - my songwriting and my production skills.
While I still have a full-time day job, I have created systems that have allowed me to produce dozens of songs a year in my spare time.
My songs have been on Netflix, TV shows like the 90 Day Fiance, an award-winning indie film, and NPR's "All Thing Considered." They've also been streamed millions of times.
In addition to being a music producer, I am passionate about teaching people how they can make professional-sounding music and earn money licensing it, all in their spare time.
Thousands of musicians, like yourself, have trusted me to guide their musical journey. My YouTube videos have been watched nearly a million times. And my story has been in Forbes, Side Hustle Nation, and the Side Hustle School.
You Can Achieve Your Musical Dreams Too - Attend the Free Music Licensing Workshop!