Music producers looking to expand the capabilities of Logic Pro X, then you have come to the right place. There are so many great stock plugins that come free with the software. Many producers and engineers love Logic Pro X for its built-in plugins, intuitive user interface, and virtual instruments.
However, you might be in a place in your music-making journey where you want to use third-party software for new inspiration.
Come dive in with us as we explore some of the top best plug-ins for Logic Pro X on the market today so you can elevate your music production game to pro levels.
Note: This article may contain affiliate links, meaning I would receive a commission - at no cost to you - for any products you purchase.
About Logic Pro X
Logic Pro X is a comprehensive digital audio workstation and MIDI sequencing platform that helps music professionals in the creation of music.
Logic offers a wide array of editing, step sequencing, and live looping capabilities. Beyond the ability to record and compose with this software, it also comes with a wide range of high-quality virtual instruments to get you started.
The Best VST Plugins for Logic Pro X
I've used Logic for years, and song I've made in it have been streamed millions of times, included on shows like the Real Housewives, and included in tons of viral videos. In my experience, these are the best free and paid plugins for Logic Pro.
Best Electric Guitar Amp Plugin for Logic Pro X - SofTube Amp Room
Amp Room is so much more than your average amplifier sim. In essence, it is a full-fledged guitar studio with amps and virtual processors.
Beyond the excellent sound quality provided by a wide range of iconic Marshall amplifiers, cabinets, pedals, and microphones, this unique piece of software provides users with emulations of top-quality EQs and compressors. No matter what kind of guitar or Bass tone you are trying to get, SofTube Amp Room gives you everything and more.
It's options for complex parallel routings allow you to create layered, unique sounds from a single guitar audio signal.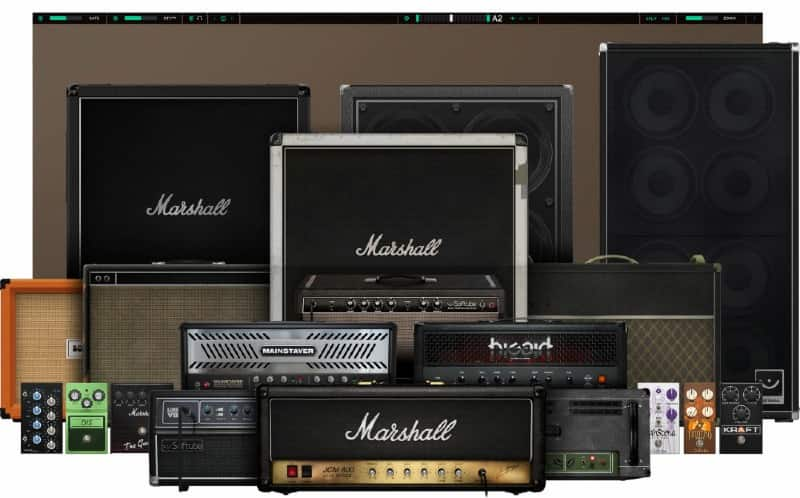 SofTube has certainly made a name for itself with its precise methods for emulating top-of-the-line hardware.
The stunning GUI can help you mix and match various elements to achieve unique total results. There are also plenty of utility modules that make it simple to adjust overall parameters, including volume, gain, pan, frequency splitting, and phase alignment. There is even a built-in gate for getting rid of unwanted guitar noise.
Lastly, you'll find a headphones mode in this plug-in, which adds a subtle sound of room ambiance in stereo. This can be really nice when you are working with headphones and you want to achieve a more realistic tone.
While there are certainly many great guitar amp plugins on the market today, SofTube Amp Room is one of the most versatile out there, and a great deal!

Best Free Electric Guitar Amp Plugin for Logic Pro X - Built-in Amp and Pedalboard Effects
Logic includes a great built-in guitar (and bass) amp simulator, which includes about a dozen different heads and cabinets that can be endlessly tweaked and combined. You can also configure the type of microphone and its placement for each amp. On top of that, Logic also includes about two-dozen built in guitar pedal effects. In my view, the amps sound pretty good, but the pedals often leave something lacking. More importantly, Logic doesn't provide many options for complex routing and layered sounds the way that SofTube does.
I'd say start with the onboard amp and pedals, but if you're unsatisfied, be sure to check out SofTube Guitar Room first. You can see my full review of the best Guitar Amp Simulators here.
Best Electric Guitar VST Plugin for Logic Pro X - Ample Sound 7in1 Bundle
The guitar is a very difficult instrument to emulate in the digital realm. Luckily, there are plug-in developers like AmpleSound 7in1 Bundle, which have created a bundle of high-quality electric guitar VST plug-ins.
The 7in1 bundle gives you access to 7 different guitar models for a wide range of tones. Whether you want a high-gain rock tone or a clean, mellow Funk tone, you can find what you're looking for in this bundle.
All of the inflection that you could want from a guitar can be made with this VST, including stains, hammer-ons, pull-offs, legato slides, palm mutes, pops, natural harmonics, and other articulations.
You'll also find the handy string roll editor, which clearly shows you the fingering you are playing with your keyboard. It also gives you hints about articulation, expression, and finger noise. No matter how complex or delicate your wrists are, AmpleSound guitars can handle them.
We love the fact that AmpleSound added a built-in Capo, which you can easily move up and down the neck. You can even work in different tunings.
Overall, we have yet to find another guitar VST that is as versatile as this one. With 7 guitars in one, you'll have a serious arsenal at your fingertips.

Best Free Electric Guitar VST Plugin for Logic Pro X - Logic Pro Vintage Clav
Logic Pro is full of lots of great free virtual instruments, which are an easy way to create most of your sound. Unfortunately, Logic Pro doesn't include any particularly great electric guitar simulations, and just about every free guitar plugin I've tried has left me disappointed. That said, I've been able to get half-way decent sounds using Logic's built-in Vintage Clav plugin. I turn the damper/mute up really high and run it through an overdrive pedal and amp simulator. You can usually get a usable sound in the context of a full mix.
Best Reverb Plugins for Logic Pro X - Arturia Rev Plate 140 & Arturia Spring 636
Arturia is one of the top plug-in developers for emulations of vintage hardware. The company happens to have made two of our absolute favorite reverb plugins, including the Arturia Rev Plate 140 and the Arturia Spring 636. Both of these third-party plugins provide great sound, ease of use, and intuitive UI that make them so easy to slap on everything - but these are especially great on vocal tracks!
The original EMT 140 weighed in at over 600 pounds and was powered by large vacuum tubes. This piece of hardware was used on countless iconic albums, such as Dark Side of the Moon by Pink Floyd.
Arturia's emulation of this classic reverb is top-notch, giving you all of the elegance and smoothness of the original plate with additional controls, such as modulation, post-equalization, and a mix knob
Arturia also happens to make the Rev Spring 636 plug-in, which is a digital replica of the vintage 636 Spring Reverb from Grampian. The original unit was used by many famous musicians, including Pete Townshend of The Who.
You get all of the lovely characteristics of the original, delivering slappy, vibrant, and authentic spring reverb inside your DAW. The plug-in features 8 distinct spring tanks modeled with multiple springs. Beyond that, it boasts a three-band EQ and a post-EQ to customize your sound even further by taming (or boosting) high frequencies and low end.
Overall, when it comes to vintage reverb emulations, look no further than Arturia.
Click here to see my full review of the best reverb plugins.
Best Free Reverb Plugins for Logic Pro X - Built-in Chromaverb
Logic comes stocked with several built-in reverbs. Of these Chroma Verb is my favorite. It does room and hall sounds pretty well. However, I don't think it does the much more useful plate and spring reverb sounds that well, and that you'd be much better served by Arturia's alternatives. Sound designers will definitely have fun experimenting with Chromaverb.
That said, you can try running a sound through one of the built in guitar heads and try cranking up the built-in spring reverb on there. You can get some really interesting sounds that way - think surf rock vibes!
Best Delay Plugin for Logic Pro X - Softube Tape Echoes
Tape Echoes is a plug-in from the developers over at Softube. This one-of-a-kind delay plug-in offers a wide range of parameters for you to dial in the perfect delay sound for your production. With a wide range of flexible features and a unique interface that gives you a vintage feel, it does a great job of capturing the authentic sound of analog delay.
The first thing that you'll note when you open this plug-in is the slider, which makes it easy to dial in your delay time. however, you can also lock it in with your DAW to sync the tempo of the plugin to your track's tempo.
Beyond the array of standard delay parameters, you'll also find a few unique parameters to further tweak your sound, including a handy drive knob and high and low pass filters for shaping the frequency contents of your delays. If that wasn't enough, Arturia provides a couple of stereo Imaging options to widen the sound of your delay.
Tape Echoes is a great delay plugin with which you can get the dirty sound of old tape delays. It sounds great on just about any instrument and can give your mix a more vintage flavor. More than that though, just find it so easy to intuitively dial in the perfect delay sound quickly!
You can find my full review of the best delay plugins here.

Best Free Delay Plugin for Logic Pro X - Deelay by
Integraudio
Deelay is a great free delay plugin that features tons of tweakability. From sound degrade to offset, to tape emulation and distortion, this plugin lets you tweak your delay tones exquisitely. Logic also includes some decent built-in delays, but I often find myself struggling to get good results with them.
Best Dynamic EQ for Logic Pro X - Pro-Q3
FabFilter Pro-Q3 Has been one of my go-to EQ plug-ins for quite some time. Beyond its wide range of standard EQ capabilities, it is an excellent dynamic EQ. Essentially, this plug-in is wonderful for controlling frequencies of ultra-dynamic signals, such as vocals.
You'll also find high-quality filters, a pre and post-EQ Spectrum analyzer, mid-side processing, EQ matching, individual band soloing, sidechain input, automatic gain compensation, and multiple stays and latency modes. No matter what you are looking for, you'll be sure to find it in FabFilter Pro-Q3.
One of the things that I love most about FabFilter Pro-Q3 is its visual mixing capabilities. While you should certainly never rely on mixing with your eyes, the built-in frequency spectrum analyzer in Pro-Q3 helps you deal with the task of finding problematic frequencies and getting rid of them. You can easily adjust the detail and response speed of the plugin's frequency analyzer to suit the CPU needs of your computer, which is an excellent addition to the plugin.
The mid-side mixing capabilities are another cherry on top, allowing you to collapse your low-end into mono or spread your high-end beyond the speakers. I have yet to find an EQ plugin that is as flexible as this one. You can find my full review of FabFilter Pro-Q3 here.

Best Free Dynamic EQ for Logic Pro X - Tokyo Dawn Nova
Tokyo Dawn's Nova EQ or TDR Nova is like a slightly striped down, free version of the Pro-Q3. Though not quite as versatile or powerful, it can take care of your dynamic EQ needs, and is easily one of the best free VST plugins out there.
Best Spitfire Audio Plugin for Logic Pro X - Albion 1
There is nothing that can make a track sound more epic than a full-fledged orchestra behind it. However, if you don't have a million-dollar budget, achieving that epic orchestral sound can be difficult.
This is where plugins like Albion 1 come into play. For quite some time, Albion 1 has been an industry standard for orchestral sounds. If you make film music, we truly can't recommend anything better.
The plug-in is made up of a 109-piece orchestra and a thunderous percussion section for all your cinematic rhythm needs. Beyond the fact that you can play the orchestra using a MIDI keyboard, you will also find several warpable loops and a massive steam synthesizer.
What is great about this plug-in is that it works across multiple genres. as opposed to some cheaper orchestral sample libraries, you can enjoy incredible dynamics and high-energy sounds from Albion 1.
The plug-in feels as if you can step inside of it and become the engineer in an orchestral session, thanks to the fact that you can adjust the microphone positions. At the same time, you can play composer, choosing from a wide range of articulations for additional control.

Best Free Spitfire Audio Plugin for Logic Pro X - Spitfire Labs
Spitfire Audio's free Labs plugin is a little bit of everything. This-ever growing sample instrument library is full of weird, wacky, and highly usable instruments you won't find anywhere else!
Best Drum Machine for Logic Pro X - Spark 2
Spark 2 from Arturia is one of the most powerful drum machine VSTs on the market today.
It's so much more than a drum machine or a step sequencer. We like to think of it as a comprehensive virtual groovebox that integrates the best elements of synthesis and sampling. In essence, this drum machine breaks the mold of typical drum machines with its unique modular page.
With the modular page, you can create custom drum sense by piecing together a number of synth parameters, including filters, envelopes, oscillators, and more. if the synthesis engine isn't for you, you'll be happy to know that Spark 2 is packed with more than 180 preset drum kits, and the best thing is that it also includes 30 incredible drum machine emulations for vintage lovers.
If that's not enough for you, there are 14 add-on packs that you can purchase separately. As the cherry on top, you'll find several intuitive mixing tools, step sequencing parameters, and effects.
By anyone's standard, Spark is an incredible beat-making plug-in for Logic Pro X.

Best free Drum Machine for Logic Pro X - Built-in Logic Drum Designer
Logic comes with a great on-board drum machine, the Drum Machine Designer. It lets you do all the basic moves you'd want with a drum machine, includes a large (and growing) library of great samples, and is easily compatible with Logic's built-in step sequencer. The real short comings are the limited modulation options like velocity to pitch, and on-board effects.
You can see my full review of the best hip hop drum machine plugins here.
Best Bass Guitar Plugin for Logic Pro X - Spectrasonics Trillian
Trillian is definitely one of the most popular bass guitar VSTs on the market today, with a sound that can best be described as authentic. In fact, Charlie Puth's "Attention" was actually written with Spectrasonics Trillian. If you listen to the bass riff in the song's chorus, you'll get an idea of how realistic it sounds.
Each of the built-in presets gives you a fat, bright, and crisp sound. the wide range of presets is certainly one of the main selling points. One of the unique things about this plug-in is how dynamic it is, never giving you a flat or stale sound like some cheaper bass guitar VSTs.
It is important to know that there is a bit of a learning curve with this plug-in. The interface is not the most user-friendly, though you'll find a wide range of customizable controls, providing outstanding versatility that you won't find in any other plug-in.
Trillian supports instant key switching allowing you to work quicker, and the groove lock found in the advanced arpeggiator helps you sync up your baselines using MIDI files or RMX grooves. Throw the Flex Mod, FM, and Modultable FX in the mix and you have one of the incredible bass VSTs around.
You can find my full review of the best bass guitar plugins here.

Best Free Bass Guitar Plugin for Logic Pro X - Ample P Bass Lite
For simple, straightforward bass tones, the Ample P Bass Lite gets the job done admirably. It's based around the timeless tones of the Fender P-Bass, so you know it sound fat. The biggest short comings are limited articulations and scripting.
Best Electric Piano for Logic Pro X - Arturia Stage 73 V
When Arturia released the Stage 73 V plug-in, it changed the game in terms of Rhodes emulations. One of the beautiful things about this plug-in is that you can switch between the 1973 and 1974 iterations of the Rhodes keyboard using the small knob on the interface.
I also really like the overdrive effect that comes with this particular VST, as it gives the sound a little bit of grit the help it sound more authentic in a mix. Often, VST electric keyboards lack the saturation and dirt that comes from recording them through an actual interface or an amp in the room. The realistic effects and saturation characteristics built into this plugin emulates the popular Rhodes sound.
Having the ability to filter through a wide range of effects chains is the key part of this plugin. While you can certainly utilize the standard Rhodes sound, you'll also find plenty of experimental presets for more ethereal or modulated sounds.
Note that the Stage 73-V also comes with a solid model of Fender's signature Twin amp, allowing you to capture the classic amped Rhodes sound. Y
ou can see my full review of the best Rhodes piano VSTs here.

Best free Electric Piano for Logic Pro X - Built-in Vintage Electric Piano
Logic Pro X actually includes a very decent sounding electric piano built-in. While it lacks some of the warmth, subtlety and liveliness of the Arturia Stage 73, it sounds pretty good in a full mix, and also models a Wurlitzer. Couple this with the built-in amp simulator in Logic and you may not need to buy an standalone e-piano!
Best Grand Piano for Logic Pro X - Arturia Piano V
Having a quality piano VST in your arsenal is a must. As one of the most familiar and popular sounds in musical history, there are infinite applications for a piano VST.
However, trying to find a great grand piano plug-in can be really challenging, especially if you are looking for an authentic or realistic sound. Luckily for us, Arturia's Piano V has developed into one of the most authentic grand piano emulations on the market using its physical modeling methods.
One of the great things about Piano V is that it does not focus on a singular piano sound. Instead, you can filter through a number of grand pianos from American, German, and Japanese manufacturers. You'll also find different types of pianos, including upright pianos, jazz pianos, classical pianos, and plucked grand pianos.
For those who like to get more experimental, we recommend playing around with the metal and glass grand pianos too.
All of this and Arturia's Piano V doesn't even take up that much space on your hard drive. This is because it uses physical modeling instead of a sample-based platform. With Arturia's complex algorithm, you can get piano sounds that are authentic and consistent.
You can see my review of the best piano VST plugins here.

Best Free Piano Plugin for Logic Pro X - Spitfire Audio Pianobook
Here comes Spitfire Audio for the win, again! Pianobook is a unique, user generated collection of amazing piano samples full of tons of bespoke piano tones. It may not be as pristine or meticulously sampled/modeled as Arturia Piano V, and it is much less customizable. But the pianos in here have tons of character!
Best Acoustic Guitar for Logic Pro X - Ample Guitar T
Acoustic guitar VSTs are just as difficult to make as electric guitar VSTs, with an incredible amount of nuance and articulation to emulate. Ample Guitar T from AmpleSound emulates the sound of a Taylor acoustic guitar with Incredible clarity and immaculate detail.
If you are a guitarist, then the Taylor 714CE probably doesn't need an introduction. It is one of the few world-class acoustic guitars on the market, priced at about $3,000. The guitar plugin comes at a fraction of the price, the uses a combination of deep sampling and tweakability to allow you to play every articulation you can think of.
From finger-picked folk guitar to flat-picked country music, Ample Guitar T is a good fit for any genre.
You can control every nuance on the keyboard using the customized parameter control technology. With several capo logistics built-in, you get a wide range of fingering options that cover different performances, including chorus, solo, and more.
As with the other AmpleSound guitar bundle on this list, Ample Guitar T comes with riffer and strummer modes, which you can use to strum notes in 14 different ways or play chords in 28 different ways.

Best free Acoustic Guitar for Logic Pro X - Ample Guitar M Lite
The free Ample Guitar M Lite is a striped-down version of Ample Guitar's Martin D-14 instrument. The sounds themselves are great. But like the P-Bass Lite, the lite version really lacks the types of nuance, scripting, and options to allow it to do everything. Still, if you stick to what it's good at, it can work in a full mix.
Best Synth for Logic Pro X - XFER Serum
Serum from Xfer Records might just be one of the best and most versatile synth VST plugins on the market today. Even though it has been around for quite some time, it is still one of the major staple plugins in just about any electronic music producer's arsenal.
This wavetable synthesizer delivers a top-of-the-line workflow from the intuitive interface to the unmistakable sound. It's so easy to get creative with this thing, flipping through presets to find fun sounds or diving deep when you want to tweak further.
It's super easy to import, create, edit, and manipulate wavetables while morphing your real-time playback. No matter what kind of sound you are looking for, whether it's a rich orchestra of violins, a cloud of dreamy pads, or some bright, high-energy leads, Serum can deliver.
The plugin has so many features for adding dimension to your music and gives you so many more possibilities than the synths included in Logic Pro X. Some of these features include real-time wavetable manipulation, oscillator manipulation, custom wavetable creation, and more.
With such a massive community of Serum users, there's an endless list of preset packs to discover online as well.
Click here to see my full review of the best synth VSTs.

Best Free Synth for Logic Pro X - Built-In Alchemy
Alchemy, which is included in Logic Pro, is a really powerful, highly customizable synthesizer. What I love about it is that it can be used in "simple" mode or the full mode, making it accessible to new and experienced producers alike. It includes a great library of presets that are incredibly easy to navigate, two XY pads for more complex performances, and tons of modulation and sound design tools. It doesn't sound much like Serum, but it is a powerhouse synth in its own right!
Best Vintage Synths for Logic Pro X - Arturia V
Arturia is on its ninth installment, and somehow Arturia has made its V Collection 9 more appealing than ever before. You'll find a wide range of augmented vintage synth plug-ins and deep synthesis tools with additional sound packs and refreshed plugins.
With Arturia's physical modeling technology, the company is able to tackle the sounds of some of the world's most iconic vintage synthesizers.
When you purchase this bundle, you get access to 33 instruments and over 9,000 world-class presets, helping you to unleash creativity like never before. Even if you're not a vintage synth nerd, these plug-ins were designed with a fluid workflow in mind. You'll find in-app tutorials, intuitive interfaces, and a wide range of intelligent features to inspire.
Arturia V now comes with Augmented Voices, which blends the human voice with a range of expressive synth engines to give you a unique hybrid sound unlike you've ever heard before.

Best Free Vintage Synths for Logic Pro X - Built-In Retro Synth
Logic's Built-In Retro Synth is a straightforward, great sounding emulation of three classic styles of vintage synth. It includes four different synthesizer engines—Analog, Sync, Wavetable, and FM. These aren't the most customizable synths, but they sound good enough to get any synth wave producer up and running.
Best Multiband Compressor for Logic Pro X - Fabfilter Pro MB
The multiband compressor from FabFilter is one of the best multiband compressor plugins on the market. With an intuitive interface, it's great for both novices and professional mixing engineers alike.
The neat thing about FabFilter Pro MB is that it utilizes individual bands instead of crossover points, as with other multiband compressor. This means that each of the bands delivers compression independently for greater flexibility.
There are plenty of great features that you might not expect from a typical multiband compressor, including dynamic phase processing, which reduces latency, smart parameter transition knobs, which help you to create automation with easy, and floating bands for click-and-drag functionality.
As with other FabFilter plugins, you also get a complete spectrum analyzer, which helps you make more precise adjustments. On the other hand, if you want more traditional multiband functionality, you can snap the floating bands together.
There is no doubt that FabFilter MB is one of the best multiband compression plugins around. With unique floating band technology, you can compress particular frequency ranges. It's also a completely transparent plugin, great for mastering and other bus processing applications.
You can see my full review of the best compressor plugins here.

Best free Multiband Compressor for Logic Pro X - Logic Multipressor
Logic's built-in Multipressor is a multi-band compressor that you can use in a pinch. It sounds fine, but I think the interface makes it really challenging for new producers to get the sound they're looking for.
Best Master Bus Compressor for Logic Pro X - Waves SSL G-Master Bus
The Waves SSL G-Master Bus is based on the master buss compressor from the legendary SSL 4000 G Console, which is one of the best compressors for polishing off a mix. Though it's extremely popular as a mastering plugin, it can be great for use on drums, bass, vocals and more.
The thing that makes it such a strong master compressor, however, is its ability to glue sounds together to make them sound like a more cohesive unit.
Start by setting your threshold to determine when the compressor kicks in, then continue by adjusting the attack and release parameters. To complete the VCA-style circuit, you'll also find ratio and makeup gain controls.
To expand the use of the plugin, Waves added a handy sidechain input button, which adds harmonic distortion and pleasant noise to the underlying signal. As you'd probably expect from Waves, the SSL G-Master Bus is an excellent emulation of the original. Just about anything you send through it will sound great!
You can see my full review of the best bus compressor plugins here.

Best free Master Bus Compressor for Logic Pro X
Logic's stock compressor includes emulations of 7 different legendary compressors. Most of these aren't a good choice on your master bus, but I think you can get pretty good results with "Platinum Digital" and "Studio VCA" modes. I especially appreciate the built-in Wet/Dry knob that lets you dial back the mix if it's starting to feel like you're losing your transient impact.
Best Mastering Plugin for Logic Pro X - iZotope Ozone 10
If you ever struggle with getting a professional sund on your output during the mastering phase, iZotope Ozone 10 might be able to help. Ozone 10 includes the latest iteration of iZotope's AI-powered mastering plugins. You can significantly reduce the time that it takes you to master a song.
There are many enhancement that came with this release, including enhanced user modules, a new interface, and the updated Mastering Assistant. This plugin essentially gives you another set of ears to achieve a quality blend of tone, dynamics, and stereo width, all based on your choice of included algorithms or uploaded references.
The Assistant View is the real selling point of this plugin, giving you a beautifully laid out interface signal path with which you can make easy adjustments in a precise manner. The final output is a wider dynamic range and a more spacious overall master. iZotope Ozone's set of processing tools is truly remarkable, great for beginners just getting into mastering or professional engineers who want to get masters in a pinch.
You can see my full review of the best mastering plugins here.

Best Free Mastering Plugins for Logic Pro X - Built-in Tools
You can follow this guide on how to make the ultimate mastering chain. You can sub in stock logic plugins for just about every step of the way! My main piece of advice would just be to not push Logic's limiter too hard, because it can introduce pumping pretty quickly.
And be sure to fire up some of those built-in metering plugins so you make sure you're on the right track (or check out this review of the best metering plugins).
Best Free Instruments for Logic Pro X - Komplete Start
Native Instruments is one of the biggest names in virtual instruments. The company is known for its Komplete series, which includes more than 50 instruments, 10 expansion libraries, and well over 220 GB of sounds. Just shout everything you could need to make music can be found in this one-of-a-kind bundle.
However, if you don't have more than a thousand bucks to spend on the Komplete Ultimate version, you might consider checking out Komplete Start for free.
This bundle of plugins includes seven synthesizers, nine sampled instruments, two effects, and the Reaktor 6 and Kontakt 6 players. The bundle is incredibly versatile, especially for free software. The synthesizers include the TRK-01 bass synthesizer, Mikro Prism, Lazerbass, Carbon 2, Space Drone, Newscool, and Blocks Base.
For a more organic sound, you can take advantage of the sampled instruments, including the Play Series selection, the Expansions Selection, Kinetic Treats, the six ethnic intstruments from World, the live instruments from Band, the electric keyboards from Vintage, and the drums from Urban Beats.
It's a great preview of the full version of Komplete Ultimate overall and a great tool to add to your Logic Pro X arsenal.
You can also check out this list of over 100 free synthesizer VST plugins and stay up-to-date with the latest music plugin giveaways.
From a Frustrated Producer in a Ragtag Bedroom Studio to Major Placements on TV Earning $1,000s!
My name is Evan, and I've been making music since around 3rd grade. I'm from San Diego, California, but I've lived in Washington, DC for the last 20 years.
After 3 grueling years of grad school, though I had put aside serious attempts at making

music.

I found myself spending my days doing work that was dreadfully uncreative, with a ton of student student loan debt.
Which made me feel like my favorite parts of myself were withering.
But I didn't know what to do about it.
Being in my early 30s with tons of student loan debt, in a world where there is "no money in

music

," I felt like my youthful dreams of trying to "make it big" were dead. Like my music would remain unheard in my head and hard drive.
Frustrated by my inability to get my music heard, I started researching solutions.
Instead, I wanted to find a way where I could focus on making the

music

and let someone else deal with promoting it.
I realized the music licensing was the perfect opportunity for a solo artist like me to get my music heard, without having to do any promotion. I just need to focus on improving what I could control - my songwriting and my production skills.
While I still have a full-time day job, I have created systems that have allowed me to produce dozens of songs a year in my spare time.
My songs have been on Netflix, TV shows like the 90 Day Fiance, an award-winning indie film, and NPR's "All Thing Considered." They've also been streamed millions of times.
In addition to being a music producer, I am passionate about teaching people how they can make professional-sounding music and earn money licensing it, all in their spare time.
Thousands of musicians, like yourself, have trusted me to guide their musical journey. My YouTube videos have been watched nearly a million times. And my story has been in Forbes, Side Hustle Nation, and the Side Hustle School.
You Can Achieve Your Musical Dreams Too - Attend the Free Music Licensing Workshop!