As sampling becomes more and more common, Drum VSTs are becoming increasingly popular with music producers.
Because the world of Hip Hop drum VSTs is so broad, there are far more than a few products to choose from, including beat machines, percussion libraries, virtual drum libraries, and virtual drum synthesis engines.
Today, we are going to dive in and take a look at some of the best drum VSTs on the market today, so you can take your music production to the next level.
Note: some of the links below may be affiliate links, meaning that I receive a commission if you purchase through them.
Drum Plugin

Features

Pros

Cons

Sample-based drum plugin, flexible sound shaping options, built-in effects

⭐⭐⭐⭐⭐

Wide range of sounds
versatile
user-friendly
great onboard effects

Virtual analog synthesis, intuitive interface, built-in effects

⭐⭐⭐⭐

Warm, classic analog sound
user-friendly

May not have as many features as some other plugins

Emulation of classic Roland TR-808 drum machine, flexible sound shaping options, built-in effects

⭐⭐⭐⭐

High-quality sound
classic sound & feel

Limited sound options compared to some other plugins

Emulation of classic Roland 909 drum machine, flexible sound shaping options, built-in effects

⭐⭐⭐

High-quality sound
classic sound & feel

More of a classic dance music drum machine, but used on plenty of classic hip hop tracks
Limited sound options compared to some other plugins

Hybrid synthesis, flexible sound shaping options, built-in effects

⭐⭐⭐⭐

Wide range of sounds
Versatile
Great built-in effects

May be resource-intensive compared to some other plugins

Bass synthesizer and drum sampler, intuitive interface, built-in effects

⭐⭐⭐⭐⭐

Best 808 kicks
User-friendly
Great for bass-heavy beats
Also makes a great bass synth

May not have as many features as some other plugins

Emulation of classic Roland TR-808 drum machine, flexible sound shaping options, built-in effects

⭐⭐⭐

High-quality sound
classic feel

Not my first choice for an 808 drum machine
Limited sound options compared to some other plugins

Sample-based drum plugin, flexible sound shaping options, built-in effects, integrates with Maschine hardware

⭐⭐⭐⭐⭐

Wide range of sounds
versatile
User-friendly
Seamless workflow between Maschine hardware & software (including battery)

More expensive since it includes hardware
Battery 4
Battery 4 Is one of the most powerful drum samplers on the market today and something I find myself using with just about every production. It's one of those perfect virtual instruments that stands the test of time. It comes as part of Native Instruments Komplete Standard.
You'll find a massive library of samples for hip-hop and electronic music production, a vast array of intuitive routing possibilities, a comprehensive mixing section, and a beautifully streamlined workflow. It's one of the best drum VST plugins available for the home studio, with excellent sound quality and a range of modern and classic sounds.
While you can certainly use some of the many high-quality sounds built into Battery 4, you can also instantaneously set up your own drum kits using your personal sample collection. Load up your own samples and use the drag-and-drop MIDI learn to assign each sample to keys or pads on your MIDI keyboard or using Native Instruments Maschine. From finding the perfect cracking snare drum to groovy percussion instruments, the different kits included with Battery 4 will have you creating killer hip-hop beats in no time.

Hip Hop Drum Kits Samples Packs
If you don't want to get your hands on a drum plugin VST, or you want sounds that you can use and your productions without a particular instrument, I recommend getting your hands on a collection of hip-hop drum kits and sample packs.
As a modern hip-hop music producer, having a diverse palate of hip hop drum samples is imperative. I especially recommend samples and loops when you're looking for the sound of real drums. A high quality drum loop played by a funky real drummer is just impossible to recreate by programming drums.
There are so many great sources for hip-hop drum kits and sample packs, including platforms like Loopmasters, ADSR Sounds, Splice or sound design developers like Cymatics.
The great thing about having your own samples is that you can load them into your preferred sampler VST for additional processing or straight into your DAW using the arrangement view. Here are some of my favorite drum sample packs.

Maschine (Midi Controller + Software)
Native Instruments is one of the biggest plugin developers in the world, and the Maschine software and MIDI controller offer a fast, fun, and intuitive way to create beats and perform your tracks liv, making it the perfect choice for many producers.
Maschine comes with 8GB of unique sounds, as well as Komplete 14 select, which includes 50 GB of additional instruments and effects.
The MIDI controller has two high-resolution color screens, making it easy to browse, preview, and slice samples, as well as tweak your mix and edit your projects while hooked up to your computer.
We also love how expressive the controller is, as it comes with a Smart Strip and velocity-sensitive pads that allow you to make more expressive beats. There's no doubt that many successful hip-hop producers make use of Maschine software and hardware, and even being in the Native Instrument ecosystem opens you up to a world of possibilities.

Drumslot
Drumslot is a revolutionary hip-hop drum VST with multiple modes, allowing you to create combinations of drums while combining the multiple sections of single drum instruments. The included "Cut Mode" Utilizes an intelligent algorithm that combines the transient, middle, and tale of multiple samples to create unique and unheard-of sounds.
While the plugin offers 600 built-in samples, you can even add your own for infinitely more tonal combinations.
You will also find an array of sound tweaking tools, including pitch, gain, filter, and ADSR functions.
One of the unique features found in Drumslot is the spin function, which randomly changes the samples on the interface to create an interesting sound. You can even lock in the particular samples that you like as you spin through the others to make continuous changes.
Overall, Drumslot is a very unique concept and fun VST to add to your workflow.

Trax
Trax is a brand-new drum machine VST from ADSR and TheNatan, which comes with over 400 hard-hitting drums for hip-hop, EDM, trap, and more.
You'll find 50 well-curated drum kits, each of which includes punchy kicks, snares, claps, hi-hats, and percussion. You also get a mixer interface with eight separate channels and full controls for volume, panning, pitch, reverb, and custom FX.
I love how easy the graphical user interface is to use. The designers of this plugin were inspired by the Avid Eleven Rack Hardware unit, which has a clean and accessible aesthetic.
While I often find myself using third-party plugins for additional effects, the built-in analog-style reverb and analog-style distortion are plenty good enough to get that crispy, crunchy, warm sound. You can even dial in some unique sound design effects for a realistic Lo-Fi sound, including crackle, noise, and hiss with Trax.

Spark 2
Arturia is one of my favorite plugin developers when it comes to analog-style emulations. Spark 2 is an incredibly powerful drum machine, sequencer, and full-fledged production sweet, combining sample drums and synthesizers in a one-of-a-kind interface.
Whether you're looking for contemporary, physically modeled acoustic drum sounds or vintage analog drum machine samples made through advanced modeling techniques, Spark 2 can provide. From a low bass drum to some crispy hi hats, Spark 2 has you covered.
The all-in-one interface makes it easy to edit sounds, add effects, and adjust the levels of your beats, to mix before the mix phase. Overall, Spark 2 is a serious powerhouse of a plugin that is great for all styles of hip-hop music production.

Hatz
Hatz is another offering from ADSR with TheNatan, offering a unique way to create interesting hi-hat patterns, snare rolls, and percussion stutters. I can't even begin to tell you the amount of time that this plugin has saved me. Instead of having to click and draw in hi-hat patterns, adjusting velocity and timing with every single hit, this plugin can do all of the work in an instant.
Hatz is a plugin that is made to make your life easier. You can adjust the repeat rate on the fly, create glitchy stutter effects, or generate juicy snare rolls at the click of a button. If you make trap music or modern pop, this plugin is an absolute must-have.
You can watch my Hatz tutorial here.

Dr. Rex or Doctor OctoRex
The Dr. Rex plugin found in Reason 12 Is a loop player that slices and plays drum loops for you. Essentially, you can upload a single loop into this plugin end slice or cut it in any way that you see fit, using the wide range of parameters found on the interface. Dr. Rex is Probably one of the easiest tools inside of the reason rack to use, as it does not have as many knobs or sliders as other instrument devices. It makes it incredibly easy to chop Rex loops. However, it can't be use with .Wave files.
Once you load in a loop, you can go through the eight distinct sections in a linear fashion, adjusting the controls to experiment with your sound. You have mod wheel controls, velocity controls, transposing controls, still touring controls, LFO controls, and much more.
If you often find yourself using drum loops, this is one loop slicer that I highly recommend. And if you want to get the most out of it, check out this in-depth tutorial on how to use Dr. OctoRex.

Drumazon
is a killer plugin from the D16 Group, which uses a unique synthesis algorithm to emulate all of the original sounds of the 909 drum machine hardware unit. D16 Group is known for synthesizing hardware instruments with meticulous accuracy, and it is clear that they've worked hard to inject the iconic sound of the 909 into Drumazon.
On the interface, you'll find a meticulous emulation of the classic internal sequencer, which 909 users should be familiar with. The sequencer is made to program and edit drum patterns, as well as play them back. It features its own swing/groove for authentic 909 beats.
You'll also find a creative randomizer on board, which uses a sophisticated algorithm to take your drum patterns down the experimental rabbit hole. If you make house music or hip hop with an old-school house flavor, definitely get your hands on Drumazon.

Heartbeat
The sound of classic drum machines is back and doesn't seem to be going anywhere soon. Heartbeat delivers all of your familiar and iconic drum machine sounds in a sophisticated interface with built-in effects and auto layering.
You'll find eight channels of high-quality drum sounds, most of which were modeled with analog synthesis of vintage drum machines. To spice up your drum sounds, you can use the built-in EQ modules and modulation effects to craft sounds that veer from the norm.
Everything in the plugin leads to a built-in mixer channel, which gives you controls for volume, panning, ping-pong, EQ, and onboard time-based effects. Overall, this drum VST is a solid choice for any 80s music lover.
However, I'd note that the interface can feel very overwhelming, and I often struggle to get great sounds with it.

Sublab
Sublab is a truly gnarly synthesizer VST that is made to create hard-hitting 808 drums and sub-bass sounds. It is a completely unique class of synthesizers that was specifically developed for hip-hop, trap, and future bass. The plugin gives you all of the tools you need to sample, distort, layer, and widen any kick drums into a trunk-shaking sub.
Heads up if you're in a hurry:
You get three separate sound engines within the plugin, including a sampler, synth, and sub-engine. There are six signature bass packs and 250 bonus kick samples, all of which are nicely arranged into a collection of presets to get you started.
If you spend way too much time digging for 808 samples that fit your tracks, Sublab by Future Audio Workshop is the plugin for you.

808 Studio 2
808 Studio 2 is another 808 sub-bass generator, very similar to Sublab. It's an excellent choice for hip-hop or trap production, where hard-hitting bass subs are needed.
By just hitting one key with 808 Studio 2 open, you can Inspire an entirely new neat. Beyond what you would expect from this plugin, you'll find an advanced sequencer with pitch glide capabilities and drag-and-drop modulation for advanced synthesis.
If you're not a fan of the many included samples in this plugin, you can also load your own samples with the flexible sampler. 808 Studio 2 comes with 80 high-quality presets to get your creativity flowing. Whether you need crisp and clean sub-bass or down-home and dirty synth bass, 808 Studio 2 can be the tool for the task.

Beat Scholar
Beat Scholar might just be one of the weirdest and wackiest hip-hop drum VSTs on this list, presenting an entirely unique way to craft new rhythms in the digital realm. The plugin works by combining subdivisions, so you compose rich and unique-sounding rhythmic patterns with only a few clicks.
Pick a drum sample, place it on any beat, and use Beat Scholar to create linear grooves and drum fills.
Beat Scholar Is certainly a plugin that encourages experimentation and musical innovation, all while keeping you within the right musical context.
You'll find more than 250 carefully crafted stock samples to choose from, including handmade, organic drum sounds and classic, vintage drum machine samples. Beat Scholar is by far one of the most unique drum plugins on the market today.

Sequel 2
If you're in the market for a budget-friendly drum sampler and sequencer plugin, Sequel 2 is a solid choice. This unique drum VST delivers a quick workflow, which imparts vintage drum machine tones on your tracks.
You can pick from the library of famous drum machine samples and patterns or upload your own. Beatskillz recently updated the plugin with sequencer functions and a real-time pitch engine.
You can craft unique drum beats on the fly with the 32-step sequencer, the drive controls, and the sync controls. While it's certainly not breaking any boundaries as a hip-hop drum VST, Sequel 2 does a great job delivering that old-school vibe, perfect for 90's hip-hop production.

Vinylistik
Vinylistik Is another budget-friendly hip-hop drum machine VST from Beatskillz. However, compared to Sequel 2, Vinylistik was made to recreate the classic old-school sampler vibe from 90s crate-digging artists.
Within this plugin, you'll find some of the crunchiest and hardest-hitting boom-bap drums, great for vintage hip-hop. Fans of the genre will instantly recognize some of the plugin's influences, including J-Dilla, Q-Tip, Pete Rock, Dr. Dre, Timbaland, Afrika Bambaataa, and RZA.
In total, there are 47 built-in drum kits and 40 beat patterns, which you can replace with the drag-and-drop browser design. Overall, Vinylistik is made to be simple and effective, nailing the crunchy boom-bap sound without fail.

Beat Machine 3
Beat Machine 3 is made to work for just about every digital genre imaginable, including boom-bap, trap, drill, EDM, lo-fi, and more. While the interface of Beat Machine 3 might look simple, it is actually one of the most flexible plugins on this list.
Go find more than 300 included drum kits and 300 MIDI patterns to get you started. If by some miracle you are not happy with the drum kits provided, you can add your own samples. For further manipulation, the plugin has flexible pitch and pan controls, built-in filters, a built-in analog-style reverb, and multi-out routing options.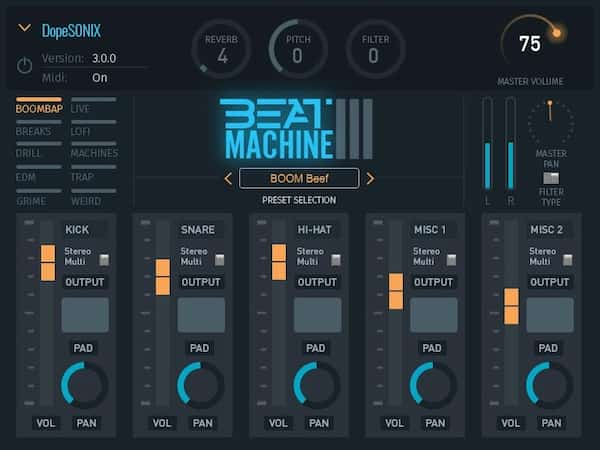 I love how CPU-friendly Beat Machine 3 is, allowing me to use it in multiple instances without bogging down my session.

Punch 2
Punch 2 is a unique drum machine in that it doesn't emulate any specific drum machine but rather uses a combination of samples and drum synthesis to trigger beats with its built-in pattern sequencer.
You can quickly create new drum kits and rhythms using the sleek interface, which comes with a range of filters, envelopes, and creative effects. You'll even find a granular synthesis algorithm for even more flexibility.
Everything is then run to the master section, which has an EQ, compressor, limiter, stereo and mono split filter, and layout mixer. There are a variety of sounds built-in to Punch 2 to get you going.
With tons of controls and parameters, this plugin certainly isn't for the faint of heart. If you are somebody that likes to spend time tweaking your drum sounds, however, You'll love the seemingly limitless flexibility that this plugin provides.

Steven Slate Drums
Steven Slate Drums is the go-to plugin for acoustic drum emulation. The drum sounds found in this plugin are ultra-realistic, giving you the organic feel of a real drum kit in a live performance. You'll find more than 2,400 MIDI grooves that work across multiple genres, great for inspiring new tracks.
Whether you want to add the sound of rock, metal, drum, bass, reggae, or pop to your hip-hop music productions, Steven Slate Drums is a good choice. The interface is very well laid out and ultra-flexible, great for fine-tuning each piece of your drum kit to your liking. Or you can create your own unique grooves while taking advantage of the high quality sounds.
While there are many preset kits to get you started, we like the fact that you can swap out different kit elements to further customize your overall sound. You also have built-in mixer effects, including EQ, compression, still touring, reverb, and more.
With multi-out functionality, however, you can route each kit element to different tracks in your DAW for third-party plugin processing, making Steven Slate Drums one of the best acoustic drum VSTs.

GetGood Drums
GetGood Drums is a small team of drum sample developers that began with an obsession for drum tones. Head to their website, and you'll find a wide range of drum sample packs, perfect for hip-hop, metal, rock, and more. You can tell that every sample in every pack was meticulously recorded and processed to fit the relevant vibe.
So many top artists use samples from Get Good Drums, and there is no doubt that you have heard these samples on some of your favorite records. Check out some of the packs that they have available and see how you can use some of the drum VST Samplers above to add them to your Productions.

XLN Audio Addictive Drums 2
If you are looking to get realistic drum sounds in your hip-hop production, Addictive Drums 2 is one of the best live drum VSTs around.
You can think of this plugin as a full-fledged digital and drum production studio which features a wide range of professionally recorded acoustic drums and live rhythm performances. There are more than 25 separate drum kits to choose from, a wide variety of MIDI packs with grooves played by real drummers, and several kit pieces that you can use to mix and match your drum elements.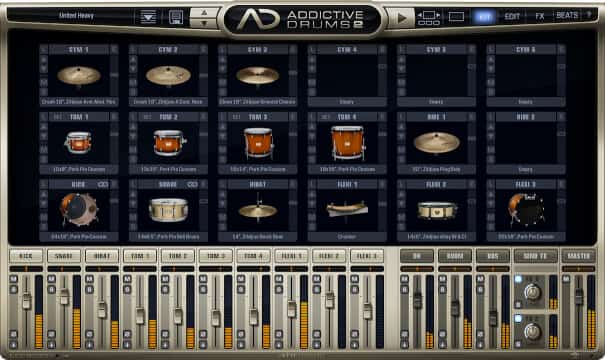 From modern Funk to 70s rock to early 20th-century jazz, Addictive Drums 2 can just about do it all.

Toon Track Superior Drummer
Toon Track Superior Drummer is similar to Addictive Drums 2 in many ways. For starters, this plugin is essentially a complete drum production studio with a massive library of acoustic sounds and samples.
You will find more than 230 GB of professionally recorded drums, 350+ electronic drum machine sounds, and seven full kits. There are plenty of presets to choose from, great for a wide range of musical styles. You can even get creative with these drums, thanks to the 35 built-in processing effects.
Toon Track Superior Drummer essentially allows you to step into a virtual drum studio, bridging the gap between acoustic and electronic sounds. You can start by loading up default kits before stacking additional acoustic kicks and snares to create your own unique sounds.
With realistic and velocity tuning and a wide range of macro controls, it is one of the best plugins on the market for emulating live drum performances.

Boom
Boom is a hip-hop drum VST that was created by the Air Music technology company and is included as a part of Avid Pro Tools. However, even if you use another DAW, you can still take advantage of the slick modern interface and vintage drum samples found in this high-quality VST instrument.
Within the plugin, you'll find a diverse range of 10 electronic drum kits, including classic 808 + 909 drum kits. Whether you make urban-focused hip-hop or aggressive dance-style hip-hop, you'll find that these kits offer incredible attention to detail.
The tweaking capabilities feel near limitless, and the user-friendly interface makes it easy for beginners to draft up head-banging grooves in an instant. You can even select from different patterns using the keyboard keys at the bottom of the plugin's interface.
If you are in need of a simple sampler-style drum VST plugin, Boom is one of the best options on the market today.

Best Free Hip Hop Drum VST MT Power Drum Kit 2
If you want to get your hands on a free drum sampler that offers high-quality acoustic sounds, MT Power Drum Kit 2 is one of the best around. Each sample in this free plugin has been meticulously recorded and processed, which is great for pop, rock, and hip-hop music production.
The beauty of this plugin is that the drums sound natural, yet the kick and snare are powerful enough to poke through the mix clearly in any situation without sounding over-compressed, make it one of the best free drum VST plugins available.
However, you still get access to a wide range of the drum Channel processors, such as EQ, compression, and reverb. For a free drum VST, MT Power Drum Kit 2 is quite versatile.
Best Free Hip Hop Drum VST - Drum Pro
Drum Pro is a completely free sampler plugin that comes with 20 drum kits and nine vintage rhythm boxes, including emulations of the popular Roland 808 and 909 drum machines. Every element in each kit is mapped to a virtual pad, which you can control with your MIDIi hardware.
There are ADSR controls to shape the sounds of your samples to your liking, as well as a decent reverb send. While you do not have the ability to load your own drum samples into this plugin, you get a surprising amount of control over the stock samples, with the volume and pan knobs at the bottom of the interface.
It certainly isn't the most flexible drum VST on our list, though for free, you can't really complain.
Best Free Hip Hop Drum VST - Sean Pandy Drums
Sean Pandy is a well-respected producer in the metal community who decided years back that he was going to create a simple drum VST that other producers could use for free.
If you are in the market for a free drum VST that is incredibly simple, we highly recommend checking out Sean Pandy drums. This plugin is a drum rompler that comes with a kick, snare, for toms, and a sub, helping you make hard-hitting hip-hop drums in a pinch.
You'll find two flavors in this VST, including multi-channel and stereo. The stereo flavor also comes with master panning and reverb controls to give your drums a bit more depth. The reverb has a bit of a metallic sound, so I often find myself routing each drum sample out to its own third-party reverb plugin.
From a Frustrated Producer in a Ragtag Bedroom Studio to Major Placements on TV Earning $1,000s!
My name is Evan, and I've been making music since around 3rd grade. I'm from San Diego, California, but I've lived in Washington, DC for the last 20 years.
After 3 grueling years of grad school, though I had put aside serious attempts at making

music.

I found myself spending my days doing work that was dreadfully uncreative, with a ton of student student loan debt.
Which made me feel like my favorite parts of myself were withering.
But I didn't know what to do about it.
Being in my early 30s with tons of student loan debt, in a world where there is "no money in

music

," I felt like my youthful dreams of trying to "make it big" were dead. Like my music would remain unheard in my head and hard drive.
Frustrated by my inability to get my music heard, I started researching solutions.
Instead, I wanted to find a way where I could focus on making the

music

and let someone else deal with promoting it.
I realized the music licensing was the perfect opportunity for a solo artist like me to get my music heard, without having to do any promotion. I just need to focus on improving what I could control - my songwriting and my production skills.
While I still have a full-time day job, I have created systems that have allowed me to produce dozens of songs a year in my spare time.
My songs have been on Netflix, TV shows like the 90 Day Fiance, an award-winning indie film, and NPR's "All Thing Considered." They've also been streamed millions of times.
In addition to being a music producer, I am passionate about teaching people how they can make professional-sounding music and earn money licensing it, all in their spare time.
Thousands of musicians, like yourself, have trusted me to guide their musical journey. My YouTube videos have been watched nearly a million times. And my story has been in Forbes, Side Hustle Nation, and the Side Hustle School.
You Can Achieve Your Musical Dreams Too - Attend the Free Music Licensing Workshop!