Looking for high quality drum loops and samples? You've come to the right place!
This article is focused exclusively on providing you with the best loops and best drum samples so you can elevate your drum tracks to the pro level.
So whether you want acoustic kick drums, trap snares, or unique, these drum libraries have something for you!
Oh, and if you're only interested in free samples, check out this round up of the Best Sites for Free Samples & Loops, load with free drum sample packs!
Note: some of the links below may be affiliate links, meaning that I receive a commission if you purchase through them.
Drum Loops, Drum Samples, or Dum Machines?
This article is focused on drum sample packs, meaning pre-recorded audio that you can trigger, loop, chop up and manipulate. For example, a recording of an 808 kick.
For most people, drum loops & samples are going to be the way to go. But there are also specialized drum machines, like the Roland 808 itself, that allow you to synthesize (and totally tweak) your own drum sounds. Click here to see the best drum machine VSTs.
And if you're just a total fiend 😈 for that 808 sound, here are the best 808 VST plugins.
The 10 Best Drum Loop & Sample Packs
When it comes to drum loops, I think it's best to break them down by genre. Will start with various acoustic drum loop packs, then move to hip hop and EDM.
All of these loop packs either feature large one shot libraries, or give you enough flexibility to sample the loops with a sampler and make your own samples out of these sound libraries.
1. Best Rock Drum Loop Pack - Pro Drums Rock
Rating: ⭐⭐⭐⭐⭐
Pro Drums Rock is an absolute monster when it comes to rock drum loops. Recorded in a legendary studio with tons of classic gear, Pro Drums Rock gets you the sound you need to melt faces. In fact, the drums sound so good, you may not even need to do any post-processing!
But aside from an amazing sound, what are you actually getting?
Inspiring drum performances!
Just put one of these loops on and start jamming and you'll be inspired to create your own music instantly. Or if you've already got your song written, don't worry.
This monster is loaded with BPM-labelled folders that include multiple drum grooves and fills.
Like 15,000+ loops across 21 different tempos. Yes, a lot of those loops may be somewhat duplicative, but there's also a lot to be said for using the kick track from one beat with the snare from another to create your very own beat!
So does this huge library maybe off more rock drums than you would ever need? Maybe a little bit?
And you've got precise control, because they give you tons of different sound sources per groove, including:
mixed stereo drum loops,
pre-mixed groups,
and all individual tracks as dry versions including kick in/out, kick PZM, snare bottom/top, hi-hats, toms, overheads, and room near/far microphones.
2. Best Value Acoustic Drum Loops - Frontline - Live Drums Bundle
Rating: ⭐⭐⭐⭐⭐
The Live Drums Bundle! from Frontline Producer is an amazing collection acoustic drums packed with 7 of the finest drum packs from the back catalogue, all at 60% OFF! This library is a top pick since it includes so many different drum sample libraries in a super affordable bundle.
The collection includes to following amazing drum loop libraries:
Smoking Jazz Breaks (good for jazz, hip hop)
Love Drums (downtempo, neo-soul, hip-hop, Ballads, RnB)
Mark Fletcher - Fill You In (funk, soul, house, jungle, hip hop, breakbeats)
Do the Shuffle (jazz, blues, Motown, soul, funk, rock 'n' roll, and hip-hop)
Mark Fletcher - Afrobeat 2 (Afrobeat, EDM)
Alt Rock Drums - (self-explanatory?)
Let there Be Drums (rock, heavy rock, metal and other guitar music)
So it's safe to say that no matter what style of music you play, there are tons of amazing drum loops in this bundle. And it might even inspire you to experiment with new styles or genre-bending beats!
All told, this collection of drum loops nearly 1,400 different drum loops for you to choose from, covering a wide range of styles and tempos.
So what are you waiting for?
3. Best Boom Bap Drum Samples - Ultimate Boom Bap Drum Kit Bundle
Rating: ⭐⭐⭐⭐⭐
The Ultimate Boom Bap Drum Kit Bundle from Beat Production is loaded with everything you need to create killer classic Boom Bap beats. Inspired by the likes of RZA and DJ Premier, these hard-hitting drum samples are full of vintage swagger.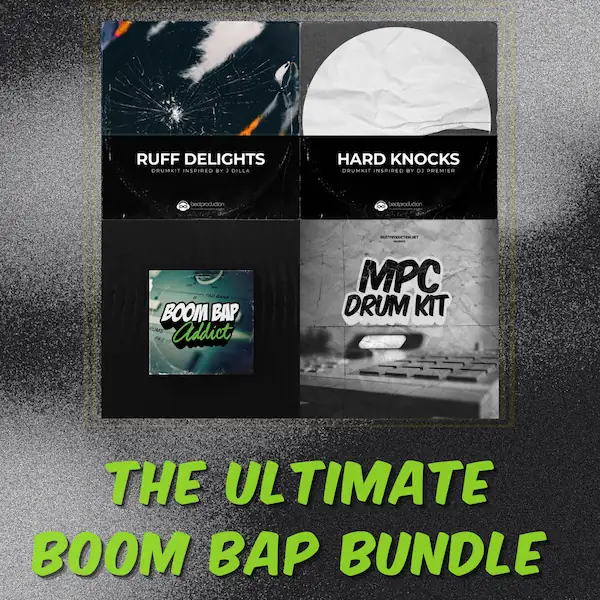 This bundle includes 4 of Beat Production's best selling sample packs: Ruff Delights (inspired by J Dilla), Hard Knocks (inspired by DJ Premier), Boom Bap Addict, and MPC Drum Kit, all for an super-affordable low price.
With the Ultimate Boom Bap Bundle, you'll get over 2,500 meticulously sampled, vintage-inspired drum hits instantly, transporting you back to the golden era of hip hop.
4. Best Soul Drums - Vintage Soul Drums
Rating: ⭐⭐⭐⭐⭐
Vintage Soul Drums is made in such away that it feels authentically like a retro soul drum recording. From the bass drums to the snare, these drums will bring fatness to your tracks that is seldom heard in the digital age.
Vintage Soul Drums covers a lot of different tempos, feels and playing styles, so you'll be able to inject soul into your rhythm sections across a variety of genres.
Sure, this is great for soul, but it's also useful for funk, blues, hip-hop, trip-hop and any other vintage beat song. I've found myself coming back to this library time and time again, even just to borrow some hi-hats or tambourines loops for a track in a different genre.
Loops include plenty of drum fills, full drum loops and tambourine loops, and you also get a host of one-shots, with kick hits, snare samples, rim one-shots, crashes, rides and toms all included.
5. Best Metal Drum Loop Pack - Groove Metal
Rating: ⭐⭐⭐⭐⭐
Frontline Producer's Groove Metal includes the heaviest metal loops and sounds in town - not just acoustic drum kits, but also metal guitars and pounding bass.
This sample pack is lovingly made with the sonic intensity you'd expect from thrash metal, providing the palette to emulate bands like Pantera, Exhorder, White Zombie, Fear Factory and Machine Head!
Includes down-tuned thrash Guitars, distorted Bass, and smashing Drums in tempos that range from 100-140BPM.
These metal drums loops are ideal for Metalcore, Nu Metal, Dubstep, Drum & Bass, Darkcore and more!
There are 1252 loops in total with 406 Electric Bass Loops, 382 Electric Guitar Loops, 375 Live Drum Loops and 89 Live Drum Fill Loops.
Grab Groove Metal and turn it up to 11!🤘
6. Best West Coast Hip Hop Drum Loops - West Coast Hip Hop
Rating: ⭐⭐⭐⭐
Looking for that classic West Coast Gangsta Funk sound?
Well Black Octopus Sound's "West Coast Hip Hop," is sample pack dedicated to that iconic sound. This pack includes more than just drums, though. There's also a selection of gritty west coast keys, g-funk bass loops, organs, whistling leads, pianos, full ensembles, and moody arps.
These sounds could be imagined as straight out of a Dr. Dre album.
All of the 19 full drum loops in this pack are offered as a full loop, or broken down into variations such as kick free, percussion, top loops so you can dial in the exact sound you are looking for. All samples are key and tempo labelled for convenience so you can easily drag and drop, mix and match the sounds to your desire.
As an added bonus are 38 MIDI files of bass loops and piano keys so you can load your own patches or alter the sounds further to make West Coast Hip Hop your own. Simply put, this is an awesome old school hip hop sample pack.
7. Best Drum Loops for that Kanye & Drake Sound - Flip The Script
Rating: ⭐⭐⭐⭐⭐
Flip the Script is loaded with unique sounds that evoke a touch of old school soul, a touch of modern hip hop, and just the right amount of swag. This pack is fantastic because it not only includes over 90 drum loops, but it also includes tons of other instruments.
This pack, more than some of the others, is focused on helping you unleash your full creativity. It's loaded with over 200 one shot samples, as well as pre-built kits using all the major samplers, like NN-XT, Halion, Kontakt, Exs24 and Sfz.
So whether your trying to capture the fury and the funk of Kanye West or take listeners on washed out washed out ride like Kendrick Lamar, check out Flip the Script for modern hip hop drums sounds.
8. Best Trap Drum Samples - Boujee Beats
Rating: ⭐⭐⭐⭐
Trap & Hip Hop collide in a perfect way with this next level sample pack, Boujee Beats! You might not win a grammy award with this, but it sure will get you started in the right direction given that trap beats have taken over every music genre.
This pack includes full mixed loops, big bass loops, drum loops and one shots, full music ensembles and song starters, giving you everything your heart desires! Here are some of the drum parts included in the pack:
84 Drum One Shots
15 HiHats
20 Kicks
25 Percussion One Shots
24 Snares
72 Drum Loops
And Boujee Beats is by Black Octopus so you know the sound quality will be great.
9. Best House Loop Pack
Rating: ⭐⭐⭐⭐⭐
House 4 Ever from Big Fish Audio and VIP Sound Design brings you 10 modern house construction kits inspired by some of the biggest DJs and producers in the world. With moody intros, slamming drops, pumpin build ups, and big choruses, House 4 Ever makes it easy to build your tracks with the right elements to get people moving on the dance floor.
Use the many drum hits and tracks to make your custom low end beats and vibes then mix and match the dancy synth stabs, leads, and pianos to create larger than life anthems for your audience. This loop packs and its 435 loops is perfect for those that just want to get started with amazing melody loops and high-quality sounds.
Who is VIP Sound Design?
VIP Sound Design is a collection of Grammy-nominated producers, engineers, beatmakers, and musicians that have one goal in mind: helping you get more placements and earn more revenue from your music. You can not listen to Billboard's top 100 without hearing their sounds there.
Their history in sound design stretches over nearly 20 years, supplying all of the hottest producers and composers for the last 2 decades. Their sound design credits include Apple, Ableton, Akai, Native Instruments, Presonus, Mixcraft, and many more. Their music production, beat making, mixing and mastering credits include: Dr. Dre, Eminem, Jodeci, Flo Rida, Trey Songz, Herbie Handcock, Mariah Carey, Leanne Rymes, Lil Wayne, and many more.
You'll hear this amazing pedigree in every sample in House 4 Ever.
10. Best Percussion Samples
Rating: ⭐⭐⭐⭐⭐
The best part about a banging percussion sample is that you can use it with nearly any other type of loop to create something groovier then the sum of its parts. Try dropping some of these percussive grooves from Afro-Cuban Percussion Vol. 1 onto your tracks and see how they pop.
Afro-Cuban Percussion Vol. 01 includes a wide variety of samples in a range of tempos and styles featuring the congas, cajón, bongos, claves, shaker, and cowbell, all performed by professional Afro-Cuban percussionist, Idan K.
These samples are processed to preserve the organic sound of the instrument, while still providing you with a sonically pure sample so it seamlessly integrates into your production.
With over 450 different loops, you are sure to find something!
11. Best Drum Loops for Cinematic Sounds - Leviathan Hybrid Trailer
Rating: ⭐⭐⭐⭐⭐
Your new go-to sample library for epic-scale trailer soundtrack production, Leviathan – Hybrid Trailer combines orchestral and electronic sound design techniques to achieve the cutting-edge sounds.
This library is loaded with cinematic moments, like ensemble drum assaults and aerated percussion lines, through ominous brass swells and dramatic strings, to pulsating basslines, animated arps and cyclopean synth edifices.
And with many of the loops running to well over 30 seconds in length, there's endless variation and nuance to be discovered and exploited within each one.
A wealth of high-impact one-shots is included, too, providing effortless starting points for your own heavyweight sampler patches. These take in carefully processed stabs, falls and more, using the same instrument types as the loops – drums, percussion, brass, strings, synths, etc – as well as FX and a set of seismic 'BigCombi Hits' that layer multiple simultaneous elements for enormous, frequency-filling impacts.
Leviathan Hybrid Trailer includes:
35 percussion Hits
48 Drum Loops
30 percussion Loops
77 FX Hits
Other Options Besides Loop Packs
If you're not a fan of loop packs and samples, there is another option for getting your drum sounds. Many companies make drum instruments that come loaded with lots of patterns, a great drum sound, and the ability to process your drum kits on the fly.
Addictive Drums is one of the best examples of this, and it features real drum samples imaginable. Once you know what you're doing, you can use it to dial in a realistic drum part with ease. That said, there is a bit of a learning curve.
And while the default drum library is good, you may find yourself needing to buy expansion packs with different individual sounds and rhythms not covered by the basic package.
Superior drummer, Steven Slate Drums, Native Instruments' various Kontakt libraries, and more, are all similar examples.
Best Places to Buy Drum Samples
There are tons of great places to find drum samples. I tend to recommend Loopmasters because they have a massive library and offer generous loyalty rewards for repeat customers. Other good sites include ADSR Sounds, Wave Alchemy and Jay Fisher's Real Drum Samples.
From a Frustrated Producer in a Ragtag Bedroom Studio to Major Placements on TV Earning $1,000s!
My name is Evan, and I've been making music since around 3rd grade. I'm from San Diego, California, but I've lived in Washington, DC for the last 20 years.
After 3 grueling years of grad school, though I had put aside serious attempts at making

music.

 I found myself spending my days doing work that was dreadfully uncreative, with a ton of student student loan debt.
Which made me feel like my favorite parts of myself were withering.
But I didn't know what to do about it.
Being in my early 30s with tons of student loan debt, in a world where there is "no money in

music

," I felt like my youthful dreams of trying to "make it big" were dead. Like my music would remain unheard in my head and hard drive. 
Frustrated by my inability to get my music heard, I started researching solutions.
Instead, I wanted to find a way where I could focus on making the

music

and let someone else deal with promoting it. 
I realized the music licensing was the perfect opportunity for a solo artist like me to get my music heard, without having to do any promotion. I just need to focus on improving what I could control - my songwriting and my production skills.
While I still have a full-time day job, I have created systems that have allowed me to produce dozens of songs a year in my spare time.
My songs have been on Netflix, TV shows like the 90 Day Fiance, an award-winning indie film, and NPR's "All Thing Considered." They've also been streamed millions of times.
In addition to being a music producer, I am passionate about teaching people how they can make professional-sounding music and earn money licensing it, all in their spare time.
Thousands of musicians, like yourself, have trusted me to guide their musical journey. My YouTube videos have been watched nearly a million times. And my story has been in Forbes, Side Hustle Nation, and the Side Hustle School.
You Can Achieve Your Musical Dreams Too - Attend the Free Music Licensing Workshop!