Music, they say, is the language of the soul. For us musician, our instrument isn't just a collection of strings, wood, and metal; it's a portal to a world where emotions find melody, and dreams resonate in chords. If you're a guitar enthusiast, you understand the profound connection you share with your six-string companion.
Not only do you want to protect your beloved instruments - you want to show them off with flair!
This article is loaded with a variety of types of guitar stands, from affordable single guitar stands for the home studio to portable racks for stage use. And it's not just for electric guitar players! I'v also reviewed the best stands for bass and acoustic guitar, as well as multi-guitar stands.
But if you're in a hurry...
Note: this article may contain affiliate links, which mean that I receive a commission for any purchases you make, at no added cost to you.
This review article is divided into four main sections:
Best Electric Guitar Stands
Best Acoustic Guitar Stands
Best Bass Guitar Stands
Best Multi-Guitar Stands
Feel free to the section that's right for you!
Best Stands for Electric Guitars
Best Value Electric Guitar Stand - Gleam Universal Guitar Stand
The 🏆 Gleam Universal Guitar Stand 🏆 is great value for an electric guitar stand (and also works well with basses). It does nothing fancy, but it's affordable, sturdy enough for home use, and cushioned in all the right places. This tripod stand is a good choice for at home, but it's little flimsier than what I'd like to use in the chaotic world of live gigs, though.
Pros:
Elegant and Sturdy Design: The stand boasts a sleek and matte finish that perfectly complements the beauty of your guitar without stealing its spotlight. Its sturdy construction instills confidence, ensuring your beloved instrument stays upright and secure.

Added Security Features: One standout feature is the locking strap for the neck, providing an extra layer of protection against accidental falls. While it requires a bit of effort to remove and replace each time, the peace of mind it offers is undeniably valuable. Plus, the solid rubber base feet prevent any unwanted movement, even when faced with curious cat encounters.
Cons:
Initial Setup Confusion: Setting up the stand might be a tad confusing initially, thanks to slightly vague instructions. A bit more clarity in the instructions would undoubtedly enhance the user experience.

Rotating Base Surprise: One unexpected detail is the rotating base where the guitar sits. It wasn't clearly mentioned in the product description, and for some, this might be a drawback. While it doesn't affect the stand's functionality significantly, it's something to be aware of if you prefer a fixed base for your guitar.
In a nutshell, the Gleam Universal Guitar Stand delivers on its primary promise – providing a stable and secure platform for your cherished instrument. Its elegant design enhances the visual appeal of your guitar, and the added security features ensure your peace of mind. Just be prepared for a slightly puzzling setup and the surprise of a rotating base. All in all, it's a good stand that gets the job done and keeps your guitar standing tall!

Best Overall Electric Guitar Stand
Finding a guitar stand that seamlessly blends classical elegance with practical functionality can be a challenge. The unique design of the beautifully crafted Cahaya floor guitar stand not only serves its purpose but also enhances the ambiance of any music room it graces. Here's why this stand stands out:
Pros:
Timeless Elegance: This guitar stand boasts a classic, curved design that exudes sophistication. It goes beyond mere functionality, doubling as an atmospheric enhancer in any setting. Its presence adds a touch of class to your space, making it more than just a music accessory but a statement piece.

Versatile and Protective: The stand's step-shaped notch cradle is meticulously designed to securely hold various string instruments, including acoustic, classical, bass, electric guitars, and violins. The plywood construction, covered with PU material, enhances sturdiness while safeguarding the instrument's finish from unexpected scratches and bumps. It's an excellent choice for both display purposes and convenient, quick access for practice sessions.
Cons:
Compatibility Note: It's crucial to note that this wooden guitar stand might not be suitable for nitro-lacquered guitars. While it accommodates a wide array of instruments, those with specific guitar finishes need to exercise caution and check compatibility before purchasing.

Basic Design: While the stand excels in its functionality and protection, some users might find its design relatively basic. If you're looking for a stand with intricate details or ornate features, this one might appear somewhat straightforward. However, its simplicity ensures that it seamlessly integrates into various decor styles without overpowering the room.
In summary, the Cahaya guitar stand is an exquisitely designed wooden guitar stand effortlessly marries classical appearance with universal functionality which is a great option when floor space is a premium. Its ability to hold different string instruments securely, along with its protective features, makes it a reliable choice for musicians and enthusiasts. While it may not cater to nitro-lacquered guitars and has a basic design, its timeless elegance and ease of installation make it a practical and stylish addition to any music lover's space. Whether you're showcasing your prized instrument or ensuring quick access for practice, this guitar stand combines form and function beautifully.

Best Luxury Electric Guitar Stand - Premium Bamboo Guitar Display
The bamboo guitar stand offers a stylish storage solution for your guitar. Crafted from premium sustainably sourced bamboo, it is designed to accommodate various guitar types, including full-size electric guitars, bass, and acoustic guitars. Assembling the stand is effortless, requiring only three steps. The stand's height measures 41" from the neck to the base, ensuring secure and visually appealing storage for your instrument. It's a good option for someone looking to show off their vintage guitars.
Pros:
Elegant Design: This guitar stand exudes elegance, thanks to its bamboo laminated solid wood construction. The pictures don't fully capture its beauty; it's a piece that adds a touch of sophistication to any room. Its stylish design ensures your guitars are displayed in a visually appealing manner.

Sturdy and Portable: Despite its elegant appearance, this stand is remarkably sturdy. The bamboo platform provides excellent stability, keeping your instruments secure. It's tall enough to accommodate long-scale bass guitars off the ground. Plus, it strikes a perfect balance between weight and portability. It's substantial enough to instill trust but light enough to move easily around your house or studio.
Cons:
Assembly Challenges: Some users have faced issues during assembly, particularly with the supplied screws. Careful handling is required to prevent damage to the screw heads. While the tools provided can be used, it's advisable to use your own tools if you're experienced to avoid potential mishaps. This minor hurdle might pose a challenge for users looking for a hassle-free setup experience.

Tool Quality: The tools provided, while functional, might not be of the highest quality. Some users reported damaged screw heads due to slips during assembly. This issue could be resolved by using more reliable tools. While it doesn't compromise the overall stand's integrity, it does impact the initial assembly experience.
In conclusion, this bamboo guitar stand stands as a testament to both style and substance. Its elegant design, coupled with impressive stability, makes it a worthwhile investment for guitar enthusiasts. While assembly requires careful handling and potentially better tools, the stand's overall quality and aesthetics make it a conversation-worthy addition to any space.

Best Hanging Electric Guitar Stand - Snigjat Guitar Wall Hanger
The company may have a weird name, but these solid wood guitar hangers by 🏆 Snigjat 🏆 offer a blend of elegance and functionality. Featuring a natural solid wood base and sturdy metal steel hooks with soft padded sleeves, these hangers protect your guitar's surface, ensuring an excellent hand feel and an elegant look. The unique V-shaped design firmly holds your instrument, preventing slips and wall wear.
These hangers are suitable for various instruments like Acoustic, Electric, Bass Guitars, 6-String Guitars, Mandolins, and Banjos. The rotatable yoke accommodates different headstock designs, making it versatile. Additionally, the hangers are decorative, supporting up to 20 LBs and allowing you to hang both guitars and decorations. Easy to install with provided screws and drywall anchors, these hangers are a practical and stylish choice for displaying your guitars. This is probably the best choice for a hanging stand.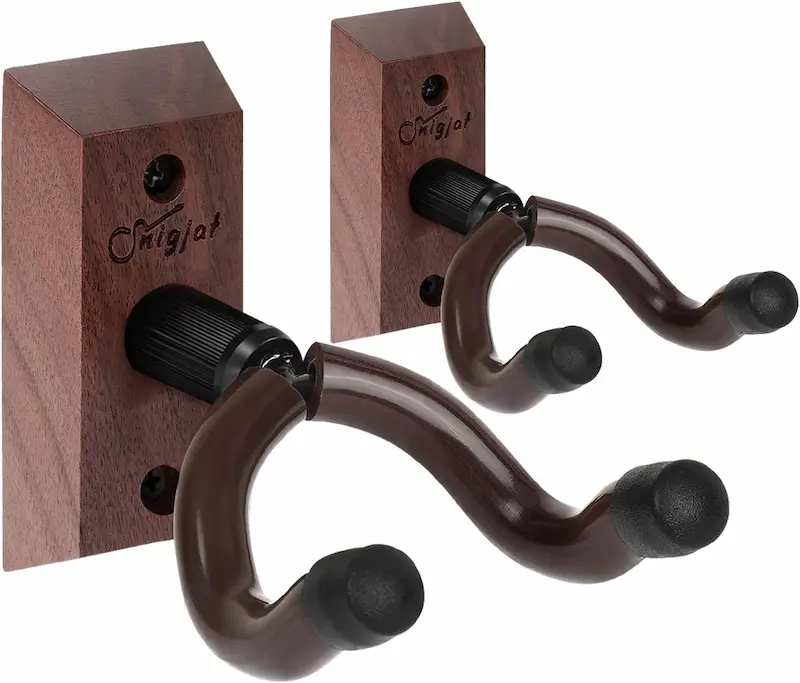 Pros:
Stylish and Functional Hooks: I must say, the hooks not only look fantastic but also work like a charm. They provide a secure and stylish way to display your guitars, enhancing the aesthetic appeal of your room. With my guitars hanging gracefully on the wall, they've become more than instruments – they're pieces of art!

Encourages More Playtime: Seeing my guitars beautifully displayed has rekindled my passion for playing. They are now easily accessible, making impromptu jam sessions a breeze. Plus, the visual appeal of guitars adorning the wall serves as a constant reminder to pick them up and play, encouraging more frequent practice sessions.
Cons:
Subpar Drywall Anchors: Unfortunately, the drywall anchors that come with the hangers are not up to par. They proved to be quite frustrating to work with. If you decide to give these hangers a go, it might be wise to invest in higher-quality anchors separately to save yourself the hassle and potential wall damage.

Limited Compatibility: While these hangers are fantastic for most standard guitars, they fall short when it comes to accommodating larger instruments. They are too narrow for 12-string or classical guitars, which might disappoint musicians with these specific guitar types. It's something to consider if you have a diverse guitar collection.
In conclusion, the Snigjat Wall Hangers are a game-changer for anyone looking to showcase their guitars with style. Despite the minor inconvenience of the subpar drywall anchors and the limited compatibility with certain guitar types, they offer a visually appealing solution for guitar storage. With their elegant design and the motivation they provide to play more, they've become a valuable addition to my music space. So, if you're ready to transform your guitars into wall-mounted masterpieces, these hangers might just be the ideal choice for you!

Best Electric Guitar Stand for Live Gigs - Guitto Adjustable Stand
This Guitto Adjustable Guitar Stand is a perfect blend of lightweight design and durability, crafted from high-strength engineering plastic and metal joints. It offers double the bearing capacity and impact resistance, ensuring reliable support for your instrument. The stand features thick soft pads on all touchpoints, protecting your guitar from scratches. It incorporates a secure lock system and non-slip rubber feet, guaranteeing stability on any surface which is a great feature for a live stand. On top of that, it doesn't take up much space, so you can move around easily on a crowded stage.
Additionally, this stand is highly portable, weighing only 0.99lb and easily foldable for convenient storage and transport. Its flexibility is highlighted through an exclusive foldable and adjustable design, accommodating various guitar types including acoustic, ukulele, basses, and electric guitars. This flexibility is what makes it my number one choice as a guitar stand for live gigs.
Pros:
Versatile and Sturdy Design: Initially purchased for my ukulele and uke-sized bass, these stands proved to be surprisingly robust. They securely cradle smaller instruments and even accommodate full-sized and 5-string bass guitars. During weeks of daily use, not a single instrument tipped over, highlighting their impressive stability.

Compact and Travel-Friendly: One of the standout features of the Guitto stand is its foldability. Designed with the nomadic musician in mind, it folds up small, making it ideal for camping trips, sailing escapades, and open mic nights. The stand effortlessly fits into most gig bags and even snugly tucks into the cases of my instruments, ensuring convenience and portability.
Cons:
Minimal Padding Raises Concerns: While the stand boasts grippy rubber padding, I couldn't help but notice its minimal thickness, particularly on the bottom. Over time, I worry about its durability, especially considering past experiences with stands featuring more substantial padding. Although it hasn't caused any damage yet, it's a point of concern for instruments prone to scratches.

Lack of Vibrant Color Options: In the realm of aesthetics, my only wish is for the Guitto stand to be available in vibrant colors. On dark stages, where everything is typically black, a bright stand would be a beacon of visibility. Although this doesn't affect its functionality, it's a small touch that could enhance its overall appeal.
In conclusion, the Guitto Foldable Guitar Stand is a practical choice for musicians constantly on the move. Its versatility, sturdy construction, and portability make it an excellent companion for gigs, travels, and impromptu jam sessions. While the minimal padding and color options are areas for improvement, they don't overshadow the stand's overall utility.

Best Option for Guitar Cases - String Swing Walnut Guitar Case Rack
Are you tired of cluttered spaces and uninspiring storage solutions for your beloved guitars? Look no further than the String Swing Guitar Case Rack! Crafted with care in Wisconsin from responsibly harvested local Black Walnut hardwood, this elegant rack is not just a storage solution; it's a statement piece that adds sophistication to any room, whether it's your studio, family room, study, or great room.
Pros:
Exquisite Craftsmanship: Designed with meticulous attention to detail, this guitar case rack is a testament to superior craftsmanship. The rich, natural tones of the Black Walnut hardwood elevate the aesthetics of your space, making it a visual delight.

Lifetime Durability: Built to last, this rack ensures your guitars are always in the "right hands." Its sturdy construction guarantees a lifetime of reliable use. Plus, the quick assembly with just a screwdriver makes setting it up a breeze.
Cons:
Limited Size: While accommodating standard guitar cases, the rack's dimensions (30" x 36" x 13.25") might pose limitations for users with an extensive guitar collection or larger instrument cases. If you have a diverse range of guitars, you might need multiple racks.

Potential Travel Hassle: While it folds flat for travel or storage, the rack's substantial size might be a hindrance if you frequently move or travel with your guitars. Consider the space available in your vehicle before opting for this rack for travel purposes.
In summary, the String Swing Walnut Guitar Case Rack stands as a testament to quality and durability. Its elegant design and sturdy build make it an excellent choice for showcasing your guitars while ensuring they are stored safely. However, potential limitations in size and portability might be considerations based on your specific needs. If you prioritize aesthetics and long-lasting quality, this rack is an investment worth considering for your cherished instruments.

Best Stands for Acoustic Guitars
Best Value Acoustic Guitar Stand - Amazon Basics A-Frame
The Amazon Basics A-Frame guitar stand is designed for both acoustic and electric guitars. It features three adjustable-width settings to fit most guitar shapes, which you don't see on all frame guitar stands. Made from lightweight and durable metal, this stand requires no assembly. It includes soft foam arms and a backrest to protect your guitar. The stand folds flat for easy transport and storage and is equipped with non-slip rubber feet for stability.
That said, I don't recommend it for electric guitars though, because they sit at a weird angle that takes up a ton of space.
Pros
Rock-Solid Support for Acoustic Guitars: The A-Frame stand truly shines when it comes to cradling the majestic curves of acoustic guitars. Its apex support pad provides sturdy backing, ensuring your acoustic beauty stays in place, safe and sound.

Quick and Convenient Setup: These stands are the epitome of convenience. They pop up in a jiffy and embrace guitars of various shapes and sizes, making them a go-to choice for musicians on the move.
Cons:
Not Electric Guitar-Friendly: Here's the only downside – if you're in the electric guitar realm, tread cautiously. Smaller-bodied guitars, especially electrics, might find themselves in a precarious balancing act. The lack of proper support for the neck joint or asymmetrical bodies can lead to wobbly situations. Even adjusting the stand might not entirely solve the issue, leaving your prized electric guitars uncomfortably low and potentially unstable.

Space Quandary for Exotic Shapes: If your guitar collection boasts exotic shapes, beware. Some guitars, with their unconventional designs, might find themselves in awkward encounters with the floor, and occasionally, they might interfere with your cables. A bit more height in the cradle would go a long way in solving this challenge.
On the bright side, the A-Frame stand does have its redeeming qualities. The stand feels substantial in your hands, exuding sturdiness and durability. Its rubbery friction-backed pad ensures a secure grip on your guitar, even without the upper neck support found in tripod stands. The design is sleek and visually appealing, and the latch mechanism is robust, promising longevity.
However, if you're a proud owner of electric guitars or instruments with unconventional shapes, you might want to think twice before embracing the A-Frame style. It's a fantastic choice for traditional acoustics, but it might not be the knight in shining armor for your diverse guitar family.
And there you have it, folks! When it comes to the Amazon Basics A-Frame, it has its strengths, but comes with its fair share of challenges.

Best Overall Acoustic Guitar Stand - Snigjat A-Frame
The Snigjat A-Frame is a unique guitar display stand made from solid Zingana Wood, offering a premium hand feel and an elegant touch to your guitar display. This minimalist floor stand not only adds a touch of class to your space but also serves as a practical and safe instrument holder.
Pros:
Warmth of Wood: There's an undeniable charm in pairing a wooden stand with a wooden instrument; they harmonize beautifully, creating a warm and inviting ambiance. If you appreciate the natural elegance of wood, you'll find this stand to be a delightful choice.

Ease of Assembly and Portability: Assembling this stand is a breeze, making it a hassle-free experience for users. Its cute and compact design is perfect for those with limited space or anyone who needs the flexibility to move it around effortlessly. If you prefer portable options, this stand definitely hits the mark.
Cons:
Height Preference: While the stand's size is adorable, some users might desire a slightly taller version for added stability. A little more height to enhance the instrument's stability would lead to peace of mind for bigger guitars.

Compatibility Concerns: It's important to note that this stand might not be a universal fit for all instruments. While some customers report that it can accommodate a 5-string bass perfectly, others said it didn't prove suitable for a Fender bass, indicating that it might not be the ideal choice for heavier or bulkier instruments. Lighter acoustics should be find
In conclusion, the Snigjat Wooden Instrument Stand is a charming and convenient solution for showcasing your instruments. Its natural appeal and easy assembly make it an attractive choice for those with limited space or a penchant for mobility. However, considering its height limitations and specific instrument compatibility, it's crucial to assess your individual needs before making a decision. Whether it's the right fit for you ultimately depends on your instrument and space requirements.

Best Hanging Acoustic Guitar Stand - String Swing Guitar Hanger
The String Swing guitar hanger provides a secure and dependable solution for storing your guitar. Its "U" shaped padded hook, pivoting yoke, and trusted reputation make it a preferred choice for guitar owners, ensuring both safety and protection for their instruments. Whether you're a musician, collector, or enthusiast, this hanger offers a reliable and trusted option for displaying and safeguarding your guitar.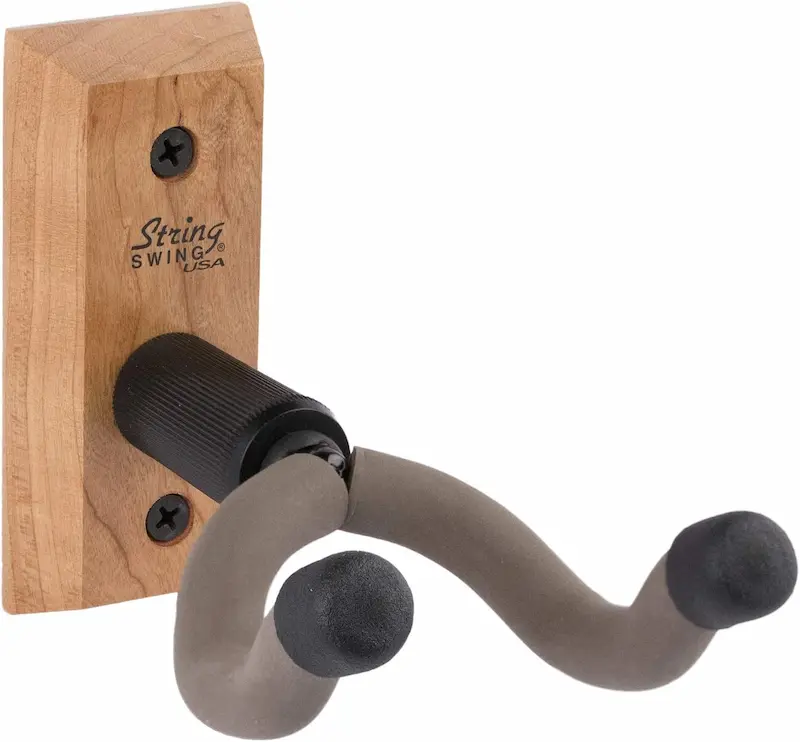 Pros:
Space Optimization and Aesthetic Appeal: These guitar wall mounts efficiently elevate guitars off the ground, creating a clutter-free room while showcasing favorite instruments. It's a win-win situation, decluttering your space and beautifully displaying your cherished guitars, including popular models like SG, Tele, and Les Paul.

Versatile and Thoughtful Design: The mounts feature a soft grip that prevents scratches on tuner heads and swivels to accommodate guitars with unconventional headstocks. They can securely hold both electric and acoustic guitars, adding a touch of versatility. Additionally, the mounts come with comprehensive hardware, making installation hassle-free and suitable for drywall surfaces.
Cons:
Compatibility with Certain Guitar Types: While these mounts work well for most guitars, they might pose challenges with guitars featuring unique neck curvatures, like certain old acoustic models. Such designs can cause minor fit issues, slightly affecting the guitar's display aesthetics.

Installation Considerations: Although the provided drywall mounting hardware is serviceable, having a stud finder and longer wood screws on hand might be advisable for a more secure mounting, especially if you prefer a stud-mounted setup. While the instructions are robust, some users might find this additional step slightly inconvenient.
In summary, String Swing guitar wall mounts offer an excellent solution for organizing your guitars and enhancing your room's visual appeal. Their versatile design, soft grip, and included installation hardware make them a practical choice, with the minor quirks being overshadowed by their overall benefits. Choosing these mounts not only maximizes space but also adds a touch of style, making your guitars not just instruments but also stylish decor pieces.

Best Luxury Acoustic Guitar Stand - Ruach Original Wooden GS-1 Guitar Rack
Handmade in Northern Ireland, 🏆 this Ruach wooden guitar stand 🏆 is designed for both electric and acoustic guitars. It offers a generous 100cm (39") clearance from base to cradle, allowing guitars to stand upright freely. Crafted from rich natural Mahogany, the stand possesses a precise center of balance, ensuring it can securely hold any weight of acoustic or electric guitar. Unlike generic plastic or metal stands, these specially designed wooden stands not only provide adequate support but also serve as beautiful additions to any room, enhancing the instrument's aesthetic appeal. The stand emphasizes the care and attention an instrument deserves, making it an ideal choice for guitar enthusiasts seeking both functionality and elegance.
Pros:
Elegant Aesthetic: The stand exudes elegance, showcasing the guitar beautifully from the side and almost disappearing from the front view, enhancing the instrument's visual appeal.
Sturdy Construction: Made from gorgeous wood, the stand is robust and stable, ensuring guitars are securely held without any wobbling. It adds a touch of sophistication to the room, making it an inviting space for music sessions with the family.
Cons:
Limited Compatibility: The holder's width is not adjustable, making it unsuitable for certain guitar brands like Fenders and Martins. This limitation can be frustrating, especially given the stand's premium price, calling for a more adaptable design to accommodate various guitar sizes.

Lack of Padding: The stand lacks padding in crucial areas, leading to direct contact between guitars and the mahogany surface. This absence of cushioning demands excessive caution when hanging or removing the guitar, potentially risking damage to the instrument's finish. A thoughtful addition of padding could greatly enhance its protective features.

Best Acoustic Stand for Live Gigs - Guitto Guitar Stand with Suction Cups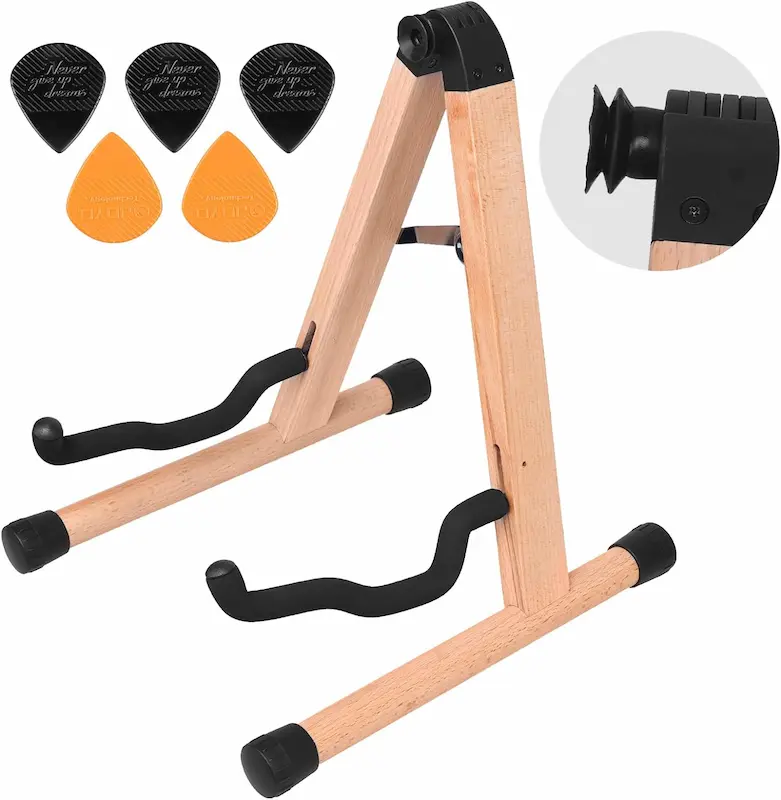 Finding the perfect guitar stand involves a delicate balance of innovation and reliability. The GUITTO guitar stand offers a unique set of features that cater to both these aspects:
Pros:
Innovative Stability: The stand features a top with an innovative, harmless suction cup designed to stabilize the guitar effectively. This shockproof and anti-slip suction cup prevents slipping caused by vibrations, ensuring your guitar remains securely in place, even during performances or movements. It's also gentle on your guitar

Versatile and Protective: The support arm of the stand is adjustable into two widths, accommodating various types of guitars. Moreover, it is covered with soft EVA material, preventing any scratches or damage to your guitar's surface. This thoughtful design ensures compatibility with a wide range of guitar sizes and shapes.

Space-Saving and Durable: The GUITTO stand is not only functional but also practical. It can be folded, making storage effortless and saving valuable space in your room or studio. Crafted from solid wood with increased thickness, the stand is not only sturdy but also durable, guaranteeing long-lasting use. It's also a light color which makes it easy to find on a crowded or dim stage.

Height Adjustment: The stand comes equipped with adjustable non-slip feet, featuring anti-sliding threads that prevent movement and protect your floor. Additionally, by rotating these feet, you can adjust the height within a small range, enhancing stability on different floor surfaces.
In summary, the GUITTO guitar stand provides a secure and stable platform for your precious instrument. Its adjustable features, combined with protective materials, cater to various guitar types, ensuring compatibility and preventing scratches. Moreover, the stand's space-saving ability and height adjustability add to its practicality. Crafted from strong solid wood, this stand is not only reliable but also built to last. Whether you're a professional musician or an avid enthusiast, this stand offers a reliable solution for displaying and safeguarding your cherished guitars.

Best Stands for Bass Guitars
Best Value Bass Guitar Stand - Gleam Universal Guitar Stand
The Gleam Universal Guitar Stand is great value for a bass guitar stand as well. It does nothing fancy, but it's affordable, sturdy enough for home use, and cushioned in all the right places. This stand is a little flimsier than what I'd like to use in the chaotic world of live gigs, though.
In a nutshell, the Gleam Universal Guitar Stand delivers on its primary promise – providing a stable and secure platform for your cherished instrument. Its elegant design enhances the visual appeal of your guitar, and the added security features ensure your peace of mind. Just be prepared for a slightly puzzling setup and the surprise of a rotating base. All in all, it's a good stand that gets the job done and keeps your guitar standing tall!

Best Overall Bass Guitar Stand - Hercules Auto Grip
The 🏆 Hercules AutoGrip Guitar Stand 🏆 is a convenient solution for electric or bass guitars. It easily handles just about any type of bass you can think of - including offset designs like the Fender Jazz Bass. You can never go wrong with Hercules Stands, and you'll frequently find them in a recording studio. Its design allows for quick folding and easy packing into the included carrying bag. The stand features quick locking pins on the base, ensuring secure and effortless setup. Additionally, the stand's padded contact points, made with specially formulated rubber foam, provide gentle support without harming the guitar's finish. This all-in-one design emphasizes convenience, making it a practical choice for musicians on the go.
Pros:
Surprisingly sturdy design, providing excellent stability for bass.
Firm legs, sturdy structure, and minimalist styling ensure reliable support and protect against scratches.
Cons:
Relatively heavy, which might be inconvenient for portability.

Best Hanging Bass Guitar Stand - Snigjat Wall Hangers
These solid wood guitar hangers by Snigjat are also a perfect choice for hanging your bass. Featuring a natural solid wood base and sturdy metal steel hooks with soft padded sleeves, these hangers protect your bass's surface, ensuring an excellent hand feel and an elegant look.
The unique V-shaped design firmly holds your instrument, preventing slips and wall wear. The rotatable yoke accommodates different headstock designs, making it versatile. Additionally, the hangers are decorative, supporting up to 20 LBs and allowing you to hang both guitars and decorations. Easy to install with provided screws and drywall anchors, these hangers are a practical and stylish choice for displaying your guitars.

Best Luxury Bass Guitar Stand - MusBeat Wooden Bass Guitar Stand
Finding an instrument stand that not only serves its purpose but also adds a touch of sophistication to your space can be a challenge. The Musbeat Wooden Bass Guitar Stand effortlessly combines aesthetics with functionality, making it a standout choice for musicians. Here's why it's worth considering:
Pros:
Aesthetic Appeal: Crafted from Solid Hardwood, this guitar stand showcases a natural wood grain that oozes elegance. Unlike typical black metal stands, Musbeat's design exudes a simplistic yet classy charm. Its well-handcrafted and polished finish transforms your beloved instrument into a decorative artwork, becoming a focal point in any room.

Versatile and Secure: The stand's design caters to a variety of string instruments, including bass guitars, acoustic guitars, electric guitars, banjos, and Mandolins. Its 360-degree rotatable hanger ensures compatibility with different guitar headstocks. Additionally, the stand is equipped with felt pads for instrument protection and silicone feet for stability, making it safe and secure even in homes with active pets.
Cons:
Assembly Time: While assembly is relatively straightforward, some users might find the process slightly time-consuming. Following the provided instructions is essential, but dedicating a few extra minutes to ensure proper assembly is necessary. It's a minor inconvenience considering the stand's overall functionality and appeal.

Limited Color Options: The Musbeat Wooden Bass Guitar Stand, while elegant, might lack variety in color choices. If you're looking for specific shades to match your decor, the limited color options could pose a limitation. However, its natural wood finish does blend well with various interior styles.
In conclusion, the Musbeat Wooden Bass Guitar Stand is a delightful fusion of form and function. Its visual allure, combined with its secure design and versatility, makes it an ideal choice for musicians and enthusiasts alike. While assembly might require a bit of patience, the end result is a stunning display piece that elevates the ambiance of any room. Whether you're a guitar player, a music lover, or searching for a thoughtful gift, this stand proves to be a captivating choice.

Best Electric Bass Stand for Live Gigs - Fender Guitar Stand
The Fender Guitar Stand is a versatile accessory designed for musicians. This black and red stand features a height-adjustable neck yoke, sturdy metal construction, and scratch-resistant foam padding to protect your instruments, including electric guitars, acoustic guitars, and bass guitars. Its collapsible design makes it easy to transport. Additionally, Fender offers a 1-year limited warranty, reflecting their commitment to quality and customer satisfaction. Ideal for musicians seeking a reliable and adjustable stand for various playing styles and instruments.
Pros:
Stability and Versatility: This guitar stand offers remarkable stability, making it suitable for instruments with offset designs like Fender Jazzmaster and Jazz Bass. It's also compatible with traditional symmetrical-shaped instruments, catering to a wide range of musicians' needs.
Aesthetic Appeal and Adjustable Height: The stand's design showcases the guitar elegantly without wraparound portions or hooks on the bottom, suspending the guitar from the neck. Its adjustable height feature accommodates both shorter guitars and longer basses, providing flexibility for various instruments.
Cons:
Padding Quality and Construction: The stand's padding quality leaves room for improvement. The padding, sloppily adhered to the stand, lacks adequate thickness and coverage. Gaps in the padding at the central part of the neck holder compromise grip, and the foam rings meant to prevent slippage easily come off, requiring additional modifications for secure usage.
Limited Padding Coverage: The padding does not extend to the end of the legs, affecting overall protection. The lack of comprehensive padding might lead to potential scratches or damage to the instruments, necessitating careful handling to avoid accidents.

Best Guitar Stands for Multiple Guitars
Best Value Multi-Guitar Stand - Rok-It Multi Guitar Stand
The Rok-It Multi-Guitar Stand is one of the most affordable guitar racks for multiple guitars. It's designed to hold up to five acoustic or electric guitars in a small space. It features a black powder-coated finish and is constructed from heavy-duty steel. The stand has foam padding to protect instruments; however, it's safe for standard polyurethane finishes but not recommended for vintage or lacquer finishes. The design is convenient and collapsible, allowing for easy folding. The stand is made from durable and lightweight steel and has rubber-gripped feet for stability.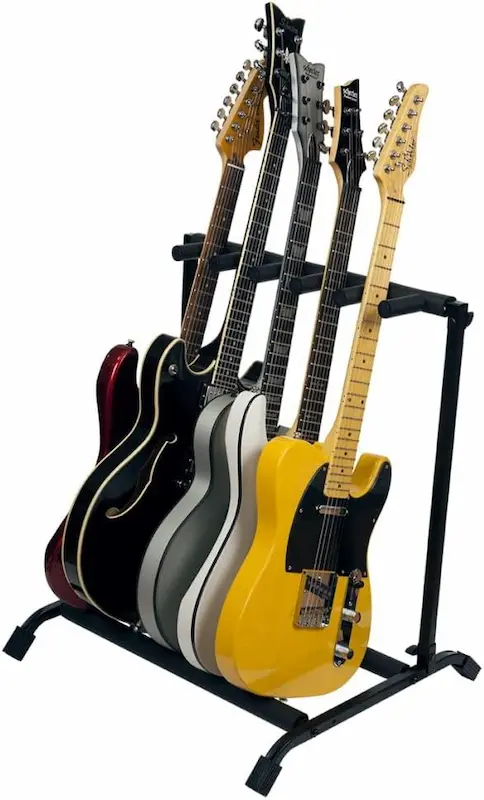 Pros:
Affordable and Secure: This multi-guitar stand is reasonably priced and securely holds acoustic, strat, and J-bass guitars. The addition of foam pipe insulation enhances protection for the instruments.
Effective Foam Padding: The stand features thick foam padding in crucial areas, ensuring instruments are well-protected from scratches and damage.
Cons:
Poor Instructions and Assembly: The included instructions are lacking, making assembly challenging for those less mechanically inclined. The bolt holes are punched, not drilled, requiring extra effort for proper assembly. Tightening bolts on a flat surface is crucial to prevent wobbling.
Weak Spring Latch: The stand's design flaw lies in the tiny spring latch used to secure its upright position. While suitable for home use, it might not withstand frequent gigging. A suggested fix involves adding a quick pull cotter-pin for added security during stage performances
.

Best Overall Multi-Guitar Stand - Stritch SMT10-Max
The Stritch SMT10 Max floor guitar rack is a versatile solution for guitar enthusiasts, designed to hold 8 electric guitars or bass (or 5 acoustic classical guitars). Its adjustable height and redesigned bottom width cater to various instruments larger than 36", accommodating types such as st, lp, dreadnought, parlor, bass, and banjos. Crafted from high-density wood and coated with an environmentally friendly finish, this stand prioritizes durability and portability. Its stable triangular structure and 5mm thickened anti-crash non-reactive felt on all contact surfaces ensure maximum stability and protection for nitrocellulose lacquered instruments.
The stand is also user-friendly, with easy assembly, labeled parts, and detachable sponge columns allowing customization according to guitar case thickness, optimizing space usage.
Not only a functional accessory, but the Stritch SMT10 Max also serves as a minimalist beauty, combining practicality and aesthetics. Its clean and smooth lines make it a decorative piece suitable for various spaces, including Practice Rooms, Bedrooms, Studios, Living Rooms, and Stages. Ideal as a gift for musicians, this stand allows guitars to take the spotlight, enhancing any room's artistic appeal.
Pros:
Efficient Space Utilization: This stand offers a practical alternative to individual guitar stands, minimizing the room occupied by guitars. Its design is accommodating, especially for standard guitars like strats. For those with various guitar types like hollow, semi-hollow, and acoustic, it comfortably accommodates up to 5 guitars, reducing clutter and creating a streamlined environment.

Quality Craftsmanship and Easy Assembly: The stand's precision in part count highlights meticulous quality and inventory control. The setup should be hassle-free, and its lightweight nature made it easy to move around.
Cons:
Limited Capacity for Diverse Guitars: While the stand is versatile, accommodating different guitar types, its optimal capacity is slightly lower than expected. If you own various guitar styles, be prepared to invest in multiple stands to fully meet your storage needs.

Potential Stability Issues if Not Tightened Properly: Some users reported slight wobbling, which could be attributed to insufficient tightening during assembly. It's essential to ensure all parts are securely fastened to maintain stability. While this issue is easily rectifiable, it's worth noting for those assembling the stand.
In conclusion, the Stritch Multiple Guitar Stand proves to be an excellent addition to any home studio, offering efficient space utilization and a sleek design. Its quality craftsmanship and easy assembly make it a practical choice, although users with diverse guitar collections may need to consider purchasing additional units. With proper assembly and attention to stability, this stand fulfills its purpose admirably, ensuring guitars are organized and easily accessible. I can also say that these stands work just as well for left-handed guitars as they do for right handed guitars!

Best Multi-Guitar Hanging-Guitar Stand - String Swing Guitar Wall Mount Rack
The 🏆 String Swing Wall Mount 🏆 is a versatile solution for guitar storage. This package includes 5 adjustable guitar hangers and 2x 24-inch slatwall rails, creating a 48-inch rail when connected. The hangers are fully adjustable and can pivot up to 180° left or right, allowing you to display guitars at any desired angle. The rail is made of extruded aluminum, powder-coated in white, and comes with protective padding to securely support the instruments. Mounting hardware is included, and installation is straightforward: mark the wall stud locations, drill corresponding holes in the rail, and secure it to the wall using the provided screws. Additional hangers are available separately from String Swing.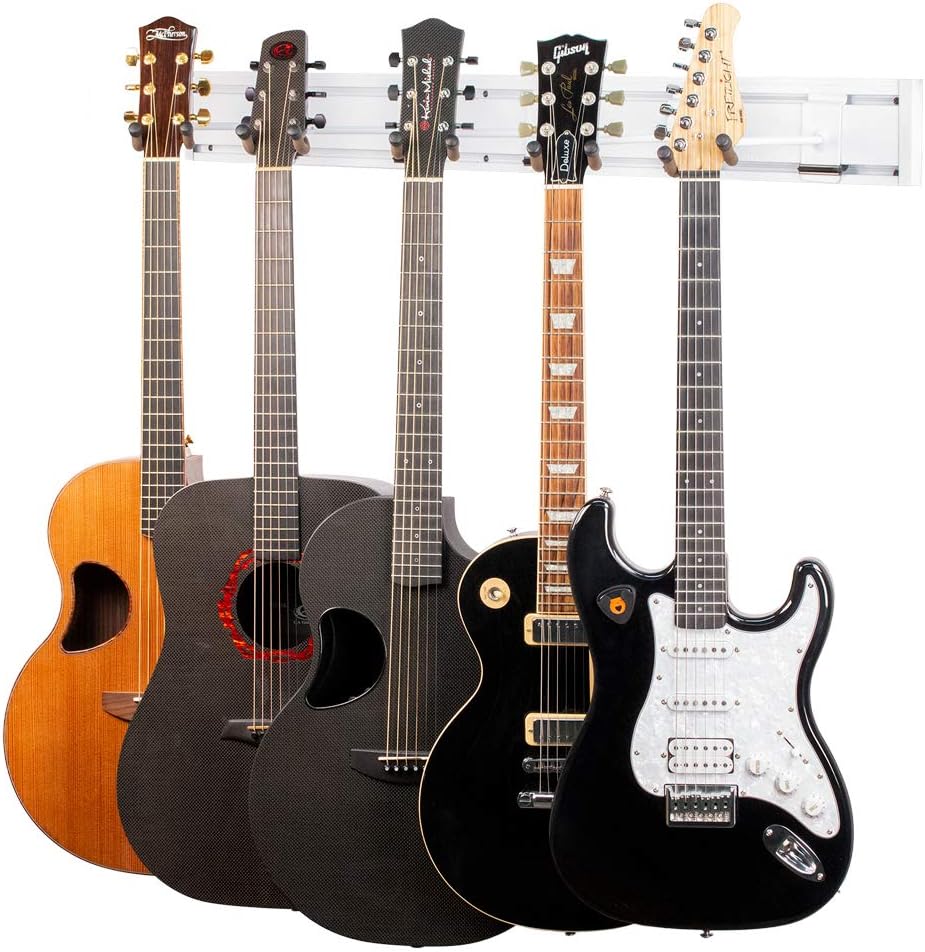 Pros:
Space Efficiency and Safety: String Swing's wall mount system efficiently stores guitars, accommodating 5 guitars in a smaller space compared to traditional stands. It enhances safety by keeping guitars out of harm's way, reducing the risk of accidents commonly associated with floor stands.

Aesthetically Pleasing and Amplifier Space: The wall-mounted display not only provides a secure storage solution but also adds to the room's aesthetics. By freeing up floor space, it allows for better organization, accommodating amplifiers and pedal boards without cluttering the room.
Cons:
Drilling Challenges: One significant drawback is the challenge posed during installation. The recommended 3/16" wood drill bit struggles with the extruded aluminum slat wall rail, leading to frustration and potential damage to personal drill bits. String Swing could greatly enhance customer satisfaction by including a suitable drill bit with the package, saving customers the hassle and extra expense.

Stud Finder Necessity: Proper installation depends on drilling into studs for stability. While this is standard practice, some users might overlook it. To ensure secure mounting, investing in a stud finder is necessary, adding a minor inconvenience to the installation process.
In summary, String Swing's Wall Mount offers an efficient and safe storage solution for guitars, optimizing space and enhancing room aesthetics. However, the lack of an appropriate drill bit and the necessity of a stud finder might pose challenges during installation, affecting the overall user experience. Despite these concerns, the product stands as a practical choice for guitar enthusiasts seeking an organized and visually appealing display for their instruments.

Best Luxury Multi-Guitar Stand - Ruach GR-2 Multi-Guitar Stand
The Ruach GR-2 solid wood 5 guitar & case stand is a stylish and versatile solution for displaying your guitars or cases at home or in the studio. Its unique feature lies in its customization options, allowing you to hold approximately 5 guitar stands, guitar cases, or a combination of both. Crafted from sturdy yet simple wooden construction, this stand is easy to assemble and showcases full-size acoustic guitars, electric guitars, and bass guitars with elegance and style. Perfect for musicians looking to showcase their instruments in a customizable and visually appealing manner.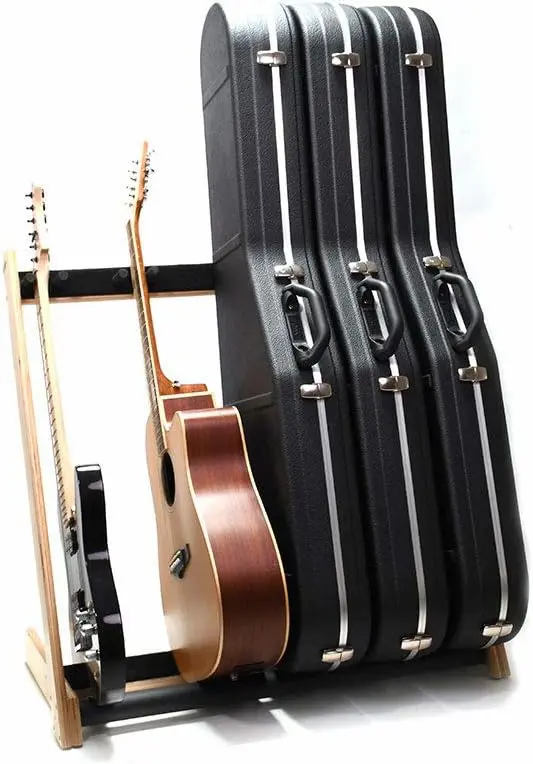 Pros:
Sturdy Construction: The standout feature of this stand is its well-made parts and secure assembly. Unlike cheaper alternatives, this stand feels durable and reliable, ensuring your guitars rest on a stable platform. The quality craftsmanship is evident in its design, making it a valuable choice for your instrument collection.

Efficient Use of Space: With the ability to accommodate five guitars, this stand proves to be an efficient space-saving solution. It's easy to assemble, aesthetically pleasing, and serves its purpose without occupying excessive room. For those with multiple guitars, it's a practical way to organize your instruments without cluttering your space.
Cons:
Design Quirk: One notable flaw lies in the positioning of the padded dowel. The strap buttons on guitars and basses tend to rest on it, which might have been avoided with a slight adjustment in dimensions. This minor design flaw can be inconvenient for users who prefer a different resting position for their instruments.

Questionable Pricing: Like many multi-guitar stands in the market, this one also suffers from the issue of overpricing. Considering the materials used—wood slabs, screws, and carpeting—it's hard to justify the relatively high cost. While it offers better quality than cheaper alternatives, the price still seems disproportionately steep for the raw materials involved.
While the Ruach multi-guitar stand might not be a steal, it stands out as a balanced choice in a market filled with both cheap, poorly made options and excessively expensive ones. It's sturdy, practical, and aesthetically pleasing, making it a solid investment for those looking for a reliable solution to organize their guitar collection.

Best Multi-Guitar Stand for Live Gigs - Kuyal Guitar Stand
The Kuyal Portable Guitar Rack is a convenient solution for guitar enthusiasts, allowing you to safely store and access 9 of your favorite guitars. Whether you're on stage, in the studio, or at home, this rack provides a secure display. It features soft foam padding at all contact points, ensuring protection for both acoustic and electric guitars. The stand is well-designed, making your instruments easily accessible while displaying them beautifully. Additionally, it folds flat for convenient storage and is constructed with high-quality metal, offering strong and reliable support for your valuable guitars when gigging.
Pros:
Unexpectedly Perfect Design: It strikes the perfect balance – spacious enough to accommodate 9 guitars (including bass guitars, acoustic bass, electric and acoustic guitars, and even a banjo) while remaining compact and lightweight. The mobility is fantastic; you can effortlessly move it around the room or to a venue without breaking a sweat.

Surprising Sturdiness: Despite my initial concerns about its stability, this stand proved me wrong. Once all the screws were tightened, it became surprisingly sturdy. My instruments found a secure home, and the alternating arrangement of acoustic and thin electric guitars allowed for a snug fit. That said, this is not something I'd want to get too aggressive with. It is definitely not "premium grade"
Cons:
Awkward Sitting Angle: One minor drawback is the slightly awkward angle at which the guitars sit. It's not a deal-breaker, but it could be more ergonomic for accessing your instruments quickly.

Quality Matches the Price: While it does its job, the overall quality doesn't scream top-notch. It falls into the classic "you get what you pay for" category. If you're expecting high-end craftsmanship, you might be disappointed. However, considering the price point, it's a reasonable compromise.
In conclusion, the Kuyal Multi-Guitar Stand is a pleasant surprise. It efficiently holds a variety of instruments, offering practicality and mobility. While it might not boast premium quality, it's functional and budget-friendly. For musicians looking for an affordable and efficient guitar storage solution, this stand definitely deserves a spot on your consideration list.

From a Frustrated Producer in a Ragtag Bedroom Studio to Major Placements on TV Earning $1,000s!
My name is Evan, and I've been making music since around 3rd grade. I'm from San Diego, California, but I've lived in Washington, DC for the last 20 years.
After 3 grueling years of grad school, though I had put aside serious attempts at making

music.

 I found myself spending my days doing work that was dreadfully uncreative, with a ton of student student loan debt.
Which made me feel like my favorite parts of myself were withering.
But I didn't know what to do about it.
Being in my early 30s with tons of student loan debt, in a world where there is "no money in

music

," I felt like my youthful dreams of trying to "make it big" were dead. Like my music would remain unheard in my head and hard drive. 
Frustrated by my inability to get my music heard, I started researching solutions.
Instead, I wanted to find a way where I could focus on making the

music

and let someone else deal with promoting it. 
I realized the music licensing was the perfect opportunity for a solo artist like me to get my music heard, without having to do any promotion. I just need to focus on improving what I could control - my songwriting and my production skills.
While I still have a full-time day job, I have created systems that have allowed me to produce dozens of songs a year in my spare time.
My songs have been on Netflix, TV shows like the 90 Day Fiance, an award-winning indie film, and NPR's "All Thing Considered." They've also been streamed millions of times.
In addition to being a music producer, I am passionate about teaching people how they can make professional-sounding music and earn money licensing it, all in their spare time.
Thousands of musicians, like yourself, have trusted me to guide their musical journey. My YouTube videos have been watched nearly a million times. And my story has been in Forbes, Side Hustle Nation, and the Side Hustle School.
You Can Achieve Your Musical Dreams Too - Attend the Free Music Licensing Workshop!