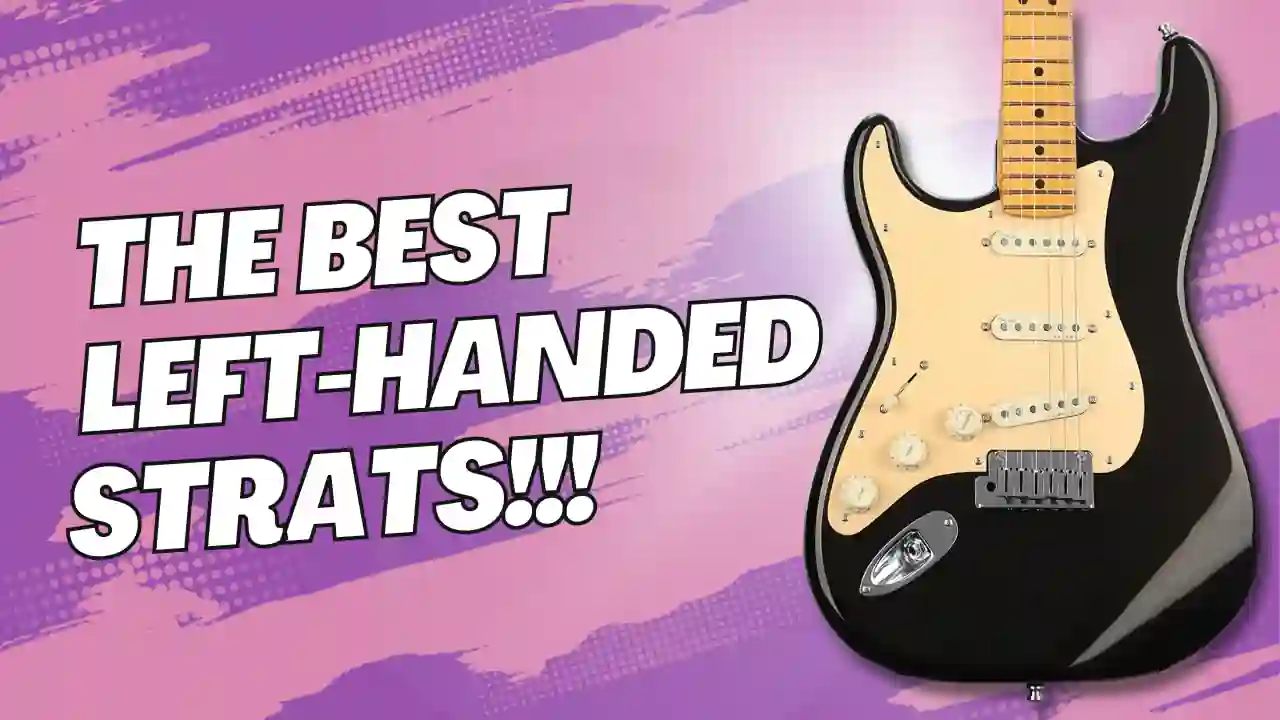 There is no doubt that the Fender Stratocaster is one of history's most iconic guitars, if not the most iconic guitar of all time. The Stratocaster quickly surpassed the Telecaster in terms of popularity when it was invented, becoming one of the best-selling instruments of all time. Of course, with so many models on the market today, finding the right one for your needs can feel quite overwhelming.
For left-handed players, the search can be even more painstaking. A lack of left handed guitars.
Luckily for you, we've done the research. Thankfully, a Fender Strat is one of the best left-handed guitars. And if a Start was good enough for Jimi Hendrix, it should be good enough for you! We're here to help you find which of the lefty guitars is the right for your needs. Whether you are willing to lay down a few thousand dollars and get the best feel and tone possible, or you are looking for something a bit more budget-friendly, by the end of our guide, you'll have a solid understanding of some of the best left-handed Fender Stratocaster models on the market today.
Note: some of the links below may be affiliate links, meaning that I receive a commission if you purchase through them.
History of the Fender Stratocaster
The Fender Stratocaster was the very first Fender electric guitar to features a three-pickup design and a vibrato system that used a spring tension mechanism. It was also the very first Fender guitar that made use of a contoured body, making it quite unique compared to the square, flat-edge Telecaster design. The beauty of the new double-cutaway design is that players could access the higher neck positions with ease.
The very first Fender Stratocaster model that appeared on the market came about in 1954. The guitar featured a 21-fret maple neck made from one piece, black dot inlays, a deep contour ash body, and post tuning machines made by Kluson SafeTiString. It was a dual-color dark brown and gold color.
It wasn't until 1956 that Fender started using alder for custom color Strats and sunburst bodies. There were many changes to the guitar throughout the late 1950s, including the introduction of the V-shaped neck and the introduction of thick Brazilian rosewood for the fretboard.
After the late 60s rolled around, Leo Fender did not make many changes to the Fender Stratocaster. Much of what we see today was part of the classic design. A strat is one of the most versatile guitars, able to do just about anything other than hard rock.
Overview of the Fender Stratocaster Left-Handed Models
When it comes to left-handed Strats, I've sorted through all of the various options to find the very best options for you at all budgets. This list starts with lower price guitars, and increases from there.
Left-handed Squier Affinity Stratocaster - The best option for beginners
If you're in the market for a very affordable Stratocaster experience or simply looking for a guitar that provides tons of value for very little money, then the left-handed Squier Affinity Stratocaster is an excellent choice. It sports the classic Stratocaster body shape down to the tone controls. An earlier model of this was my first guitar.
This particular guitar comes in two layouts, including SSS and HSS. I'd say if you're after the signature strat sound though, go for three single coil pickups. At this price point, you get a pretty incredible feel and tone. Even if the build and design doesn't quite hit the mark how USA Fender guitars do, you can definitely take this thing on a gig and capture a lot of the same sounds that you would expect from a higher-end model.
The Affinity Stratocaster comes with a wide array of finishes for guitarists to pick from, including dual-color sunburst, Brown Sunburst, Black, Competition Orange, Slick Silver, Race Red, and Surf Green, some of which come with Indian Laurel Fingerboards. We're a big fan of the Indian Laurel, as it provides a much warmer tone overall.
The C-shaped neck is ultra-comfortable, allowing even newer players to play for hours without cramping up or feeling fatigued. Top it all off with the 21 medium jumbo frets and you have a comfortable, high-quality playing experinece that greatly outweighs the price tag. Of course, if you decide to spend just a slight bit more money, you could get your hands on one of our favorite budget Strats.
Left-handed Squier Classic Vibe 70s Stratocaster - The Ultimate Cheap Stratocaster
The Left-Handed Squier Classic Vibe 70s Stratocaster is one of the sexiest budget guitars on the market and comes without the clunky, long-forgotten build quality of 70s Stratocasters - everything is in the right place here. For the price, you get some pretty incredible specs and some of the best-looking vintage hardware around.
Bringing back the 70s Stratocaster was a strange choice for Fender, considering that these heavy, thick-finished Strats were probably some of the least popular Fender guitars throughout history. Of course, with such cool looks, they were a bit hard to ignore. One of the first things you'll notice is the large CBS headstock, which provides a juicy, funky vibe no matter what style of music you're making. The curvature screams '70s'.
This beauty is the ultimate budget left-handed strat!
The best part is, you don't have to sell an arm and a leg to get a real one when you can have all of the benefits of the old-school aesthetic right here. The tinted gloss finish and slim, bolt-on maple neck come together for a classic, vintage vibe. Fender rebranded this guitar with an HSS design, giving you two single coils near the neck and middle and a humbucker near the bridge.
If you're a fan of exclusive single coils, you can pick up an SSS version as well. Compared to the Strats that came around in the 70s, this thing truly sings. Just be sure to get a gig bag to protect your baby - you can purchase any soft gig bag you like because they work for right-handed guitar and left-handed guitar (hard shell cases might not always work for lefties)!
Left-handed Fender Player Stratocaster - The Best Budget Stratocaster
Buying a cheap guitar means you have to compromise some things. The beauty of the Fender Player Stratocaster is that the last thing you have to compromise is the look. Fender offers a wide variety of left-handed Fender Player Stratocasters with colors like Tidepool, Polar White, Capri Orange, Buttercream, Black Three-Color Sunburst, and Silver.
As with many other Fender guitars, you can either pick from the SSS and HSS versions. They also offer this guitar in an HSH layout, although it will cost you a bit more. Fender allows buyers to take their customization desires a bit further by offering a double-locking Floyd Rose vibrato on the pickup spec model.
Underneath the glitz and glamour of the onboard colors and features lies a C-profile satin-finish maple neck, an alder chassis, and the choice of a maple or Pau Ferro 9.5" radius fretboard. Before moving up into the expensive realm of American-made, true Fender Stratocasters, this guitar is an excellent choice for those who don't want to make very many compromises.
The left-handed Fender Player Stratocaster is one of the most playable budget guitars on the market today and can be used for a variety of genres thanks to its undeniable versatility. Plus, compared to the other budget Stratocasters on this list, this particular one plays really well when a bit of dirt is added.
Left-handed Fender American Professional II Stratocaster - A great guitar for a Left-Handed Guitarist
Sonic versatility is the name of the game with the left-handed Fender American Professional II Stratocaster. One of the first things you'll notice when you pick this guitar up is the new smooth rolled fingerboard that sits atop the Deep "C" neck profile and a 25.5" scale length. The neck is wildly comfortable and the addition of the newly sculpted neck makes accessing higher notes easier than ever before.
Add the narrow-tall frets on top of the fretboard and you get insane playability that is perfect for playing chords higher up on the neck with great intonation or bending notes with ease. It also has a lovely rosewood fingerboard.
If you're looking to combine clean tones with great value, look no further.

The heart of the left-handed Fender American Professional II Stratocaster is the pickup system, which comes with New V-Mod II Stratocaster single-coil pickups. You get warmer, rounder tones with a bell-like chime. One of the best words to describe these pickups is "balanced."
For additional clarity, sparkle, and sustain, Fender upgraded the guitar even further with a cold-rolled steel block and it has a nice, warm rosewood neck. Plus, the tuning stability is better than ever before, allowing players to dig in deep with the tremolo bar for many hours without going out of tune.
One unique thing we can't overlook with the left-handed Fender American Professional II is the performance-friendly push switch. This unique control adds two new pickup configurations that you won't typically find on a Stratocaster by activating the neck pickup when in the 1 or 2 position.
Left-handed Fender American Ultra Stratocaster - One of

best left handed guitars out there, period
The left-handed Fender American Ultra Stratocaster might just be THE modern Stratocaster. It's one of the best guitars being made these days. Packed with high-quality features and components and dressed up with a sweet, classic look, it is essentially what the '67 Mustang is to the classic car world. In all reality, if you don't have this particular Fender, then you don't have the best-playing Stratocaster that has ever been produced.
One of our favorite things about this guitar is that you get total access to the entire body thanks to the additional contouring on the back of the body. With the 10"-14" radius fretboard, the playability feels super slick while allowing for old-school-style chord playing.
The blend of custom spec wiring and modern-sounding pickups prevents a muddy tone thanks to the treble bleed. When you start dialing back your volume knobs, the guitar maintains tone and character. To add to the tonal options even further, Fender added its S-1 Switch. Surprisingly, Fender decided to go with a polyurethane body instead of a nitrocellulose finish, giving the guitar a harder-wearing personality.
Overall, the left-handed Fender American Ultra Stratocaster is one of the best Stratocasters around for modern players. You get a wide range of tones to play with and curb appeal that will stop other guitarists in their tracks. While vintage players might feel otherwise, they just might not be able to accept that Fender is starting to look to the future instead of playing in the past.
Left-handed Fender American Original '50s Stratocaster
There is nothing that can provide you with a classic look quite like the left-handed Fender American Original 50s Stratocaster. When the very first Strat came out in 1954, it took the world by storm. Fender's aim with the left-handed Fender American Original 50s Stratocaster was to create that same feeling for modern players. The Fender custom shop outdid themselves with this one.
The guitar comes complete with an ash body and a lacquer finish. The beauty of this nitrocellulose lacquer finish is that it provides the wood on the guitar with some breathing room and allows it to age in a way that feels personal and distinct.
For the best vintage tones possible, Fender added three Vintage '59 single-coil Strat pickups. The guitar feels as smooth as butter thanks to the Soft V-shaped neck and 9.5" radius fingerboard. Whether you're playing hours of rhythm barre chords or bending out 15-minute long solos, you'll feel comfortable playing the entire way.
As you might expect, you get the six-point synchronized tremolo bridge and vintage-style hardware. Fans of the original will appreciate how closely Fender replicated the original, making sure to account for every line and curve.
If you're looking for serious build quality and classic tones, look no further.
Alternatives to Fender Stratocasters for Lefties
Left-handed G&L Tribute S-500 - Best strat copy
The very first G&L Tribute S-500 came around in 1982 when Leo Fender wanted to make modifications to the original double-cutaway bolt-on Stratocaster. Some of the new features on this guitar included the Magnetic Field Design pickups and the Dual-Fulcrum vibrato mechanism. The MFD pickups are the heart of this gorgeous guitar, delivering a thicker bottom end and a sparkly top end, all with a solid mid-range that helps the guitar cut through a mix like a warm knife through butter.
The surprising thing about the MFD pickups is not how much punch they provide, but how detailed they sound when you begin rolling back the bass and volume. Pair that with the push-pull extender switch, which is found on the treble pot, and you can use all three of the pickups together.
The Dual-Fulcrum vibrato provides some of the best tuning stability that a Fender lover could ask for. With the beefy arm, you get a silky, smooth feel that is unmatched. One downside to this particular Stratocaster alternative is that the left-handed version is only available in Tobacco Sunburst with a three-ply black pickguard, which might be a bummer for those who want a custom look. But the G&L Tribute S-500 is a steal either way!
Left-handed Charvel Pro-Mod So-Cal Style 1
At first glance, it is pretty clear that the left-handed Charvel Pro-Mod So-Cal Style 1 was made for the modern guitarist. The guitar is constructed with a high-quality Alder body and comes with a maple neck. In the guitar lie dual graphite reinforcement rods for comfort and playability. Compared to many guitars on this list, the Charvel offers unsurpassed playability with 22 jumbo frets, a 12"-16" compound radius maple fingerboard, and a heel-mount adjustment wheel for the truss rod.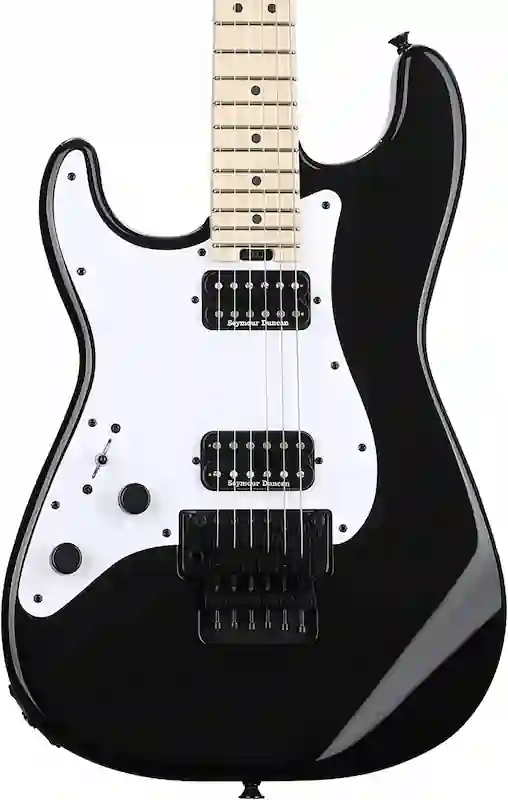 To provide players with a unique tonal palette, Charvel added a high-output Seymour Duncan Distortion TB-6 Humbucking bridge pickup. The sounds you can get out of this thing are both warm and fat, perfect for ear-splitting leads and fat, crunchy chords. Charvel added push-pull tone activation on the tone knob, as well as a push-pull coil split, perfect for a combination of unique tonal variations with your strat alternative.
Feel free to go nuts with the Floyd Rose 1000 Series double-locking tremolo system, as it provides some of the best intonation and tuning stability of just about any bridge on the market today.
While the guitar is often advertised in a classic Gloss Black finish with black hardware and a white pickguard, players can also choose a Snow White finish with black hardware and a black pickguard.
Left Handed Strat
FAQ
Here are some of the most common questions I see about Stratocasters. But if a Stratocaster isn't right for you, you may want to check out my review of the best Fender Telecasters!
How Much Does a Stratocaster Weigh?
Stratocasters are very unique and no two guitars will weigh the same. There are many variations from guitar to guitar, including the component structure and wood density. However, for the most part, you will find that Fender Stratocasters weigh anywhere between seven and nine pounds. They tend to be lighter than most other styles of guitar.
Most Fender Stratocasters lie somewhere in the middle.
How Much Will a New Stratocaster Cost Me?
A new Stratocaster can run you from a few hundred dollars to a few thousand dollars depending on the model that you choose. Prices tend to jump when new components and features are added on, including features like locking tuners, pop-in tremolo arms, and rosewood fingerboards.
Famous Strat Players
There have been countless famous strat players over the years. Here are some of the most iconic.
Jimi Hendrix
Guitar god and all-time legend is not only the most famous left-handed guitar player, he is also the most famous strat player. Interestingly enough, though, he did not play a left-handed strat! Instead, he took a right handed Stratocaster and strung the strings upside!
Jeff Beck
Jeff Beck is one of the most innovative guitarists alive today, dabbling in rock, jazz, metal, blues, and electronic music throughout the years. Beck creates some of the coolest and more distinct sounds with his Strat Tremolo and his bare hands.
Eric Clapton
Eric Clapton is another guitarist that has played through a wide variety of styles during his career. While he might be play just as quickly as any other blues shredder, he has a unique ability to speak with his Stratocaster, which sets him apart from many other guitarists. Clapton's most famous model was a combination 1956 and 1957 model known as "Blackie," which could be seen on stage with him throughout the 1970s and 1980s.
David Gilmour
Gilmour is a unique Stratocaster player, as he explores the world of atmospheric tones. While he rose to fame as the guitarist for Pink Floyd throughout the 70s, he also had a long, successful solo career.
His "Black Strat" is among the most famous guitars of all time, heard in many Pink Floyd classics such as "Time" and "Comfortably Numb."
From a Frustrated Producer in a Ragtag Bedroom Studio to Major Placements on TV Earning $1,000s!
My name is Evan, and I've been making music since around 3rd grade. I'm from San Diego, California, but I've lived in Washington, DC for the last 20 years.
After 3 grueling years of grad school, though I had put aside serious attempts at making

music.

I found myself spending my days doing work that was dreadfully uncreative, with a ton of student student loan debt.
Which made me feel like my favorite parts of myself were withering.
But I didn't know what to do about it.
Being in my early 30s with tons of student loan debt, in a world where there is "no money in

music

," I felt like my youthful dreams of trying to "make it big" were dead. Like my music would remain unheard in my head and hard drive.
Frustrated by my inability to get my music heard, I started researching solutions.
Instead, I wanted to find a way where I could focus on making the

music

and let someone else deal with promoting it.
I realized the music licensing was the perfect opportunity for a solo artist like me to get my music heard, without having to do any promotion. I just need to focus on improving what I could control - my songwriting and my production skills.
While I still have a full-time day job, I have created systems that have allowed me to produce dozens of songs a year in my spare time.
My songs have been on Netflix, TV shows like the 90 Day Fiance, an award-winning indie film, and NPR's "All Thing Considered." They've also been streamed millions of times.
In addition to being a music producer, I am passionate about teaching people how they can make professional-sounding music and earn money licensing it, all in their spare time.
Thousands of musicians, like yourself, have trusted me to guide their musical journey. My YouTube videos have been watched nearly a million times. And my story has been in Forbes, Side Hustle Nation, and the Side Hustle School.
You Can Achieve Your Musical Dreams Too - Attend the Free Music Licensing Workshop!