Every rapper is unique and deserves to have their voice recorded with a mic that enhances their flow. For example, you'll want to have the right microphone to optimally capture the aggression or laid-back style in your rap vocals. Or maybe the rapper is a baritone and needs a mic more suited to low frequencies. In this article, I'll help you find the best option for vocal recording in your home studio.
Let's dive In!
Note: this post includes affiliate links, which means that I receive a commission for purchases you make. However, that does influence what I'm recommending here.
6 Best Mics for Rapping
Here are the 6 best microphones for rap vocals. For best results, be sure to get at least a half-dozen takes in a sound-treated room.
From dynamic microphones, which are excellent for high sound-pressure levels and aggressive rap vocals, to condenser microphones, which offer better sensitivity and more attention to detail, I've created a list of some of the best wrapping microphones on the market today for any style.
Best Overal Rapping Microphone - SM7B
The Shure SM 7B microphone is one of the most popular professional vocal mics on the planet today. Its claim to fame was its use as the primary vocal microphone on Michael Jackson's Thriller. However, with its unique construction and low- sensitivity dynamic design, it's one of the best microphones for rap, spoken word, singing, and even podcasting.
Among all the dynamic mics, it is the best microphone for capturing rap vocals.
Why?
One unique thing about the Shure SM7B is that it comes with a built-in widescreen, which cuts down on harsh plosives. Honestly, using another pop filter feels redundant with the pre-installed pop filter, though I have noticed that taking it off reintroduces high frequencies that you may want to retain in your raw recording.
Click here to check the price on Amazon or on Musician's Friend
On the back, you'll find a switchable presence boost and bass roll-off, allowing you to adjust the tone of the microphone before it ever enters your interface. The Flat mode is excellent for natural audio reproduction, giving you a versatile raw recording to work with, while the Mid-range Emphasis mode gives you a little bit of a bump in the treble and mids, excellent for providing rap vocals with a bit more aggression.
Before you go out and buy one of these, it's crucial to note that with such low sensitivity, you need a pretty decent amount of gain to get a good level out of it. So whenever I use my SM7B, I'll pair it with an in-line mic pre-amp to get more gain. One of my absolute favorite pre-amps on the market today is the Cloudlifter, which pairs well with just about any vocal microphone. Just place the pre-amp between your microphone and your audio interface.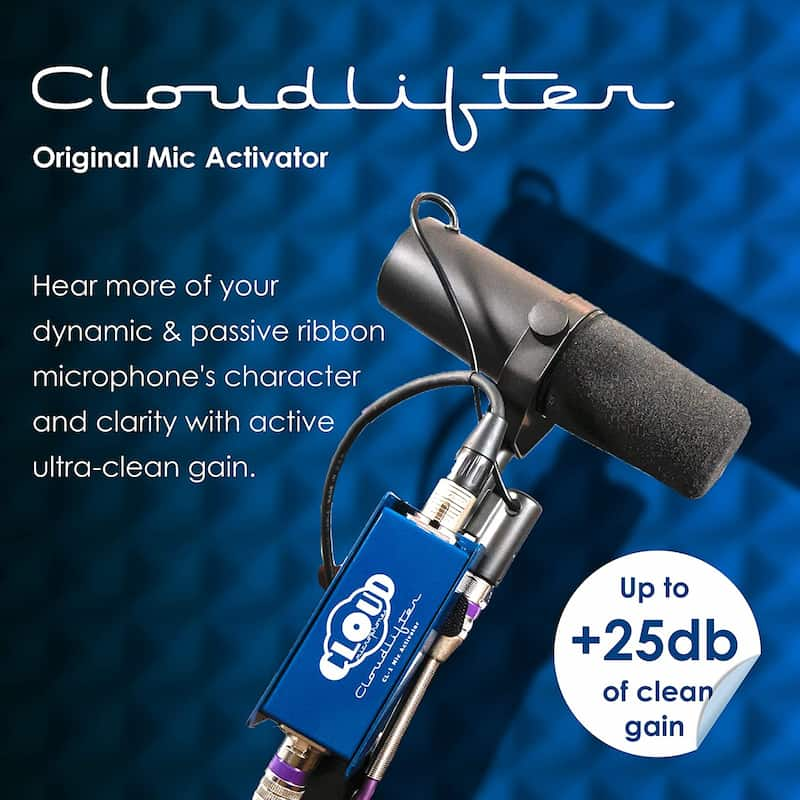 Click here to check the price on Amazon or Musician's Friend
The cardioid pattern found on the SM7B is pretty standard, and rappers like it because you don't have to worry too much about precise placement, thanks to the fact that it does well at ignoring off-axis sounds, elminating almost all unwanted background noise. With the SM7B, you can focus more on the performance rather than the logistics.
At this price range, you won't find better.

Best Budget Condenser Microphone for Rapping - Audio-Technica AT4040
The first of the cardioid microphones that I'd recommend is the Audio-Technica AT 4040 is another iconic microphone in the condenser realm with a mid-range price and a luxury sound. It comes with a standard cardioid pick-up pattern and a sound that can best be described as natural and smooth. Not only is it a great microphone for rap vocals, but it does a superb job of picking up just about any kind of acoustic instrument with minimal distortion.
The microphone has high sensitivity and delivers crystal clear vocals without introducing very much noise. Because it is a large diaphragm condenser microphone, the bottom end is naturally warmer. Of course, you won't get the same quality as you'd get with a Neumann microphone, but it is still nice nonetheless.
Click here to check the price on Amazon or Musician's Friend
You get two controls on the back of the microphone that are pretty standard, including a high-pass filter and a minus dB pad to reduce the microphone's sensitivity.
In terms of the frequency response, you get a little bit of a bump around 6.5kHz, which does have a tendency to bring out sibilance on a vocal track. However, with the right room and a solid pop filter, you should be able to capture expensive-sounding rap vocals and hit them with a slight bit of EQ and de-essing to get them where they need to be.
Overall, it's hard not to be happy with the sound of the Audio-Technica AT4040. You can use it on pretty much any kind of vocals to capture incredible sound quality. I love the fact that, unlike many condenser microphones, it can handle a decent amount of sound pressure. It even comes with a free shock mount to get you started!

Best Budget Dynamic Microphone for Rapping - Shure SM57
If you make your way into just about any professional recordings studio in the world, there is no doubt that you'll find a Shure SM57. One of the most significant selling points of the SM57 is that it's cheap yet delivers excellent sound quality and unparalleled versatility. Just about any sound source you need to record the SM57 can handle it. In terms of price, you can pick one up for under $100, which is a pretty great deal considering how expensive professional music gear can be.
For aggressive rap vocals, its ability to handle loud sound sources comes into play thanks to its tolerance for a really high sound pressure level. Even so, it has the ability to capture the nuances of quieter vocals just as well. Similar to the Shure SM7B, the SM57 was made with durability in mind. Mine has definitely taken a beating over the years, though it still works as well as the day I took it out of the box.
Click here to check the price on Amazon or Musician's Friend
The cool thing about its durability is that you can just as easily use it for performing live without having to worry about someone dropping it or spilling beer on it. It has a nice, lightweight, handheld design that makes it comfortable to carry around the stage.
Granted, with all of this said, you don't often see people recording vocals on the SM57, as there are other microphones more suited to vocals specifically. However, if you can only afford to purchase a single microphone to record your vocals and any other instruments you may want to add to your productions, there is really no better choice. This microphone will stay with you a long time, and even as you upgrade your gear, you'll still find a use for an SM 57 year after year.
The SM-57 is a very easy-to-use microphone overall and does not require any phantom power to get up and running. However, because it is not as sensitive as a condenser microphone, you'll have to crank the gain on your interface or get a pre-amp in order to get a loud enough recording.

Best Premium Rapping Microphone for Bright Vocals - AKG C414
The AKG C414 is an all around great mic, for recording everything from acoustic guitar to piano. It has also been one of my go-to microphones for recording vocals for quite some time. It's one of those microphones that I know will never disappoint, even when I feel that I'm lacking options.
As a little bit of a history lesson, the AKG C 414 is a descendant of the C12 tube condenser microphone, which was released in the mid-20th century and was renowned for its silky high-end frequency response. Engineers wanted the same sound as the C12 in a more affordable package, and many iterations down the line, the C414 was born.
The beauty of the C414 is that it comes with all of the features you could possibly want, including four pick-up patterns, making it great for close placement, room placement, tight-spot placement, and unique stereo recording techniques, such as mid-side and Blumleim.
You'll also find a -10 and -20 dB pad, two low-frequency roll-off two options, and an incredible ability to capture high-SPL sources.
Click here to check the price on Amazon or Musician's Friend
The sound of the C414 is super balanced without unnecessary hype. You get a beautiful bump in the high mids and highs, moving from about 5kHz to 15kHz. This unique frequency characteristic makes it excellent for capturing those expensive Drake-style vocals in all their nuance. As soon as you hit record, you get a vocal that sounds as if it had already been mixed, making it the best rapping microphone available for most rap artists.
Because it has such a natural sound, it takes to heavy EQing very well. As we know, many modern rap and pop vocals are heavily processed. Knowing that you can get a raw sound out of a microphone and spend a few minutes dialing things in with EQ to get a sound you really love makes this microphone all the more worth it.

What I love about this mic is its versatility. It is just one of the most usable all-around mics, meaning it's also one of the best mics for recording piano and one of the best mics for acoustic guitar.
Best Premium Rapping Microphone for Warm Vocals - Neumann TLM 103
The Neumann TLM 103 is one of the most popular vocal microphones on the market. Over the years, Neumann has made a for itself in the high-end music gear market, and this large-diaphragm condenser microphone captures vocals like nothing else. Where the AKG C414 is a prime choice for bright vocals, the Neumann TLM 103 is the go-to for warm vocals.
Just a simple glance at the specs, and you can get a pretty solid indication as to how versatile this microphone is. For starters, you get a cardioid pick-up pattern that is near perfect. Secondly, you get a wide frequency range that covers the entire audible frequency spectrum. You get a beautiful bump in the mid-range that delivers a crisp sound full of presence without ever sounding harsh, while featuring a fairly flat frequency response in the lower frequencies. This natural frequency curve tends to be a good choice for male vocals, especially.
Click here to check the price on Amazon or Musician's Friend
It's also worth noting that it handles decently high sound pressure levels up to 138dB and has very low self-noise, offering exceptional dynamic range.
One of the main downsides of this microphone is that it only has a single polar pattern, which is its cardioid pattern. At this price point, not being able to switch patterns is a bit of a bummer considering the cost, though if you're only planning on using it for recording vocals, it may not be a disadvantage.
Other than that, the Neumann TLM-103 pretty much covers all the bases when it comes to recording vocals and acoustic instruments. It's a great choice that pretty much all professional studios should have due to its superb audio quality and build quality.

Best USB Microphone for Rapping - Rode NT-USB
If you're not looking for an XLR microphone, you'd be hard-pressed to find any better USB microphone in the sub-$200 range than the Rode NT-USB. This microphone provides exceptional USB quality without the need for any third-party equipment, such as an interface or any special drivers.
Rode found a way to build a durable and high-quality microphone that doesn't skip on any components and delivers a handy headphone jack for monitoring your vocals as you record. And no additional cost, Rode even throws in a decent Mount and a well-fitted pop shield. While a USB type of microphone wouldn't be my first choice for studio recording, the combination of features, sound quality, and affordable price make it clear that this is one of the best USB mics.
The overall sound is very clear and transparent, giving you a natural sound that you would expect from a condenser microphone. It doesn't suffer from a lot of the same disadvantages that lower-end USB mics suffer from, such as over-the-top sibilance and popping. You almost barely notice the proximity effect in the mic works wonderfully off-axis, allowing you to focus more on the performance.
Click here to check the price on Amazon or Musician's Friend
The mic comes with an extended frequency response capsule, which can capture far above 10kHz, giving you modern and crispy rap vocals straight out of the raw recording. Beyond that, the front side is sensitive enough to capture whisper-quiet vocals, perfect for those who have a nuanced rapping style.
When all is said and done, it's hard to beat what the Rode NT-USB offers. It's relatively inexpensive and soars above many competitor models in the same range, such as the Blue Yeti USB Microphone. I would go as far as to say that it's inarguably the best USB microphone on the market today, and I have yet to find major disadvantages that sway me any other way. While there are cheaper mics, I think there's a good chance they'll just frustrate you.
If I had to be picky, the only thing I would note is that the plastic boom bracket feels relatively cheap compared to others, so I would buy a third-party mount if you're planning on getting one of these microphones.

Useful Accessories for Recording Rap Vocals
The 4 key accessories for recording rap vocals:
A pop filter
A shock mount
A mic stand
An XLR cable
Please, please don't skimp on the accessories! Even the best mic in the world won't sound good if isn't properly positioned, mounted, and protected! And please put your expensive new mic away in storage when you're not using it!
Pop Filter
A pop filter is a must-have microphone accessory for elevating the sound of your vocals, as it eliminates or reduces offending plosives created by the human voice, such as Ps and Bs. Pop filters come in a wide range of designs, from perforated metal to stretched foam fabric. The main thing is to place it between the rapper and the microphone.
With a dynamic mic you can place the pop filter close to the microphone and have the rapper sing closer. In studio use with a condenser mic, I like to place the pop filter 8"-12" from the microphone, which tends to be the ideal spot for the rapper. I then have the rapper record from an inch or two from the pop filter.

Shock Mount
Getting a good shock mount can help reduce the low-frequency rumble that occurs when a structure comes in contact with the microphone. You can think of a shock mount as a carriage that protects a microphone from structure-born noise, such as someone stomping on the floor or a truck passing by on the freeway. It may seem like a small thing, but when your perfect take is ruined by a truck.

Mic Stand
Get yourself a secure and stable mic stand that allows you to achieve the ideal mic positioning in your home or professional studio. If you can, get one with additional mass to reduce noise and vibration. I've found that good mic stand is essential to capturing a great performance, because you need to be able to position the mic in a way that the rapper feels comfortable, at ease, and able to breath well.

XLR cable
Your recording signal is only as good as your weakest link, so investing in high-quality XLR cables to plug your microphone into your interface is another must. Not only will quality microphone cables outlast many budget-friendly cables, but they will also protect against unwanted interference from radio and electromagnetic waves. Go for impurity-free copper to get the best connectivity, from a renowned brand like Monster.

Best Rapping Mics FAQ
Should you use dynamic microphones or condenser mics for recording rap vocals?
Dynamic microphones are often less expensive, more durable, and better for handling High sound pressure levels. If you have an aggressive rapping style, you might be better off going with a dynamic microphone. While condenser microphones are typically more expensive and less durable, they are better at capturing nuances with more attention to detail, making them great for rappers with laid-back styles.
If you can, try to test out a few different microphones to see which one sounds best with your voice. Just because a microphone is more expensive does not mean it will necessarily sound better than another.
One thing to note is that condenser microphones require a power supply, usually called "phantom power." Almost every modern audio interface, mixer, and pre-amp will feature phantom power as an option (also called a +48v boost). However, if you don't have phantom power available, you'll need to use a dynamic mic. You can learn more about the differences between condenser and dynamic mics here.
What's the best polar pattern for a rapping microphone?
The cardioid polar pattern is the most common polar pattern for rapping and singing, as it is most sensitive at 0 degrees and least sensitive at 180 degrees. Essentially, if you have your microphone pointed directly at the rapper, it will only pick up on coming from them while keeping the sound of the room and anything else going on around the rapper that day.
Cardioid polar patterns are great for untreated spaces or bad-sounding rooms with lots of noise. You can learn more about polar patterns here.
What's the best rap microphone for live performances?
The SM57 is one of the best rap microphones for live performances, thanks to its handheld design and durability. It is a super lightweight microphone, making it easy to carry around the stage for hours on end without feeling fatigued. Plus, it a solid microphone with an ultra-durable metal construction with the ability to handle relatively high sound pressure levels. On top of that, it's really affordable, so if the worst does happen, you won't be out of pocket too much replacing it, since it's such a cheap mic.
Ok, I've got an awesome microphone for recording rap vocals, now what?
Congratulations on the first step! Now be sure to read this next article on how to record great rap vocals!
From a Frustrated Producer in a Ragtag Bedroom Studio to Major Placements on TV Earning $1,000s!
My name is Evan, and I've been making music since around 3rd grade. I'm from San Diego, California, but I've lived in Washington, DC for the last 20 years.
After 3 grueling years of grad school, though I had put aside serious attempts at making

music.

I found myself spending my days doing work that was dreadfully uncreative, with a ton of student student loan debt.
Which made me feel like my favorite parts of myself were withering.
But I didn't know what to do about it.
Being in my early 30s with tons of student loan debt, in a world where there is "no money in

music

," I felt like my youthful dreams of trying to "make it big" were dead. Like my music would remain unheard in my head and hard drive.
Frustrated by my inability to get my music heard, I started researching solutions.
Instead, I wanted to find a way where I could focus on making the

music

and let someone else deal with promoting it.
I realized the music licensing was the perfect opportunity for a solo artist like me to get my music heard, without having to do any promotion. I just need to focus on improving what I could control - my songwriting and my production skills.
While I still have a full-time day job, I have created systems that have allowed me to produce dozens of songs a year in my spare time.
My songs have been on Netflix, TV shows like the 90 Day Fiance, an award-winning indie film, and NPR's "All Thing Considered." They've also been streamed millions of times.
In addition to being a music producer, I am passionate about teaching people how they can make professional-sounding music and earn money licensing it, all in their spare time.
Thousands of musicians, like yourself, have trusted me to guide their musical journey. My YouTube videos have been watched nearly a million times. And my story has been in Forbes, Side Hustle Nation, and the Side Hustle School.
You Can Achieve Your Musical Dreams Too - Attend the Free Music Licensing Workshop!