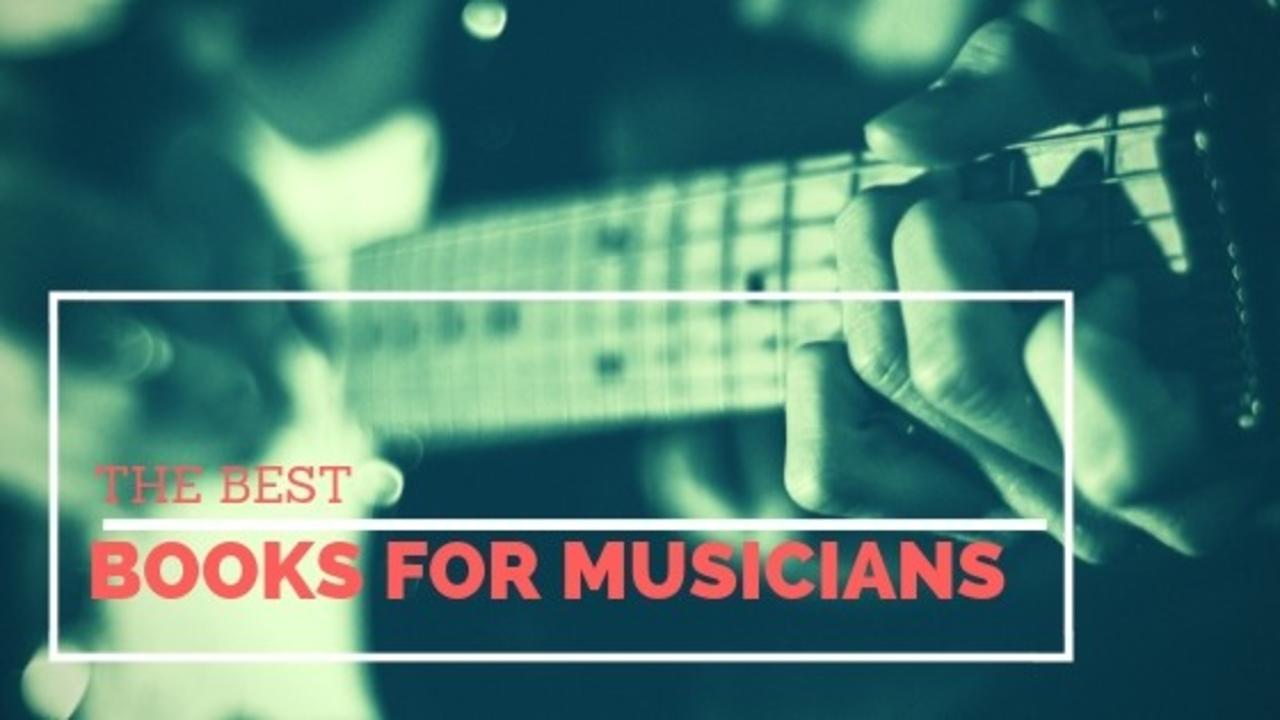 Are you a musician looking for a good read? Or maybe you're looking to get a gift for a musician in your life? Well look no further! These are the best books for musicians, period.
As a guitar player, songwriter, and musician, I've learned so much from books form musicians. Music books have taught me how to play my instruments better, how to write and arrange songs, how to mix, and have inspired me to get better at my craft.
In this article, I've divided the best books for musicians into three categories:
Books that teach musicians how to be improve their skills
Books that teach musicians how to make better home recordings
Books that teach musicians about the music industry
Biography books that tell great stories about musicians.
Both types of books for musicians are important to read, not only because it's important to invest in yourself, but also because they can provide a lot of extra knowledge and inspiration!
Over my 20+ years of playing music, I've read a lot of each. Below are some of my favorite. These books make great Christmas gifts for musicians and also make great birthday presents. And don't miss out on these 100+ gift ideas for musician husbands and boyfriends!
Best Music Books
First, let's start with the best musical books. These will help musicians improve their skills, learn new techniques, and make better recordings.
Best Books for Musicians: The Beatles – the Complete Score
Want to learn how to write better music? Well, the Beatles were simply the best songwriters of the 20th century. Period.
End of story. So why not learn directly from their songs?
Maybe you want to learn how to play Beatles songs, or maybe you want to learn how write songs like them. Either way, his incredibly usable book includes all of their songs, arranged for all the major instruments on each song. It includes guitar tab, piano parts and notation, lyrics, etc.
I can't tell you how many cool chord inversions, riffs, licks, and chord changes I learned just by playing around with this book. If I only had one music book, this one be it. Plus, deconstructing The Beatles' work is a masterclass in songwriting and arrangement.
Best Guitar Music Book: Fretboard Logic
Want to learn how to play guitar solos? How to come up with your own chord progressions? Fretboard logic is probably the best book for guitar players. It clearly explains complex theory in everyday layman's terms. Plus, it full of useful charts, exercises, riffs, and chord shapes.
I've recommended this to tons of friends, and they all agree: Fretboard Logic is amazing. It provides guitarists with an incredible system for breaking down the guitar's fretboard. Whether that's for learning how to solo or learning how chords tie together, this is the best guitar music book out there. This books is also great for bass players looking to learn the fingerboard.
Best Book for Bass: Standing in the Shadows of Motown
Want to become the lord of the low down? Almost any bass player would agree that James Jamerson, who played on countless gold albums, was the greatest bass player ever. He was the house bassist at Motown records. So of course, he pretty much defined soul bass.
And this book not only includes an incredible look into Motown Records and James Jamerson (and the "claw"), but transcriptions of his best bass lines and lots of useful insight into how to improve as a bassist.
Best Music Production Books
Maybe you're more interested in being a music producer. Well these following books well help you make better sounding recordings in your home studio!
Best Books For the Studio: The Recording Engineer's Handbook and the Mixing Engineer's Handbook
There are a trio of books by Bob Owsinski that will teach you how to start making incredible music from the comfort of your home studio.
Now, not every musician is interested in learning to record and mix their own recordings. But trust me when I say that learning to record, even a little, opened a whole new world to me.
The first book in the series is the Recording Engineer's Handbook. It covers everything you need to get started recording. From how microphones work to specific techniques for recording drums, individual instruments, vocals and much more, this book has it all.
Once you've recorded your audio, it's time to start the mixing process. Mixing covers a wide range of techniques that you need to take the raw audio and transform it into something beautiful. This book breaks down the craft of mixing down into discrete, understandable steps and showing musicians, audio engineers, and producers exactly how to get great results in the studio.
When I started recording, I wanted to write more interesting, complex songs, experiment with arrangements, and share my music with the world!
Most of all, this book offers loads of practical tips, advice, fundamentals and a discussion of the theory behind mixing and mastering.
Books for Mixing with Reverb
Another book I've really enjoyed is the "Three-Space Reverb Framework" by Nathan Nyquist. Reverb is one of the most important tools for making home recordings sound professional, but it's incredibly difficult to use effectively. Nyquist makes the process of using reverb very accessible thanks to his three-space framework. This quick book rapidly improved my reverb skills!
Best Books on the Music Business
Once you've mastered your instrument and made some great home recordings, it's time to start making some money! These books will give you lots of insights into the modern music business.
Best Books for the Independent Artist: How to Make it in the New Music Business
When Ari Herstand released the first edition of this book, it blew everyone's minds. And this book has now become the go-to resource for musicians eager to make a living in a turbulent industry.
Easy to read with a fun tone, this book breaks downs tons of techniques and revenue streams modern musicians can use to earn a living.
Ari's book covers everything from playing gigs at colleges to live-streaming to getting paid royalties when you perform live.
Best Book on Music Licensing
While I happen to think that my music licensing course is the best resource for someone who wants to start licensing their music, I have to admit that Daren Wilsey's book The Musician's Guide to Licensing Music does a really good job explaining the world of music licensing.
Daren covers all sorts of helpful music licensing topics in the book, like how does music licensing work? Where are the most abundant and rewarding opportunities? And he also explains all the confusing terms you'll encounter!
Best Books About Musicians & Memoirs
These books delving into the personal lives of some of the greats. Not only is there a lot to learn about their creativity and their drive, these musician biographies and autobiographies provide an insight into how our heroes came to be.
Mercury: An Intimate Biography of Freddie Mercury
You've seen Bohemian Rhapsody, now dig deeper. As lead vocalist for the iconic rock band Queen, Freddie Mercury's unmatched skills as a songwriter and his flamboyant showmanship made him a superstar and Queen a household name. But despite his worldwide fame, few people ever really glimpsed the man behind the glittering façade.

Now, more than twenty years after his death, those closest to Mercury are finally opening up about this pivotal figure in rock 'n' roll.
Divided Soul: The Life Of Marvin Gaye
Marvin Gaye was one of the most soulful singers and songwriters of his era (and James Jamerson played on most of his songs!), but he was also a tortured soul. David Ritz provides a candid look at a star and a friend. Ritz had been collaborating with Gaye on his story for several years before the singer's tragic death
Cash: The Autobiography
He was the "Man in Black," a country music legend, and the quintessential American troubadour. He was an icon of rugged individualism who had been to hell and back, telling the tale as never before.
In his unforgettable autobiography, Johnny Cash tells the truth about the highs and lows, the struggles and hard-won triumphs, and the people who shaped him. In his own words, Cash set the record straight - and dispelled a few myths - as he looked unsparingly at his remarkable life.
Escaping the Delta: Robert Johnson and the Invention of the Blues
The life of blues legend Robert Johnson becomes the centerpiece for this innovative look at what many consider to be America's deepest and most influential music genre. Pivotal are the questions surrounding why Johnson was ignored by the core black audience of his time yet now celebrated as the greatest figure in blues history.
Other Thoughts on the Best Books for Musicians?
So what do you think? Are there any books I missed? What would you recommend?
Since I'm always looking to learn more, please let me know in the comments about any book for musicians that has inspired you! If you're looking for a different type of gift for the musician in your life, check out some more gift ideas for musicians. And here's over a hundred ideas for presents for a musician boyfriend, from stocking stuffers to birthday presents!
From a Frustrated Producer in a Ragtag Bedroom Studio to Major Placements on TV Earning $1,000s!
My name is Evan, and I've been making music since around 3rd grade. I'm from San Diego, California, but I've lived in Washington, DC for the last 20 years.
After 3 grueling years of grad school, though I had put aside serious attempts at making

music.

 I found myself spending my days doing work that was dreadfully uncreative, with a ton of student student loan debt.
Which made me feel like my favorite parts of myself were withering.
But I didn't know what to do about it.
Being in my early 30s with tons of student loan debt, in a world where there is "no money in

music

," I felt like my youthful dreams of trying to "make it big" were dead. Like my music would remain unheard in my head and hard drive. 
Frustrated by my inability to get my music heard, I started researching solutions.
Instead, I wanted to find a way where I could focus on making the

music

and let someone else deal with promoting it. 
I realized the music licensing was the perfect opportunity for a solo artist like me to get my music heard, without having to do any promotion. I just need to focus on improving what I could control - my songwriting and my production skills.
While I still have a full-time day job, I have created systems that have allowed me to produce dozens of songs a year in my spare time.
My songs have been on Netflix, TV shows like the 90 Day Fiance, an award-winning indie film, and NPR's "All Thing Considered." They've also been streamed millions of times.
In addition to being a music producer, I am passionate about teaching people how they can make professional-sounding music and earn money licensing it, all in their spare time.
Thousands of musicians, like yourself, have trusted me to guide their musical journey. My YouTube videos have been watched nearly a million times. And my story has been in Forbes, Side Hustle Nation, and the Side Hustle School.
You Can Achieve Your Musical Dreams Too - Attend the Free Music Licensing Workshop!