EQ is one of the main foundations of mixing. While there are thousands of EQ plugins on the market today, not all of them are made equal.
From parametric to analog-style EQ plugins, some of which have features like mid-side processing, sidechaining, or frequency analyzers, you have quite a bit to choose from. It really comes down to your needs and personal preferences, though having a range of EQs for different applications doesn't hurt either.
Come dive in with us as we take you through some of the best EQ plugins on the market today!
If You're Curious (or just in a hurry):
Note: this article may contain affiliate links, which mean that I receive a commission for any purchases you make, at no added cost to you.
Analog Vs. Digital EQ
You're probably most familiar with digital EQs if you're a young engineer, as these are the EQs you use most often. You can find digital EQs included stock with just about any DAW. The beauty of digital EQs is that they are user-friendly and ultra-precise. However, what they have in functionality, they usually lack in color and flavor.
Before digital EQs came around, engineers used analog EQs to shape their mixes. While these analog EQs weren't very precise, they had unique musical characteristics and warmth that breathed life into the music.
This article is focused solely on standalone EQ plugins. In a lot of instances, though, you may be able to get better results, even faster, using a channel strip plugin that includes a built-in EQ, compressor, and more. So be sure to check out this review of the best channel strip plugins to see if that might be a better fit!
Chart of the Best EQ Plugins

EQ VST
Pros
Cons
Buying option
FabFilter Pro-Q3

Crystal clear sound

Low CPU usage

Incredible control over EQ

User friendly

Check price now!
Tube-Tech Equalizer Collection

Easily add warmth

Great tone shaping potential

Low end boost

Not a precise EQ for cutting

Check price now!
SofTube American Class A

Expertly tuned EQ

Delicious saturation

Amazing built in compressor & transient shaper

Limited EQ precision

Expensive

Check price now!
Chandler Limited Curve Bender

Magical warmth

Expertly tuned

Vintage mid-Side flavor

Not ideal for use on individual channels

Expensive

Check price now!
Empirical Labs Lil FrEQ

Uniquely warm and clean

Great de-esser

Nice high end

Check price now!
Waves API 560

Allows for surgical tone shaping

Simple & intuitive

Analog character

Check price now!
Arturia Pre 1973

Rich analog tone

Easy to use

Great saturation

Mid-side mode

Affordable

Limited frequency options

Check price now!
Best EQ VST - FabFilter Pro-Q3
The FabFilter Pro-Q3 is by far the most versatile EQ plugin on the market today. For starters, the interface is any engineer's dream. With gorgeous, crystal-clear color coding, intuitive controls, and an ultra-clean layout, there isn't any sort of learning curve to get going with it.
Another one of the main reasons engineers love the FabFilter Pro-Q3 is that it is clean. You can use an endless number of frequency bands and enjoy limitless flexibility, all without imparting any "sound" on your tracks. Even with plenty of natural/linear phase options and mid-side proportions, you can make MAJOR changes to your tracks while retaining transparency.
See why the Pro-Q3 is one of the highest rated plugins out there
Thanks to the EQ's flexibility, it is a wonderful choice for just about any case. One of my favorite things to use it on is vocals. All you really need is a single instance of FabFilter Pro-Q3 to clean up the bottom end on your vocal, get rid of resonances, and find out what frequency is bugging you by looking at the frequency analyzer.
Beyond that, you can "connect" multiple instances of Pro-Q3 throughout your sessions to compare the frequency content of different tracks. Doing so can be insanely helpful for finding frequencies that are masking one another. You can read our full Pro-Q3 review here.
Pros of the Pro-Q3
Crystal clear sound

Low CPU usage

Incredible control over EQ

User friendly
Cons of the Pro-Q3
Best Pultec Plugin - Tube-Tech Equalizer Collection
There are so many Pultec emulations on the market today that picking the best one can seem like a challenge. When you consider the fact that a real Pultec EQP-1A goes for $10,000 or more, there's a reason why people want to get their hands on them.
The Tube-Tech Equalizer Collection is one of our favorites for getting that Pultec flavor. Whether you need to extend your lows or subtly boost the top end, you can make ultra-musical moves without ever having to sacrifice your sound's original vibe.
Yes, the control scheme isn't the most intuitive compared to new digital EQs, as it is based on the earliest era of sound equipment, though once you get the hang of it, you'll know why it's such a popular choice.
To our ears, the Tube-Tech Equalizer collection is a bit richer and warmer than the Waves Puigtec units, though not as exclusive as the UAD unit.
While these EQs are great for adding low end and top end, the MEQ5 can be incredibly useful for adding presence and warmth to the mids.
Pros of the Tube-Tech Equalizer Collection
Easily add warmth

Great tone shaping potential

Low end boost
Cons of the Tube-Tech Equalizer Collection
Not a precise EQ for cutting
Other Pultec Options
If you're looking for a Pultec sound, you should also consider checking out Universal Audio's Pultec EQ collection, which is now available for all systems without needing any special hardware. It meticulously models multiple Pultec models, so that you can instantly get that fat, warm sound. It is slightly better than the Tube-Tech Equalizer, but it is usually more expensive. However, if it's on sale, it would be my choice between the two.
At press time UAD's Pultec Bundle is 70% off!
You could also consider Waves' Pultec emulation if money is an issue. However, I am not very impressed by it, and would recommend saving your money for a better alternative.
Best EQ Plugin For Vocals - FabFilter Pro-Q3
As we said before, the FabFilter Pro-Q3 is one of our favorite digital parametric EQs on the market today. If you want an EQ plugin that you can use to sculpt your vocals with transparency and accuracy, then the FabFilter Pro-Q3 is a prime choice. The retina interface is impressive, giving you 24 frequency bands to choose from, as well as several EQ modes, including dynamic EQ, mid-side processing, zero latency, variable stereo placement, and an intelligent solo feature.
The spectrum analyzer can be insanely helpful for dialing in the perfect sound on the fly or tracking down nasty room resonances.
When it comes to EQing vocals, subtractive EQ is critical. With proper subtractive EQ, you can create clarity, add presence, and get rid of problematic frequencies. The beauty of FabFilter Pro-Q3 is the ability to manipulate frequencies with pinpoint accuracy, all without sacrificing transparency.
Another thing we love about FabFilter Pro-Q3 is that you can compare the spectrum analyzer of your vocals to the other instruments in your track to see where they're overlapping. In doing so, you can cut the frequencies on other tracks that are getting in the way of your vocals.
Best Channel Strip Plugins - Softube American Class A
If you're in the market for one of the most musical channel strip plugins around, then we highly recommend checking out the Softube American Class A. This plugin is so much more than your average API 500 clone. With the Softube American Class A, you get four EQ bands with stepped gain controls, each of which you can use switchable increments from 1x to.25x to dial in finer details.
Beyond using the high and low bands as shelves or bells, you can use them as filters. Plus, you get completely variable high and low pass filters to get rid of low or high-end in the most musical way possible.
We're in love with the built-in transient shaper on the Softube American Class A plugin, as well as the saturation and compression controls. You get so much more than a simple EQ, so much so that you can trim down your CPU use while keeping the majority of your processing in one place.
One of the neat things about the Softube American Class A is that you can use it in tandem with the Console 1 Controller. This hardware controller gives the plugin more of a tangible feel, providing you with access to each parameter at your fingertips.
Whether you're using it on drums, bass, guitars, vocals, synths, or a 40-piece orchestra, the Softube American Class A is an incredible channel strip plugin with seemingly endless versatility.
Pros of the American Class A
Expertly tuned EQ

Delicious saturation

Amazing built in compressor & transient shaper
Cons of the American Class A
Limited EQ precision

Expensive
Best Mastering EQ Plugin - Chandler Limited Curve Bender
The Chandler Limited Curve Bender is an EQ based on the EMI TG12345, which first hit Abbey Road Studios back in the late 1960s. With subtle 4-band equalization, it is one of the most exceptional EQ mastering tools on the market today. When it comes to mastering, it's always best to make small, subtle moves rather than large, sweeping moves. With a short 5db range for boosts and cuts on each band, you get wide-sounding EQ that still sounds precise.
One thing we love about the Chandler Limited Curve Bender is that the results always feel natural and transparent.
As you can expect, the Chandler Limited Curve Bender was made with versatility in mind. You get 11 EQ points across the found bands compared to the original nine, making it a better sound-shaping tool than the original hardware version.

Another mode that you'll also find in the Chandler Limited Curve Bender is the Mid-Side Processing, giving you more control in the digital realm.
Even if you aren't using the filters on the Chandler Limited Curve Bender, this mastering EQ provides you with a unique bit of warmth and character. By default, all of the Qs are very wide. However, with the 1.5x multiplier present on each band, you can focus the band a bit more. If you need to use clean, open equalization, you can get plenty of detail from the various frequency ranges on this EQ.
There is a reason that both Pink Floyd and The Beatles used this gorgeous EQ on their albums. However, with quality EQ controls and modern processing capabilities, it can be used on just about any kind of music with success.


Pros of the Chandler Limited Curve Bender
Magical warmth

Expertly tuned

Vintage mid-Side flavor
Cons of the Chandler Limited Curve Bender
Not ideal for use on individual channels

Expensive
If you're after an even warmer sound, you should check out Universal Audio's Hitsville EQ Collection, modeled on the classic mastering EQs used at Motown studios. This thing is great at bring out full low end, saturated midi, and delicious, airy top end that isn't too bright. It even includes mid/side processing for extra control!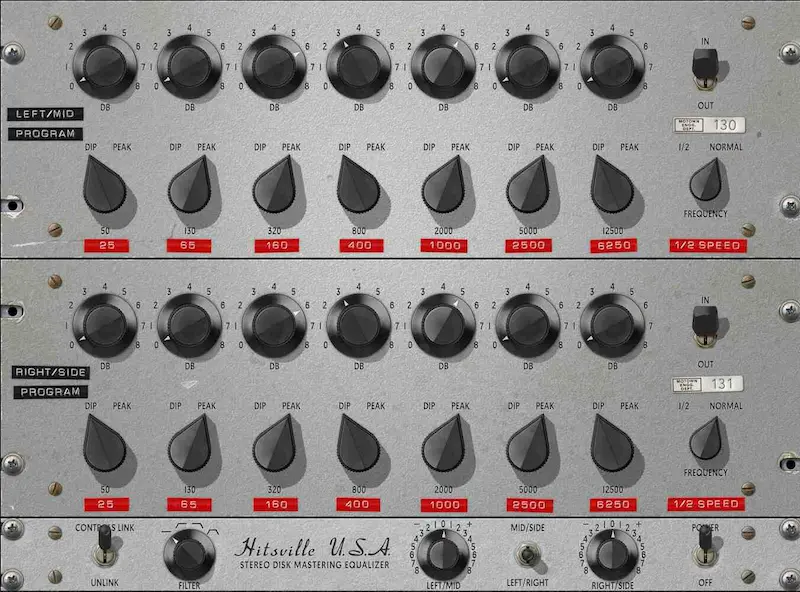 Best Analog EQ Plugin - Lil FrEQ
Having a quality analog plugin in your arsenal can provide you with the color and character that you desire. The Lil FrEQ takes a unique approach to EQ, daisy chaining several frequency processors and equalizers into a single tool to give you high-performance processing and some of the best analog sound in its class.
You get a high-pass section, high and low shelving, and a parametric EQ with four sections. In terms of parametric EQs, the Lil FrEQ might be one of the cleanest we've ever heard. Even if you need to push 15dB of 3kHz to get your vocal to stick out, you'll get a crispy sound that doesn't feel harsh in the slightest.
We also love the Dynamic EQ section, which gives engineers access to one of the best De-essers ever made. This compressor-like circuit uses a soft-knee high-frequency limiter to give you control, functionality, and transparency.
There are so many analog EQ emulations on the market today, though none of them is quite like the Lil FrEQ.
Pros of the Lil FrEQ
Uniquely warm and clean

Great de-esser

Nice high end
Cons of the Lil FrEQ
Best Waves EQ Plugin - API 560
Waves' emulation of the classic API 560 EQ knocks it out of the park. This plugin allows you to easily get surgical about removing or boosting essential areas in your mix, without having to overthink the process. This simple, easy to use EQ hides a wealth of power under its deceptive interface.
When API designed the original hardware unit back in the 1960s, they knew exactly what they were doing. It features 10 fixed bands of EQ, selected to be those most likely to need a little EQ help. The as you boost and cut, the EQ automatically adjusts how broad or narrow the "Q" is. If its a gentle adjustment, the Q will be wide. As you go for an extreme cut/boost, the Q automatically narrows to give you more precision.
Couple that with analog circuit modeling plus a ton of headroom and you can't go wrong using the API 560 to help get your tracks slotted perfectly. We especially like this on instruments that could have room noise problems or bad resonances, like drums, vocals, and acoustic guitar.
Pros of the API 560
Simple and straightforward

Precise

Foolproof
Cons of the Lil FrEQ
Best Dynamic EQ Plugin - FabFilter Pro-Q3
Once again, the FabFilter Pro-Q3 takes home the gold medal in a specific EQ category. Sometimes, dynamic EQ is the answer in a processing situation. Dynamic EQ is essentially EQing a set of frequencies only when the amplitude of those frequencies pass a certain threshold. Similar to a compressor, you get a threshold and attack and release settings,
Altering the frequencies as they pass over a certain threshold can give you control only when it is necessary. The FabFilter Pro-Q3 does this with precision and transparency. Plus, you can use the built-in spectrum analyzer to be more certain with your dynamic EQ decisions.
Beat Neve 1073 Plugin - Arturia Pre 1973
If you want to impart some old-school cool on your mixes, then Arturia's Pre 1973 is one of the best EQ plugins around. While the design might seem simple, don't underestimate its power.
ThePre 1973 provides a warm, lush, and fat analog sound that can take the cold, digital characteristics out of your mix and introduce musicality. The Pre 1973 is not only an EQ, but a preamp as well. Whenever you apply the 1073 to a sound, whether it is a recorded vocal or a digital synthesize, you should use it at the front of the chain. Arturia has thoughtfully added the option of a mid-side mode to the classic design, for even more tone shaping flexibility.
In many ways, the Pre 1973 is a sound design tool. You can expect it to color your sound. One of the beauties of this plugin is when it's driven, you get a wonderfully fuzzy and rich saturation that is unique to the 1073.
Engineers love using the 1073 to dial in low end, as it provides a rich roundness that is difficult to achieve with your typical digital EQ. Arturia always seems to make the best emulations of old-school hardware and the 1073 is an excellent example of how the company was able to mimic the sound of a well-known classic.
Pros of the Pre 1973
Rich analog tone

Easy to use

Great saturation

Mid-side mode

Affordable
Cons of the Pre 1973
Limited frequency options
Best Free EQ Plugin - Warmy EP1A
If you don't have the money to ball out with but still want access to that wonderful analog warmth, we highly recommend checking out the Warmy EP1A. This 1:1 analog modelled plugin is based on the old classic Pultec EQs and does a fantastic job at emulating its best characteristics.
You get a low boost, low cut, high boost, and high cut knob. The designers even added a tube emulation knob for a bit more tube intensity. The tube found in the hardware units was great at providing a bit of drive and the emulation of this tube is absolutely astounding considering the plugin is free.
History of EQ
EQ has been around since the 1930s. Originally, hardware equalizers made their way into motion picture studios thanks to John Volman, who crafted these machines with a select set of frequencies and cut-boost designs.
When post-production technology grew throughout the 1950s and 1960s, so did EQs. One of the very first EQs with slide controls, which was a bit of a precursor to the modern graphic equalizer, was the Langevin Model EQ-251A.
This model came with a bass shelving filter, four switchable center frequencies with a peaking boost/cut control, and a 15-position slide switch for gain adjustments.
It wasn't until 1967 that the famous API 550A hit the market, all thanks to engineer Saul Walker. This was the very first EQ where bandwidth changed based on the amount of signal boosted or cut.
Finally, in 1972, the very first iteration or idea for the parametric EQ came about. George Massenburg and Burgess Macneal came up with the idea for a sweep-tunable EQ that didn't need switches or inductors. Instead, the machine would have three controls that engineers could adjust independently of one another.
Of course, it would be many years before the parametric EQ would hit the digital realm.
How to use EQ Guides
To help you get the most out of your EQ plugins, we've put together these detailed guides to teach you how to use EQ on some of the most popular instruments.
FAQ about the Best EQ Plugins
These are the most frequently asked questions we receive about the best EQ plugins.
Can I Use My Stock EQ Plugin?
People often get so wrapped up in the world of plugins that they forget their DAWs come with stock plugins. You more than likely have a stock parametric EQ plugin in your DAW. I mostly use Pro Tools and Ableton, and the stock EQ plugins in both of those DAWs are excellent. Yes, they might not have all of the fancy M/S processing capabilities or analog warmth of other EQ plugins, but if they're all you have to craft a mix, there shouldn't be anything stopping you from making your mix sound great.
Where Should I Put My EQ In My Signal Chain?
While there are no hard and fast rules when it comes to mixing, we always recommend putting subtractive EQ earlier in your chain before compression and additive EQ after compression. With subtractive EQ, you can remove problematic frequencies before your signal hits your compressor. Essentially, you clean up your signal before it hits any other processors so that you only process the frequencies you want.
For example, EQing the low-end or sub frequencies out of your vocals before throwing it into a compressor can make sure the sub frequencies don't impact the compressor more than the crucial mid-range and high-end frequencies in your vocal.
Then, once your signal is compressed and has a smooth dynamic range, you can shape your tone further with additive equalization. For example, you might choose to boost the high-end in your vocal to add presence after compressing. Using additive EQ before a compressor means your compressor will affect the boosted frequencies more.
Final Thoughts - Finding the Best EQ Plugin For Your Needs
With so many tools in your arsenal, the best tools are the ones that you are most comfortable using. Of course, having a bit of range in your arsenal gives you tools that are better for one job vs. another. To determine which EQ plugin might be best for your needs, think of what your arsenal is lacking and find an EQ plugin that can fill that void.
From a Frustrated Producer in a Ragtag Bedroom Studio to Major Placements on TV Earning $1,000s!
My name is Evan, and I've been making music since around 3rd grade. I'm from San Diego, California, but I've lived in Washington, DC for the last 20 years.
After 3 grueling years of grad school, though I had put aside serious attempts at making

music.

 I found myself spending my days doing work that was dreadfully uncreative, with a ton of student student loan debt.
Which made me feel like my favorite parts of myself were withering.
But I didn't know what to do about it.
Being in my early 30s with tons of student loan debt, in a world where there is "no money in

music

," I felt like my youthful dreams of trying to "make it big" were dead. Like my music would remain unheard in my head and hard drive. 
Frustrated by my inability to get my music heard, I started researching solutions.
Instead, I wanted to find a way where I could focus on making the

music

and let someone else deal with promoting it. 
I realized the music licensing was the perfect opportunity for a solo artist like me to get my music heard, without having to do any promotion. I just need to focus on improving what I could control - my songwriting and my production skills.
While I still have a full-time day job, I have created systems that have allowed me to produce dozens of songs a year in my spare time.
My songs have been on Netflix, TV shows like the 90 Day Fiance, an award-winning indie film, and NPR's "All Thing Considered." They've also been streamed millions of times.
In addition to being a music producer, I am passionate about teaching people how they can make professional-sounding music and earn money licensing it, all in their spare time.
Thousands of musicians, like yourself, have trusted me to guide their musical journey. My YouTube videos have been watched nearly a million times. And my story has been in Forbes, Side Hustle Nation, and the Side Hustle School.
You Can Achieve Your Musical Dreams Too - Attend the Free Music Licensing Workshop!